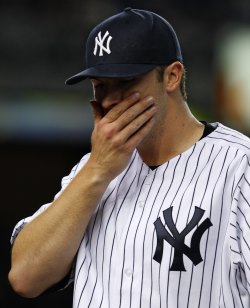 The questions were coming at some point or another. I'm sure when Joe Girardi sat down for his post-game news conference he was wondering who would be the first to ask. "Joe, what are you going to do about Phil Hughes?" As we've seen countless times before, Girardi basically said that he didn't know at the moment. I don't know why he can't just say, "That's an important decision, guys, and it's not one I'm prepared to make or comment on immediately after the game." It would get the point across concretely: the Yankees do face an important decision about Phil Hughes's immediate future.
While Hughes's velocity did not return — his four-seamer averaged around 89 mph and topped out at just under 91 — he did appear to control it a bit better. It wasn't great control, but definitely an improvement. He threw 46 of them, 32 for strikes and two for swinging strikes. The only time he really got hurt on it was when Cesar Izturis slapped one, and when he didn't run it inside enough on Nick Markakis. Hughes's curveball also broke more sharply than in his previous starts. He threw that 11 times for eight strikes and two swinging strikes. It graded out as his best pitch, per the linear weights scores on Brooks Baseball, despite its relatively infrequent use. The changeup, too, worked, at least in terms of results, as he threw it six times, five for strikes, and didn't really get beat.
The issue, as we've seen in his previous two starts, was the cutter. In the two instances he got beat the worst, the Markakis homer and the Luke Scott double, he attempted to throw a cutter, but, as he said after the game, it kinda just spun and didn't move. That is, it looked like a fat, straight, 85 mph fastball. Thankfully, Hughes threw it just seven times, so he knows that it's not his best option. But it appears that it probably shouldn't be an option at all at this point.
When deciding what to do with Hughes, the Yankees have to answer a number of questions. The first, and most important, is whether they think, with a strong degree of certainty, that continuing to pitch at the major league level is the absolute best way for Hughes to recover. If they aren't reasonably certain that it's the course of action that will lead to the best result, they have to strongly consider removing him from the rotation. Not every game will go like last night. Many times, maybe even most times, the Yanks will fall short in that comeback attempt. An ineffective Hughes is putting them in deep holes, and if he continues pitching this way it will lead to many more losses. That's not something that any contending team can afford.
There are questions affixed to this, too. Last night the cutter was the big, and perhaps only, problem. Can Hughes get through an order two or three times with just his four-seamer, curveball, and changeup? Can he get his cutter working without throwing it live to hitters? If the Yankees think the answer is yes, or could be yes, I can see them sticking with him. If not, that's another sign that he needs to work on his issues elsewhere.
My biggest concern is that Hughes is simply overworking himself. Last season he shouldered an unprecedented workload. I'm not sure what he did in the off-season, but if he kept his normal training regimen, he might be overtrained at this point. It would go a long way in explaining the dip in velocity. If this is the case — and at this point it's nothing more than a pet theory — the only way he's going to regain that strength is by backing off a bit. That means a trip to extended spring training where he can take it easy and then build himself back up. That's kind of a dramatic measure, but if he's overtrained it might be the only thing that gets him back on course this season.
If that's not the case, I'm not sure what the Yankees can do. It's clear that he's better off junking the cutter for right now, since it has gotten battered around in his first three starts. Does that leave him with an arsenal adequate enough to get through major league lineups? I'm not convinced, since I haven't seen it. But I think the Yankees will be curious enough to give it a shot, at least one more time through. Maybe if he's forced into a situation where he needs to break off over a dozen curveballs and changeups in a game he can get those pitches working.
Chances are the Yankees won't take rash action here. Hughes is an important part of the organization, and this has only been three starts. They might skip him for a few days, but that's the most I can see them doing this time around. If he gets battered again next time, then they might have to do something. I just fear that overtraining is an issue here, since the only way to recover is to rest. That creates more holes in an already rough rotation.