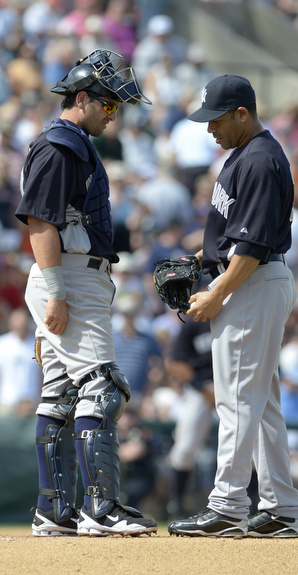 Baseball is a game of failure, whether you're a hitter or a pitcher or a coach or a scout or a general manager. Everyone's going to make mistakes, it's part of life and it's part of the game. Some make more than others, and if you're the Yankees, you make more high-profile mistakes more than others. That's what happens when you play in the deep end of the pool. The team got some bad news last night following Pedro Feliciano's MRI, as the left-hander has (what we can infer is) significant damage in his throwing shoulder and may need surgery. Depending on the severity of the injury, he could miss the entire year and possibly even the start of the next season.
Unfortunately an injured lefty reliever is nothing new for the Yankees. The reason they signed Feliciano in the first place was because Damaso Marte is going to miss a significant chunk of the season after having shoulder surgery himself. Since signing his three-year, $12M contract before the 2009 season, Marte has thrown a total of 35 innings for New York, and that's regular season plus playoffs. The team clearly hasn't gotten its money's worth.
When the previously ultra-durable Feliciano hit the disabled list to start the season, Brian Cashman lashed out at the lefty's previous employer by saying flatly "he was abused." That was a head-scratcher simply because any dunce with access to Baseball-Reference could tell you that Feliciano had been overworked by the Mets in recent years, but the real head-scratcher is why they still signed him if they knew he was abused. The "limited market" for left-handed relievers was used as an the excuse, but that doesn't really pass the sniff test. There were no fewer than 13 big league caliber LOOGY's on the free agent market this offseason, and six of them were still on the board when the Yankees pulled the trigger on Feliciano. Plus, they're the Yankees, there's no such thing as a limited market for them.
Failure in baseball comes in two forms: results failure and process failure. Results failure is when you do everything right and it still doesn't work out, something we see every day. A batter squares a ball up but hits it right at a fielder. A pitcher buries the changeup down and away but the hitter just throws the bat head out and bloops a single the other way. The relief ace enters the game in the right spot but still blows the lead. That's life, and it's part of what makes baseball so great, the unpredictability.
Process failure is another matter entirely. That's when the decisions leading up poor results were bad. Stacking the lineup with lefty batters against Randy Johnson. Leaving the LOOGY in to face an elite right-handed batter. Sacrifice bunting a runner up a base when he's already in scoring position. That's the kind of stuff that qualifies as a process failure, the straight up bad decisions. Hey, sometimes they do work it, but more often than not they don't. Signing Feliciano to a market rate and multi-year deal when the team was obviously aware of the risk and there were viable alternatives on the market, that's a process failure.
Let's just ignore the multi-year contract aspect of it. We know those are generally bad ideas in the first place, and the Yankees have seen first hand over and over and over again. The whole idea that they knew Feliciano was at heightened risk of injury (remember, he's already 34, he's no spring chicken) and still gave him a market value contract just seems like a good old fashioned swing and a miss. Either they didn't evaluate him properly, they didn't evaluate the alternatives properly, or they got too caught up in the name value. Maybe it was all three.
Yes, swallowing Feliciano's $4M salary is no big deal for the Yankees this year. That barely makes a dent in their bottom line. But being able to do that shouldn't necessarily be a reason to take on added risk, not in the situation like this. He's a lefty reliever, Feliciano's impact would have been minimal even if he was perfectly healthy. Maybe they take on that risk for a front-end starter or a power bat, but a LOOGY? Now they're stuck with no Feliciano, a budget missing $4M (more when you count the luxury tax), and a real limited market. All the free agents are gone and no one's ready to make a trade yet, certainly not when it comes to left-handed relievers anyway.
Feliciano won't be anything more than a footnote in the history of the 2011 Yankees, but his signing will hopefully serve as lesson like Marte, Kyle Farnsworth, and Steve Karsay apparently didn't. Giving multi-year contracts to non-Mariano Rivera relievers is a terrible idea, especially when there are obvious physical concerns with the player. Luckily the Yankees can absorb the mistake and move on like nothing happened, but they definitely goofed on this one.