They don't call them the Bronx Bombers for nothing. Two days after relying on a pair of homers to win the first game of the season, the Yankees clubbed three more en route to a 10-6 win on Saturday afternoon. The game was never really as close as the score implies; they jumped all over Brad Penny early and often, and it wasn't until the later innings that the Tigers mounted a threat, when the third tier relievers let things get slightly out of hand.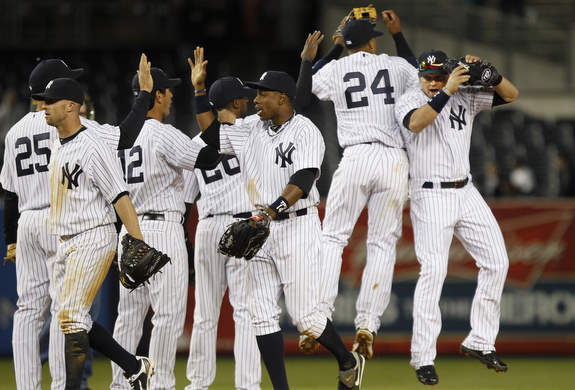 Biggest Hit: A-Rod opens the scoring
The Yankees haven't been particularly kind to Penny in recent years, and they took the screws to him again in this one. Derek Jeter and Mark Teixeira followed Brett Gardner's leadoff fly out with a single and a walk, respectively. Alex Rodriguez wasted no time getting his team on the board, lacing the first pitch he saw (a 93 mph fastball outside) into the right field corner to score Jeter and put two men in scoring position with just one outs. It was early, but at +.124 WPA, it was the biggest play of the game for the Yankees. A Robbie Cano single and a Nick Swisher sac fly followed, and New York had a three-zip lead before the second inning.
Honorable Mention: Tex & Martin each add three with one swing
Mark Teixeira wasn't kidding when he said he wanted to get off to a fast start this year. He clubbed a three-run homer for the second straight game, taking Penny deep on a 1-0 fastball in the second inning to put the Yankees up by six. The Tigers drew to within three by the fifth inning, but Russell Martin effectively put them away with a three-run shot of his own in the bottom half (with two strikes on him and two outs in the inning), his first homer in pinstripes. He's looked pretty good behind the plate, blocking balls and framing pitches and what not, but his offense has been a pleasant surprise in the two games so far. Martin's homer was worth 9.4% of the win, Tex's 9.0%.
Biggest Out: A.J. gets Magglio
The half-inning before Martin's blast, Detroit mounted a little rally off what had been a cruising A.J. Burnett. The right-hander retired eight of the first nine he faced (four strikeouts) before Austin Jackson took him deep for a solo homer, his lone blemish to that point. The fifth inning rally started rather quickly. Brennan Boesch lined a first pitch fastball back up the middle for a leadoff single, then Jhonny Peralta singled to left on the first pitch of his at-bat. Alex Avila also put the first pitch in play, grounding to Derek Jeter's right to score Boesch. It looked like a tailor made double play ball off the bat, but Jeter couldn't reel it in.
After three straight hits on first pitch fastballs, Burnett and Martin went to the hook against Brandon Inge. He ended up bunting the runners to second and third, then A.J. loaded the bases by walking Jackson. It was a classic Burnett meltdown, the kind we've seen plenty of times before, so Joe Girardi had David Robertson warming up in the bullpen. With lefty Will Rhymes up with a chance to tie the game with one swing, Burnett did something I don't ever remember seeing him do: he threw three straight changeups. The first was over the plate for a called strike, the second down below the zone for a ball. Rhymes made contact with the third, grounding it towards first. Tex didn't have enough time to start the 3-6-3 double plate or get the force out at home, so he just took it to the bag for the sure out.
The heart of the order was due up and two men were still in scoring position, so A.J. was hardly out of the woods. He started Magglio Ordonez out with a curveball for a strike, when got him to foul off a fastball for a quick 0-2 count. Ordonez has always been a high contact guy, never striking out as many as 90 times in a single season and only once striking out more than 80 times. He fouled off a curveball to stay alive, prompting a meeting on the mound between pitcher and catcher. Burnett gave Magglio another curve, the third of the at-bat, but he swung over top of it for the strikeout. A.J. had a tendency to let innings like that unravel last year, but holding Detroit to two runs in that spot was fine work. The strikeout improved the Yankees' chances of winning by 6.2%.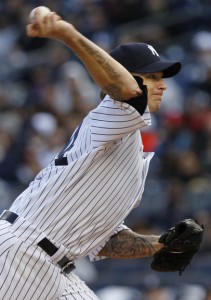 Same Ol' A.J. (on the surface)
Three earned runs in five innings is nothing special. It's a 5.40 ERA, which is worse than A.J.'s 2010 mark (5.26), so in that regard it was the same old Burnett. However, the real issue last year was the sudden decline in strikeout rate, so it was good to see him fan six guys in those five innings. Of his 86 pitches, 55 were fastballs, 25 were curves, and the remaining six were changeups. Detroit batters swung and missed at eleven pitches total (seven fastballs and four curves), a well-above-average 12.8% rate. Burnett has been around 8.0% swings-and-misses in his two years with the Yankees after being close to 10% with the Blue Jays. One game isn't enough of a sample to say anything definitive, but it was good to see A.J. get those strikeouts and swing-throughs.
And just to follow up Thursday's recap, Burnett started five of 21 batters he faced with curveballs (23.8%) and just two with changeups (9.5%). Last year he threw a first-pitch curveball 19% of the time and a first-pitch changeup 2% of the time. After the game, Jim Baumbach reported that Burnett was pitching with a throat infection, a sinus infection, and clogged ears. Give him some points for fighting through it, but sheesh, get that man away from the rest of the team.
Leftovers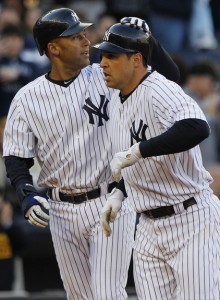 Whenever you score ten runs, it takes a total team effort. Brett Gardner and Jeter combined for four hits (two singles each), and Tex narrowly missed his third homer of the year when a ball just curved foul in the ninth. He also drew a walk and is hitting .286/.444/1.143 on the year. Hooray for small sample sizes. A-Rod drove in the first run of the game with that double, and also greeting Brayan Villarreal to the big leagues with a solo homer to left-center. Cano had a single and a double, Jorge Posada singled and walked twice, and Curtis Granderson singled as well. The only one who didn't get in on the party was Swisher, who is 1-for-8 with three strikeouts so far. That'll correct itself. Gardner and Grandy each stole a base too.
Eric Chavez and Eduardo Nunez came in as defensive replacements once the score got out of hand while David Robertson, Luis Ayala and Boone Logan threw garbage time innings, so the only players that still haven't gotten into a game yet are Andruw Jones, Gustavo Molina, and Bartolo Colon. Of course Nunez made a throwing error on the routine play that would have ended the game, forcing Mariano Rivera into the contest. He retired Miggy Cabrera on three pitches, the only man he faced, for his second save in as many games.
ESPN has the attendance at 41,462 (79.4% of capacity), but I have a hard time believing that. The Stadium looked maybe half full on television and based on those at the game and on Twitter. Yeah, it's cold and the weather wasn't great, but show up and support your team people!
Believe it or not, the Yankees are 2-0 for the first time since 2005. Ayala and Logan made it more interesting than it needed to be during the last few innings, but a win is a win is a win.
WPA Graph & Box Score
I love it when they're nice and boring like this. MLB.com has the box score and video highlights, FanGraphs some other cool stuff.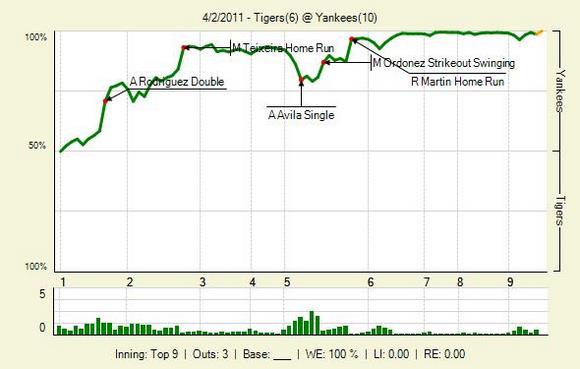 Up Next
The Yankees will look to complete the sweep tomorrow afternoon, when Phil Hughes and Max Scherzer each make their first start of the season. YES will carry that one at 1:08pm ET.