A.J. Burnett was a big time question mark for the Yankees coming into the season, but through his first three starts, there are some encouraging signs that suggest he might be getting himself on track. His strikeout rate is back over eight men per nine innings pitched (8.31 K/9, to be exact) after dipping below seven in 2010, and his swinging strike rate is back above league average (8.8% this year, 8.5% lg avg) for the first time since 2008. Of course we're talking about a sample size of three starts (just 74 batters faced) and he we're still a ways off from those numbers becoming meaningful, but given Burnett's struggles last year, we'll take anything that appears to be improvement.
During last night's game against the Orioles, a start that really was better than the line score indicates, we saw Burnett do something we really hadn't seen him do much of in the past: he used his changeup. Like, legitimately used it as a third pitch, not as just some show-me offering once or twice or three times through the course of the night. PitchFX classified 14 of his 109 pitches as changeups (he says it was 16), or 12.8% of the total. Compare that to recent years, when he never used the changeup more than four-percent of the time in any of the last four seasons. It's not a one start thing either, Burnett threw six changeups in his first start (7.0%) and a dozen in his second (12.1%).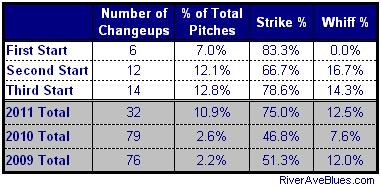 The table to the right shows A.J.'s usage of the changeup in each of this three starts this year and compares it to the first two years of his Yankees career. He's already thrown 32 changeups this year, and assuming he makes 33 starts the year (which he's done in each of the last three years), he's already thrown more than 40% of the changeups he threw in each of the previous two seasons in just nine-percent of the starts. Not only that, but he's also throwing the pitch for strikes, both called and swinging.
As you'd imagine, he's using the pitch to help combat left-handed batters, who tagged him for a .367 wOBA last year. Although that number isn't any better this season (LHB have a .385 wOBA against so far), that's more of a sample size issue (just 42 PA) than anything else. Those two garbage time homers he gave up last night were to lefties; if those end up being routine fly balls instead of over the fence, it drops to a .328 wOBA against. Of course it doesn't work like that, those homers count, but it just shows you how volatile these numbers are so early in the season.
Burnett's been a two-pitch pitcher pretty much his entire career and you know what?It has worked for him. The guy has a career 107 ERA+ and 21.1 bWAR, a career most pitchers would kill to have. His fastball velocity is definitely trending downward, which tends to happen as a pitcher approaches his mid-30's, but 92-94 is still more than enough to get batters out. Burnett doesn't need that changeup to be a legit out pitch (though the movement on the pitch suggests it might be able to become that, but lets not get ahead of ourselves), it just has to be a usable third offering that he can mix in from time to time to keep batters honest. It'll help make that 93 mph fastball look more like 96.
Credit Burnett, credit new pitching Larry Rothschild, credit Russell Martin, credit whoever you want with making A.J. actually use his changeup this year. It's given him another weapon to use which is always a plus, especially for a guy that struggled so much last season. The season is still very young, and the real test will come not when Burnett has that inevitable meltdown inning/start (it's coming, trust me, every pitcher has them over the course of the season), but when batters start looking for the changeup. Three starts in though, it's tough not to be even a little optimistic about how the Yankees' de facto number two starter is pitching.