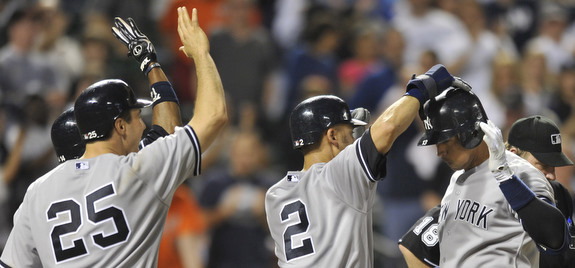 At long last, the Yankees actually played a baseball game on Saturday. Two scheduled off days and a rain out made the week drag on, but the bats certainly didn't show any rust. There's only so much you can say about a game like this, so let's quickly recap…
Holy offense. New York put 15 runs on the board, including a pair of homers from Russell Martin and a grand slam from Alex Rodriguez. Brett Gardner even got in on the action and put one over the fence. How about that?
CC Sabathia was the man tonight, making one bad pitch out of the 103 he threw. That's the pitch Adam Jones hit for a three-run homer, but aside from that he was on cruise control, striking out seven and allowing six hits. The television gun had him up to 99 but PitchFX disagrees; the system had him topping out at 95.5 mph. Sabathia got 15 swings and misses in his eight innings of work, which is a ton in a single game. Oh, and he finally got his first win.
Other offensive notables: Derek Jeter singled and walked, Mark Teixeira singled, doubled, and walked twice, and Robinson Cano chipped in three hits. Jorge Posada's three-true outcomes season continued with a homer and three strikeouts in five plate appearances. Gardner also chipped in a double, so good for him.
Orioles' reliever Josh Rupe threw at Martin after his second homer, hitting him up between his shoulder blades. That was followed by Gardner's homer but not a retaliation plunk by mop-up man Buddy Carlyle. Martin said afterward that he had a knot in his back and Rupe knocked it out for him, which was pretty awesome. Gardner going deep immediately afterwards is the best payback a Yankees' fan could ask for.
A-Rod's grand slam was the 22nd of his career, and he's now one behind Lou Gehrig for the all-time record. His six RBI moved him past Carl Yastrzemski for sole possession of 12th most in baseball history.
Here's the lopsided WPA Graph, and here's the box score and video highlights.
Quick turn around, these two teams will play the second game of this improvised two-game series tomorrow afternoon at 1pm ET. Freddy Garcia goes against Jake Arrieta.