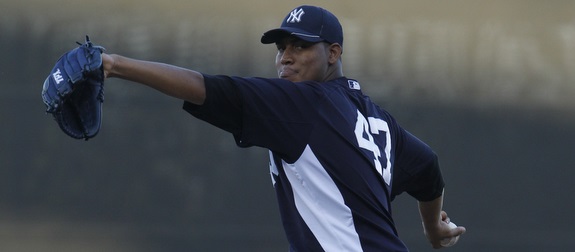 Yesterday's loss was frustrating but that's life. Games like that happen over the course of a season. The Yankees managed to score five runs without the benefit of a homer and non-Phil Hughes/Boone Logan pitchers kept the Red Sox bats at bay. Those are pretty much the only positives.
The ball goes to Ivan Nova today, who is facing most of Boston's hitters for the first time. He made one start and one relief appearance against the Sox last year, but the only holdovers from those lineups that are starting today are J.D. Drew, David Ortiz, and Jed Lowrie. Like most pitchers, Nova thrives on facing batters than haven't seen him before, but then again this Boston lineup isn't filled with normal hitters. Dustin Pedroia, Carl Crawford, Adrian Gonzalez, Kevin Youkilis … those are stars of the first order, it might not matter that they've never seem before.
Here's the lineup…
Brett Gardner, LF
Derek Jeter, SS
Mark Teixeira, 1B
Alex Rodriguez, 3B
Robbie Cano, 2B
Nick Swisher, RF
Curtis Granderson, CF
Eric Chavez, DH
Russell Martin, C
Ivan Nova, SP
It's a 1:10pm ET start, and the game will be broadcast by FOX. Two FOX games in the first two weeks of the season just isn't cool, man. Try to enjoy the game.