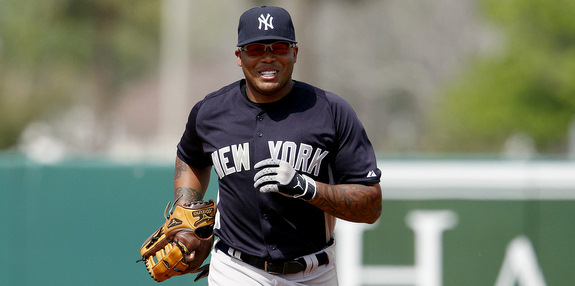 Depending on who you ask, the Yankees have three players right now that should get into the Hall of Fame on the first ballot. Derek Jeter, Alex Rodriguez, and Mariano Rivera are the easy picks, but they aren't the only guys on the roster with Cooperstown-worthy credentials. As good as CC Sabathia and Mark Teixeira are, fourth outfielder Andruw Jones has had a more distinguished career than any of them. From 1998 through 2006 (age 21-29), Jones averaged .270/.347/.513 (.365 wOBA) with 35 homers, 12 steals, and an unfathomable 25.5 defensive runs saved per season. It doesn't get much better than that.
Unfortunately, Jones is no longer that player. He's with the Yankees as a spare part, a guy whose sole purpose in life is to spot start against left-handed pitching, a job he may or may not be qualified for. He's making his first start of the season tonight, adding to a lineup that has tattooed Twins' starter Brian Duensing in each of the last two postseasons. The Yankees don't need Andruw to be a cornerstone player, he just needs to take care of business at the bottom of the lineup.
Death, taxes, and the Yankees beating the Twins. The only certainties in life. Here's the starting lineup…
Derek Jeter, SS
Nick Swisher, RF
Mark Teixeira, 1B
Alex Rodriguez, 3B
Robbie Cano, 2B
Jorge Posada, DH
Russell Martin, C
Andruw Jones, LF
Curtis Granderson, CF
First pitch is scheduled for 7:05pm ET, and the game can be seen on YES. Enjoy.