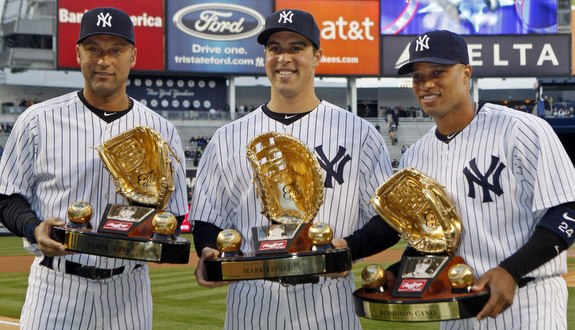 Last night's loss sucked, there's no way around it. The bullpen blew a gem of an outing by CC Sabathia and the offense went to sleep after the second inning. But the best part about baseball is that they play everyday, so the Yankees have a chance to put the loss behind them and get back to their winning ways tonight. On the mound is Freddy Garcia, making his debut in pinstripes. Expectations are low, and chances are the Yankees are going to have to score some runs for him while the patch-work bullpen holds whatever lead they're given, if they're given one at all. That all assumed the rain that is forecast for this evening holds up.
The Twins counter with former Yankee Carl Pavano. He's been pretty tough on his former mates since being kicked out of town after 2008, allowing just ten runs in 26.1 innings (3.42 ERA) across four starts. Pavano got his ass kicked pretty good by another AL East team in his first start of the season (eight runs in four innings against the Blue Jays), so let's hope that trend continues. Here's the starting nine…
Brett Gardner, LF
Curtis Granderson, CF
Mark Teixeira, 1B
Alex Rodriguez, DH
Robbie Cano, 2B
Nick Swisher, RF
Eric Chavez, 3B
Eduardo Nunez, SS
Gustavo Molina, C
Freddy Garcia, SP
Another 7:05pm ET start, another YES broadcast game. Enjoy.
Update: And we have out first rain delay of 2011. No work on when this one will get underway.
Update Part Deux: The game has officially been postponed. No makeup date has been announced, but this is the Twins only trip to Yankee Stadium this season. If they don't play a doubleheader tomorrow, at least then they'll have to come to New York and not the other way around.
So use this as an open thread in the meantime. The Extra Innings package is still in a free preview, so there's plenty of games on television.
Update Again: The game will be made up at an unspecified date in September according to Kelsie Smith. The two clubs have two common off-days that month: the 8th and 15th. The problem for the Yankees is that those dates bookend a west coast trip, so they'll lose out on a precious travel day.