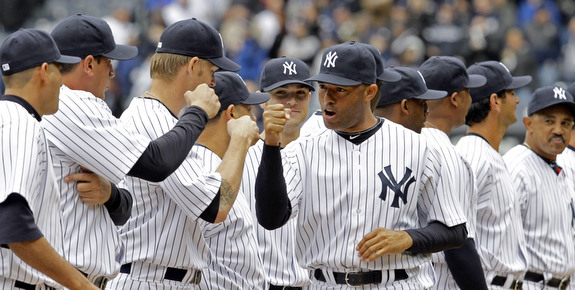 It had been 84 years since the Yankees started a season with the same three outfielders and same four infielders on consecutive Opening Days before Thursday, and it had also been three years since the Yankees last won their first game of the season. The 6-3 win over the Tigers was a total team effort that featured a few individual highlights, namely from the guy roaming center field.
Biggest Hit (subjectively): The Grandyman cans Coke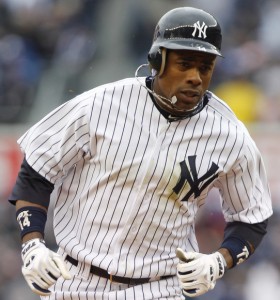 The Yankees and Tigers played to a three-all tie through six innings yesterday, so it came down to a battle of the bullpens. Jim Leyland made the wise move and went to a left-hander to face Curtis Granderson leading off the seventh, giving the ball to former Yankee Phil Coke. Coke is making the transition to the rotation this year, but Detroit won't need their fifth starter for another week or so, so he finds himself working in relief for the time being. He missed the plate with his first two pitches, rather ordinary fastballs that clocked in at 90 and 89, respectively. It's not easy to get a 90 mph fastball by a big league hitter in a 2-0 count, but Coke tried to do it and Grandy tomahawked the pitch into Damon's Deck for a one-run lead. The pitch was up in the zone and over the plate, prime hitting real estate. The WPA of this homer: .182, the second largest swing of the game.
Granderson, of course, was a question mark for this game as recently as Wednesday since that oblique injury limited him during the final week of Spring Training. He show the muscle was more than healed in the very first inning, making a diving catch to rob Will Rhymes of a base hit. He also made a brilliant catch going back on a ball hit by Brandon Inge in the ninth, so Granderson provided two legit highlight reel catches plus the eventual game-winning homer off one of the guys he was traded for. All in all, it was a damn fine day for the Yankees center fielder.
Biggest Hit (by the numbers): Tex Message
We're all well aware of Mark Teixeira's painfully slow starts, and we also know that the first baseman took a lot of extra swings this winter in an effort to start the season somewhere besides the dumps. It took him three games to hit his first homer of the season in 2009 and then a dozen last year, but it took all of two-and-a-half innings in 2011. The Yankees had runners on the corners with one out when Justin Verlander tried to sneak a 1-1 fastball by Tex upstairs. It didn't work, as Teixeira hooked the ball into the right field corner for a three-run homer and a 3-1 lead. It had plenty of distance, landing in the second deck like Granderson's shot, so the only question was fair or foul. It was fair, and it resulted in a .211 WPA swing, the biggest of the game.
Win, Hold, Save
Once the Yankees decided to take the plunge and sign Rafael Soriano this offseason, we evaluated the move basically two different ways: the contract was awful, and the bullpen was awesome. The latter was on full display today.
Joba Chamberlain took over for CC Sabathia in what figures to be his primary inning this year, the seventh. He struck out Austin Jackson on a bit of a hanging slider, but he gets no credit for that since I think I would have been able to strike out Jackson yesterday. Rhymes then lined out to a perfectly positioned Brett Gardner, and Magglio Ordonez flew out weakly to right to end the inning. Since the Grandyman homered in the bottom half of the inning, Joba got the credit for the win today. Three up, three down by the pen so far.
Soriano was warming up even before the Yankees took the lead, and he came in to handle the eighth. He got Miguel Cabrera looking at strike three for the first out (a generous call, no doubt about it) before Victor Martinez rolled over on a slider and grounded out to first rather harmlessly. Ryan Raburn made the final out of the inning on a hard hit fly ball to deep right-ish-center. Give that man a hold. Six up, six down for the pen.
Soriano gave way to Mariano Rivera, who went fly ball, fly ball, strikeout to record his first save of the season. The three relievers retired all nine men they faced with a strikeout each, which is exactly how you'd draw it up in the later innings. Joe Girardi still had David Robertson in reserve if something went awry, and Boone Logan was available in case the Tigers actually had a dangerous lefty in the lineup. I'm still not a fan of the Soriano contract, but I love watching him get outs late in the game.
Leftovers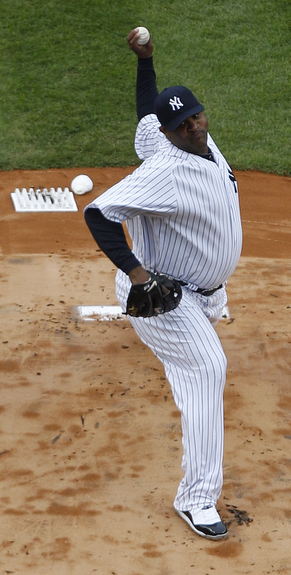 Making his third consecutive Opening Day assignment for the Yankees and eighth overall, Sabathia was strong but hardly overwhelming. He did strike out seven (Jackson twice, so they don't count) and walked just two, but four of the six hits he allowed came with two strikes. CC will tighten that up as he gets closer to midseason form, so there's no worries there. Seventy of his 106 pitches were strikes (66.0%) and half of his non-strikeout outs came on the ground. What I found interesting was that Sabathia threw a first pitch breaking ball to 12 of the 27 batters he faced (eight called strikes, two balls, two fouls). The data at FanGraphs says he threw first pitch breaking balls just ~23% of the time last year and ~19% of the time in 2009, so he definitely threw more than usual on Thursday. It could just be a blip on the radar, but it's worth keeping track of going forward. Maybe it's the Larry Rothschild effect.
Another thing worth paying attention to as the season progresses: Granderson was playing very shallow in center. It worked out well because he made at least two nice catches on balls hit in front of him while still tracking down everything hit over his head. Again, let's follow this going forward.
Nice Yankees debut for Russell Martin, who went 1-for-3 with two runs scored, but it would have been 2-for-3 if not for a nice diving grab by Raburn. He also showed off the wheels and stole third, and looked perfectly fine behind the plate. The hip and knee look wonderful.
The 2-3-4 hitters reached base a total of six times in eleven plate appearances, driving the offense. Alex Rodriguez carried his torrid spring into the season, clubbing an opposite field double off the wall and walking twice. Nice Swisher also blooped in a single to drive in an insurance run, but he got caught in a run down trying to advance to second. I guess you take the good with the bad.
Gardner struck out in his two official at-bats, seeing nine pitches total. Can't blame him, Justin Verlander was throwing grenades out there. He did, however, bunt twice, once in the third inning (!!!) and then again in the eighth. I'm not really in the mood to talk about bunting, so let's just leave it at that. Derek Jeter went 0-for-2 with a walk, a run scored, and a sac fly, though he looked pretty immobile in the field. Moreso than usual. Let's hope it was the crappy weather and wet field. Jorge Posada took an unkind 0-for-4 but it was Robbie Cano that had the worst day of all. He struck out twice (once on a ball over his head) and flubbed a routine play on the field, indirectly leading to a run for the Tigers. He'll do better.
The Yankees won their tenth straight Opening Day game at home, a streak that goes back to 1982.
WPA Graph & Box Score
A little rocky for Opening Day, but a win is a win. MLB.com has the box score and video highlights, FanGraphs the nerd score.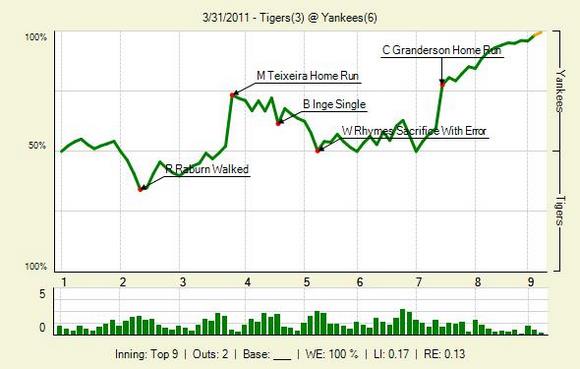 Up Next
These two teams will take Friday off then meet back up for game two of the series and season on Saturday afternoon. FOX will carry the matchup of former Florida Marlins teammates – A.J. Burnett and Brad Penny – at 4:10pm ET.