It had been a long time since the Yankees last played a game, at least in baseball terms. Monday's off day was followed by Tuesday's rain out, which was then followed by the Yankees pounding Chris Tillman and riding A.J. Burnett's right arm for six-plus innings. The final score (7-4) made this one seem a lot closer than it really was.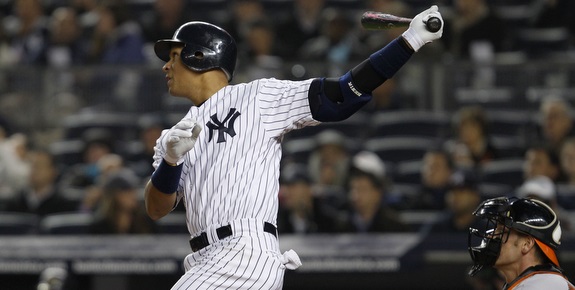 Biggest Hit: A First Inning A-Bomb
A number of Yankees' hitter came into this game slumping, but apparently Tillman cures all ills. Brett Gardner came into the game hitless in his last ten at-bats, but he slapped an 0-2 fastball into left to leadoff the first inning. He later got thrown out trying to steal second, but that had more to do with a perfect throw from Matt Wieters than something Gardner did wrong. Derek Jeter, two for his last 13 coming into the game, worked a full count and inside-outed a single through the right side of the infield. Mark Teixeira then came to the plate and ended his 0-for-18 streak with a single back up the middle.
Alex Rodriguez hasn't been slumping, he was just sick over the weekend. With men on first and second with one out, A-Rod worked Tillman for a quick 2-0 count before seemingly flicking his wrists and driving the ball to right field for a three-run homer. It was probably a Yankee Stadium special, but they all count the same. At .191 WPA, it was by far the biggest play of the game for New York.

Better than the line indicates
Four runs on seven hits in six-and-a-third innings isn't anything special, yet that's the line Burnett was saddled with after six very strong innings. He certainly bent but didn't break in the early going, throwing 53 (!!!) pitches in the first two innings but allowing zero runs. A six-pitch third inning followed. Then a 13-pitch fourth inning. Then a ten-pitch fifth inning. Then a 14-pitch sixth inning. Before you knew it, A.J. cruised right through the third through sixth innings, allowing just a single to Vlad Guerrero and a single to Wieters at various points. At that point, his pitching line stood at six shutout innings with just four hits mixed in.
When he went out for the seventh inning, Burnett's pitch count stood at a manageable 91 pitches, and with a seven-run lead, there was little reason to be concerned. Adam Jones grounded out on the first pitch, but then the trouble started. Mark Reynolds shot a 1-1 curveball over Curtis Granderson's head for a double, which was followed by a two-run Wieters homer. It happens, but with that lead who really cares. A walk to Robert Andino followed, and by this point David Robertson was warming up. Burnett was left in to face Brian Roberts, who yanked a 1-1 curveball into the Yankees bullpen for Baltimore's second two-run homer of the inning, ending A.J.'s night.
All the damage came in what amounts to garbage time. The Yankees had a big league and Burnett was just trying to finish off the seventh inning in what had otherwise been a strong outing. So Roberts hit a homerun, big deal. I don't see why A.J. wouldn't challenge him in that spot, he's not exactly a big time power threat. Before that seventh inning ugliness, Burnett was everything the Yankees hope we will be this season. I'll have more on it tomorrow, but A.J. threw 14 changeups tonight, which is a freaking ton for him. He might have thrown two or three in a given start last year. So bravo, the right-hander did fine work tonight.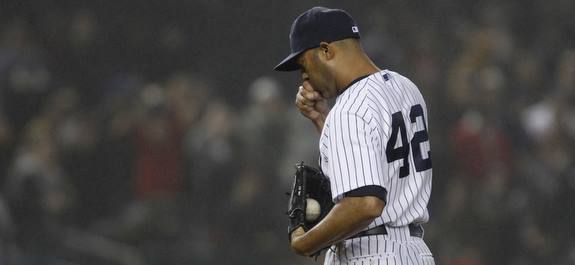 Leftovers
The bullpen was nearly flawless in 2.2 innings of work; the lone mishap was a Luke Scott single off Rafael Soriano. David Robertson wiggled out of that seventh inning, then Mariano Rivera slammed the door in the ninth. Soriano didn't throw a single pitch over 89 mph, by the way. I wouldn't worry about it until a) he does, or b) he starts sucking.
Jorge Posada broke out of an 0-for-20 slump with a fourth inning solo homer. He also chipped in a seeing-eye single back up the middle later in the game. Posada has six hits on the season, and four of them are homers.
Both Jeter and A-Rod picked up a second hits on infield singles, moving the former into a tie with Barry Bonds for the 31st most hits in history (2,935). Alex's three runs driven in moved him into a tie with Ted Williams for the 13th most RBI in baseball history (1,839). That's a brand name right there.
Everyone in the lineup had a hit except for Granderson, who opted for a walk instead. Russell Martin and Robinson Cano chipped in doubles. The Yankees knocked Tillman out of the game in the second inning, so the Orioles had to go pretty deep into their bullpen. I suppose that's good for tomorrow.
In case you missed it, the Yankees got some bad news on Pedro Feliciano, who has significant damage in his shoulder and could need surgery. That's a shame, but when you sign 30-something relievers with that kind of recent workload to the multi-year deal, you're asking for trouble.
WPA Graph & Box Score
See? The O's were never really close to getting back into it. MLB.com has the box score and video highlights, FanGraphs the nerd score.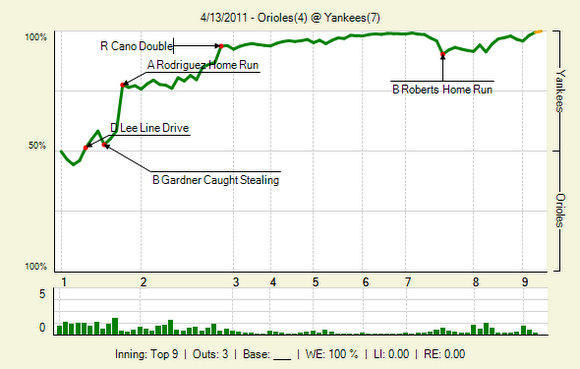 Up Next
This rain-shortened series concludes tomorrow evening, when Phil Hughes attempts to resemble a Major League pitcher against Jake Arrieta. Interested in going? Make sure you check out RAB Tickets.