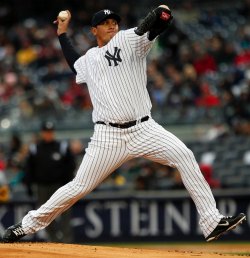 What can a man do with a mid-80s fastball? Not much, if recent history is any guide. A few pitchers have sat in that range — Jamie Moyer most prominently — but few have experienced success. The hope with Freddy Garcia was that he could get his fastball into the upper 80s. Early in spring training he said that he was effective when his fastball was around 88, but got hit around when it dipped below that. And so it might not have seemed like a good sign that his fastest pitch on Saturday was 87.5 mph.
Yet we know that he pitched as well as he did in any start last season, allowing no runs on just two hits and a walk while facing one of the league's most potent offenses. His fastball averaged just under 86 mph, and he hit that 87.5 speed maybe three times all game. Garcia went to his heat 35 times and generated no swings and misses, yet it still represented his best linear weights score, per Brooks Baseball (just combine the top two rows). Yes, that's 35 fastballs, 24 strikes. He complemented that by mixing in 24 changeups, 16 sliders, 6 curves, and something that PitchFX classified as a splitter. It all made for a nice mix of pitches and speeds.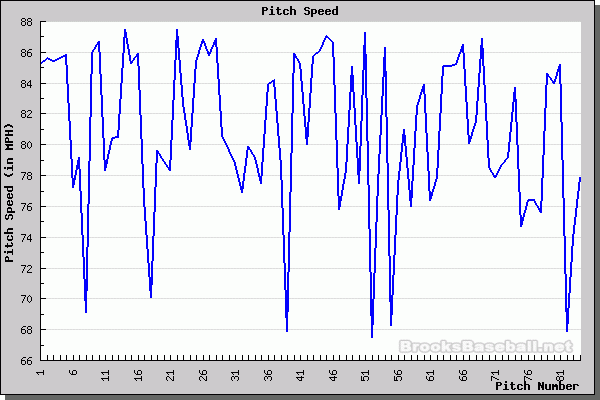 This is exactly how Garcia will need to approach every start if he's going to succeed for the Yankees. Fastballs in pitchers' counts, off-speed stuff in hitters' counts — overall, a near-random selection of pitches that will keep hitters guessing. That's how Garcia can succeed while throwing in the mid 80s.
It's early still, and there's a chance that Garcia's fastball ramps up as the weather warms, but that' no guarantee. Last year he averaged 88.5 mph on his fastball in April, but then just 87.5 mph the rest of the way. He did adjust then, though, leaning on his changeup far more often than his fastball, and mixing in the slider more prominently. I can see similar changes this year, especially if his velocity follows a similar trend.
Today on the podcast I asked Mike whether he believed that Garcia could continue getting hitters out with the general slop he threw on Saturday. He gave the answer that I've been wrestling with: heart says yes, head says no. How can anyone succeed throwing mostly off-speed junk? I'm not sure, but we not only saw Garcia do it on Saturday, but we saw him do it against one of the league's best offenses — one that tagged up his rotation mates Ivan Nova and CC Sabathia.
Chances are Garcia can't sustain this. But that's not my concern right now. All I want to do is heap a little praise on a guy who, without any semblance of a major league fastball, spun, tilted, and palmed his way through a tough lineup. It was an impressive debut, and an important one, too. With Hughes on the DL, CC getting off to a slow start, and Nova struggling, the Yanks needed that from Garcia.