Three questions this week and I tried to be concise with my answers, but I failed. Remember to use the Submit A Tip box in the sidebar to send in your submissions.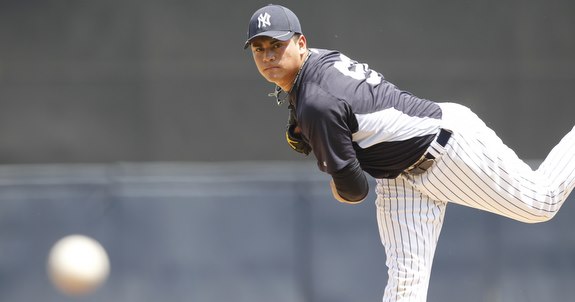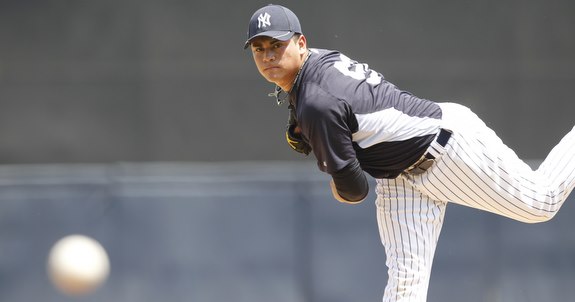 Williard asks: Since spring training, Manny Banuelos has been praised highly by many writers and scouts. But what can we actually expect out of him in terms of ceiling and probability?
There's no hype quite like New York hype, so sometimes it can be tough to read through the garbage and figure it what is and what isn't true. I'm certainly guilty of over-hyping prospects, we all are. It comes with the territory, and there's nothing we can really do about it.
As far as Banuelos, he certainly got a lot of exposure and generated a lot of buzz this spring, and the Yankees didn't help matters by keeping him in big league camp until the very last day. The good news is that we were able to watch him pitch some in Spring Training, so we could see if the goods matched the reports. And yes, they did. Banuelos legitimately sits 92-94 with his fastball and generates that velocity with surprising ease for a dude on the wrong side of six foot. His curveball is progressing and at times it looked unhittable, and other times it was meh.
What makes Banuelos stand out is two things. One, he's got a dynamite changeup, and that was on full display last month. That gives him a weapon to get out right-handed batters, and finding a way to neutralize batters of the opposite hand is a common obstacle for young pitchers. He's already taken care of that. Two, the kid really does look like a veteran up there. Very poised, he's always got the game face working, and he never seems to get overwhelmed. Granted, it was just Spring Training, but we've been hearing that about him since the day he signed.
Left-handers with that kind of velocity and a knockout secondary pitch are at worse, mid-rotation starters. Add in the makings of a strong curve, the willingness to throw strikes, and the ability to not crap his pants on the mound, and we have a true ace caliber pitcher. Banuelos isn't a finished product even though the general consensus seems to be that he could hold his own in the majors right now; he still needs to refine that curveball and just work on command in general. But he's legit, there's true frontline potential and he should find his way into the Yankees rotation before long. There's always risk, but having the control and changeup down already means his probability is much higher than most 20-year-olds.
Clark asks: Other than empirical evidence, is there any data that supports that players perform better in contract years?
The definitive study on contract years was done by Dayn Perry and can be found in Baseball Between The Numbers. I recommend reading the entire book because it's incredibly informative, but Perry found that from 1976-2000, the top free agents tended to be about 10% more productive in their walk year that either the year before or the year after. To put numbers on it, the average WARP during a contract year during that time was 5.56. The average the year before was 5.08, and the year after it was … 5.08.
Perry notes that this has a lot to do with player aging and not just trying harder to land that big contract. The average age during the walk year was 31, which is pretty close to when a player starts leaving his prime and entering decline. Just under 38% of players in the study peaked during the walk year while 34% peaked the year before and just 28.3% peaked the year after. It's not really a surprise that performance tends to decline after players land that contract; the players are simply get older.
There's definitely a very real impact from players trying harder during their walk years – don't we all work a little harder the month or two before our companies conduct performance reviews? – but there are other factors at play. It's not all because of greed.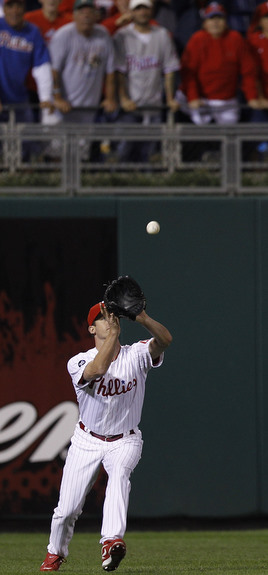 Charley asks: So, I had this dream last night where Red Sox were playing the Yankees and they were tied in the bottom of the ninth. The Yankees had runners at 2nd and 3rd and Tito put 3 pitchers in the OF. A ball was hit to Beckett and he threw a laser to home plate. You think this could ever be a scenario; even just one pitcher in the OF to start the inning? Sounds like a Joe Maddon move.
True story. A few years ago I had a franchise going in MVP 2006 NCAA Baseball, and I was in Game Three of the best-of-three Super Regionals. So winner goes to the College World Series. I had a one-run lead in the ninth but there was a man on third and one out. Might have been bases loaded or first-and-third, I forget, but there was definitely a guy on third and one out. I wasn't taking my regular center fielder out because he was my best player, but I put pitchers in left and right for this very reason. Granted, I cheated a little because they were two-way players capable of hitting, fielding, AND pitching, but still. Anyway, there was a fly ball to the right fielder, and he ended up throwing the ball to the backstop to allow the run to score. I ended up losing that game in extras, which sucked.
I can't imagine any big league manager, even Joe Maddon, trying something like. I think the fear of injury (not necessarily the actual injury risk, just the fear of injury) is too great. It's takes quite a bit of effort to throw a ball from the outfield to the plate, and you don't want a pitcher to do that without properly warming up. Plus throwing mechanics for pitchers and outfielders are different. It would be a ballsy move, and I think I'd prefer to take my chances with a real outfielder instead of take a pitcher out of his comfort zone. But that's just me.