We've got just three questions in this week's edition of the RAB Mailbag, but they all bring something different to the table. Make sure you use the Submit A Tip box in the sidebar to send in your questions throughout the week.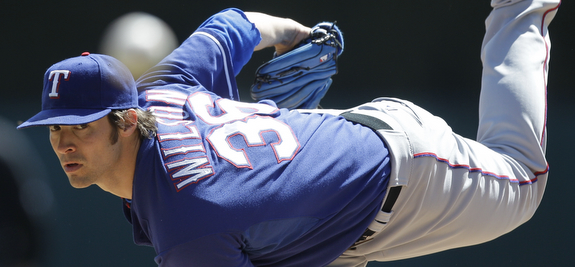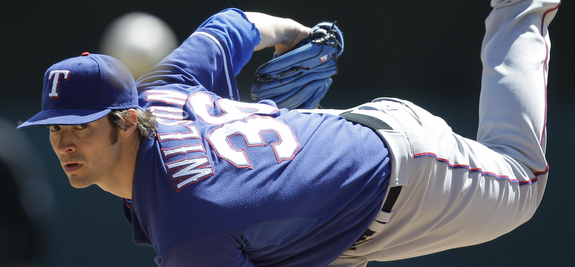 Sean asks: What do you think the chances are of the Yankees pursuing, and signing, CJ Wilson this offseason? He has a shady performance history up until last year, but he did have a good year last year and is off to another good start this year. Three main things make me think he'd be a good fit for the Yankees: 1) obviously, their rotation needs some help; 2) he's a lefty; 3) this year's FA SP class will be pretty weak. Thoughts?
After CC Sabathia, Wilson will be the second best starting pitcher on the free agent mark after the season. It's basically him and Edwin Jackson, which gives you an idea of how crappy the free agent pitching class is. I think those three things you listed are more incidental than proof that he's a good fit, if you understand what I'm saying. The key fits the hole but it doesn't unlock the door, you catch my drift? After all, don't number one and three apply to Jackson as well? Anyway, although Wilson will be the top non-CC hurler on the market, there are a number of reasons I'm very skeptical of signing him. Let's list 'em…
He's always walked a ton of guys, 4.10 per nine last year and 4.03 career. Yes, it's down this season (2.73 BB/9), but it's too early for that to mean anything.
His swing-and-miss rate is decidedly below average, just 6.7% last year (6.8% this year).
Velocity is nothing special, right around 90 mph as a starter.
Very limited track record as a starter and a history of arm (specifically elbow) trouble.
Will turn 31 during the offseason, so you're definitely buying decline years and items two and three figure to get worse, not better.
He's in line for a contract on par with A.J. Burnett's and John Lackey's, five years and $80M or so. That's a lot of scratch.
I would absolutely love to rent Wilson for half-a-season, but I don't think a) the Rangers will be falling out of the race anytime soon, or b) would be willing to help the Yankees. He's a fine pitcher, no doubt about it, but I want no part of paying that guy eight figures a year just because he's the best of a bad lot. I actually prefer Jackson since he's younger (by three years), has been crazy durable (180+ IP in the last three years), and is trending upward in the missing bats department (swing-and-miss rate from 2008-2011: 7.6%, 9.8%, 10.4%, 10.8%). But again, imperfect solution, a product of the market more than anything.
Howie asks: Reegie Corona is on the 60 day DL. I think the last I heard was he might be healthy by midseason. So first off, is that still the case? Secondly, he's not a major leaguer, so if he returns to minor league action, does he still need to be activated from the 60 day DL? Might that be the time he is DFA'd?
As far as I know, yeah, Corona's still on track to come back from his broken arm around midseason. I assume the team will send him on a minor league rehab assignment before activating him from the disabled list, but ultimately he has to be activated before he can be officially sent to the minors. The Yankees' 40-man roster currently has 44 players on it, four of whom are on the 60-day DL, so someone has to go whenever Corona is activated. Even before the logjam, he was always on the short list of DFA candidates.
With Frankie Cervelli beginning his rehab last night, it stands to reason that Gus Molina will be the first 40-man roster casualty. Jose Ortegano and Kevin Russo are on the bubble as well, but at least those two have redeeming qualities (Ortegano's left-handedness, Russo's versatility). Corona is basically a carbon copy of Ramiro Pena; a no-hit, defense-first middle infielder. I'm not sure why he was added to the 40-man roster in the first place, he was an extreme long shot to stick on a big league 25-man roster at the time. So yes, I would expect Corona to get canned not long after being activated. He's the definition of a spare part.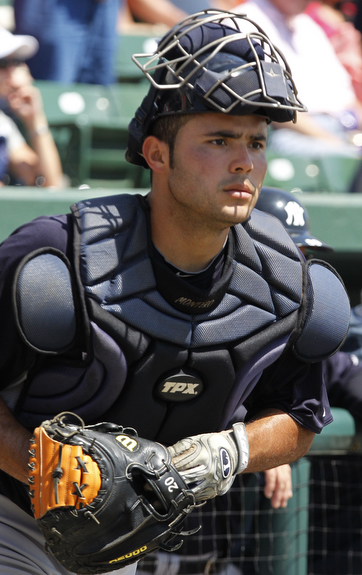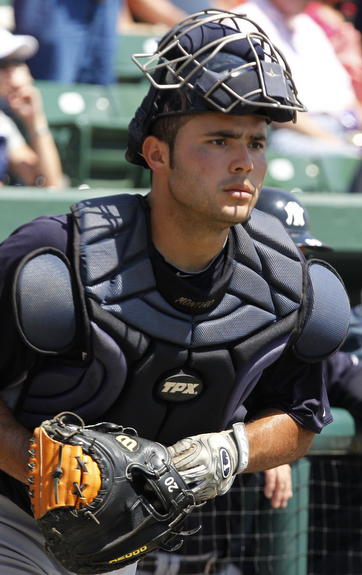 Mark asks: Alright, help me out here…..we've read all about the defensive shortcomings of Jesus Montero. We know he can hit, we also know he isn't that good behind the plate. Although we are only 16 games into the season, it sure looks to me like we have a stud behind the plate right now in Russell Martin. Tell me what he hasn't done right – .292 batting average, .950 OPS, 2 SB, calling good games, blocking balls behind the plate and showing a pretty good arm in throwing runners out. And he's only 28. Is it ridiculous to ask why Martin cannot be our catcher of the future and that Montero (assuming he isn't traded away) is our future DH and back-up catcher next year?
Is it ridiculous? No, not at all, but we're getting way ahead of ourselves here. Frankie Cervelli hit .400/.481/.487 in his first 16 games last season and people were asking if his performance made Montero expendable. That sounds silly in hindsight, but trust me, it happened.
Montero really should be in the big leagues right now, he's absolutely ready and is simply too good for the Triple-A level, but the Yankees don't have an obvious spot for him. I guess in a perfect world, the plan would involve trading Cervelli as part of a package for a starting pitcher come June or July and calling Montero up to serve as the backup and occasional DH, an apprenticeship under Martin that would continue in 2012. Then once Martin hits free agency as a 30-year-old after the 2012 season, Montero is inserted as the starting backstop. That's a perfect case scenario though.
Part of me thinks the Yankees should at least try Montero in the outfield at some point, just to see if he could fake a corner outfield spot while he's young and work him into the lineup that way. Brett Gardner's not exactly lighting the world on fire in left right now, plus he really isn't much of an obstacle for a guy with Montero's offensive prowess anyway. That's just me thinking about loud though, I'd hate to waste to see Montero waste some of those hits in Triple-A when he could be helping the big league team.