No one likes a rainout. Even the eventual payoff — a doubleheader or a day of baseball where there otherwise wouldn't have been — doesn't compensate for the disappointment. After all, those games are in the future. We've been deprived of baseball now. One thing we can do, though, is look at how the rotation might play out in the next week or so.
The Yankees play for the next five days before hitting another off-day on Monday. They then have off on Thursday, which allows them to set up the rotation pretty much however they want. It will provide the further benefit of helping them prepare for their 17-game stretch that follows. Which order gives them the optimal setup?
Ideally, the Yankees would want their top four going as frequently as possible, with Garcia getting skipped whenever possible. They can't just skip him outright, since he'll need to pitch eventually and has to get some work. But I'm sure they'd prefer to line him up so he basically gets four starts between now and May 8. That appears to be the bare minimum. There's also the possibility that Hughes tanks his next start and the Yankees skip him. I don't think they'll skip him for a full turn, since it would involve giving Garcia five starts instead of four. But they can still give him an eight-day break while keeping Garcia to the minimum four games.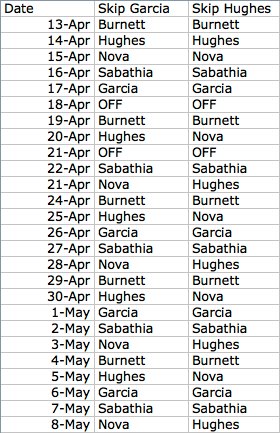 There might be some small tweaks in there, but these iterations serve the Yankees best. It allows them to keep their guys mostly on turn, while using their fifth starter minimally. It also allows them enough flexibility to skip Hughes, if they think that can be a step towards his recovery.
Rainouts are the bane of a baseball fan's existence. Yet they're not all bad. They might cause scheduling problems down the road, but that's for the future us's to dissect. The two rainouts the Yankees have experienced this season have provided them with a great deal of flexibility in the rotation. Used optimally, it could aid them greatly in the next three weeks.