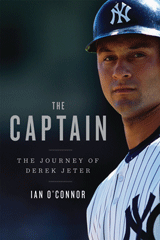 By most accounts, Derek Jeter is not having a great 2011. Sitting just 55 hits away from 3000, the Yankee captain is hitting just .257 in the early going with an on-base percentage of just .317 and a .284 slugging clip. Prior to his four-hit day yesterday chock full of dribblers to third, those numbers were worse, and after a similarly subpar season from Jeter last year, Yankee fans have been trying to come to terms with Derek Jeter.
The grumbling started in 2010 when Jeter, homerless in over 200 plate appearances now, posted numbers well below his career averages. His triple slash line of. 270/.340/.370 made him a decent short stop, but it was a far cry from the .314/.384/.451 days of yore. As age is creeping up on him, his fielding suffered as well, and with free agency looming, the Yankees were either going to overpay or engage in acrimonious negotiations with the captain. Somehow, they managed to do both.
With Jeter's decline — inevitable due to age, as many believe — a fanbase that has long worshipped him has struggled. Derek Jeter has long been the True Yankee™ in the most cliched sense of the word. He came up through the system, and the Yankees started to win with Jeter. He has outlasted dynasties, managers and even the team's owner, and at one point in his career, could have been on pace to break Pete Rose's hit record. He wasn't supposed to age, slow down or become anything less than a perfect celebrity.
Somewhere along the way though, cracks in the Jeter façade started to show. He had a public falling out with A-Rod a decade ago and never embraced the third baseman when he came to New York. He often spoke at length with reporters while saying nothing, and his leadership as the captain came more from his behind-the-scenes words, if at all, than from his on-field actions. Fist pumps can take a team only so far.
The Jeter persona, largely driven by the New York media, has recently been subjected to a certain level of skepticism from that media, and Jeter's tough year is going to get a little more trying over the next few weeks. Ian O'Connor — yes, that Ian O'Connor — has penned a biography of the Captain entitled The Captain: The Journey of Derek Jeter. From the press materials, the book will be a pretty straightforward account of Jeter's life and career, but the early excerpts leaked to the tabloids and posted on ESPN New York contain the juicy stuff.
Yesterday's edition of The Post had O'Connor's book splashed across the front page. Why? Because it detailed the rift between A-Rod and Jeter. This story is an old one. We know how Jeter and A-Rod had a falling out over a 2000 magazine interview. We know that Jeter didn't love the idea of A-Rod's coming to New York and how the Yankees had to pressure Jeter into accepting A-Rod's presence on the team. We know Jeter didn't stand up for A-Rod as the slugger faced questions about drug use. That story might sell papers, but it's hardly breaking news.
The part of the book available now that sheds more light on Jeter though concerns his relationship with Cashman. In a piece on ESPN New York with no byline, the worldwide leader's local site sheds more light on Derek's contract negotiations. No one comes off as altruistic, and we see a side of Jeter — the side that built St. Jetersburg — most do not like to admit exists. I'll excerpt:
The book, "The Captain: The Journey of Derek Jeter," details a Nov. 30 sit-down in which Jeter, his agent Casey Close and Creative Artists Agency attorney Terry Prince met with Cashman, team president Randy Levine and co-owner Hal Steinbrenner to iron out their differences. The Tampa summit lasted four hours, but Jeter stayed for only the first 45 minutes, telling his employers — especially Cashman — how angry he was that they had made details of the negotiations public. When Jeter got up to leave the room, Cashman asked the shortstop to sit back down and hear him out. "You said all you wanted was what was fair," the GM told the shortstop. "How much higher do we have to be than the highest offer for it to be fair?"

Jeter, who had no other offers in his first pass at free agency, ultimately signed a three-year, $51 million guaranteed deal plus an option year and incentive bonuses. But the negotiations were often difficult. When Close told Daily News columnist Mike Lupica that the Yankees' negotiating stance was "baffling," Hal Steinbrenner gave Cashman the green light to take the fight to Jeter and Close in the media. The quote that would anger Jeter the most was the one Cashman gave to ESPNNewYork.com's Wallace Matthews, who quoted the GM saying that Jeter should test the market to "see if there's something he would prefer other than this."

Levine met with Jeter in the shortstop's Trump World Tower home the day before the contract would be finalized. According to the book, Jeter told Levine he needed more money added to the proposed performance bonuses in the Yankees' offer, bonuses tied to awards such as league MVP, World Series or League Championship Series MVP, Silver Slugger and Gold Glove. Jeter spent a couple of hours making an impassioned plea to Levine, who was playing the good cop to Cashman's bad cop. Levine was so taken by Jeter's arguments that one official estimated the shortstop earned an extra $4-5 million in that meeting before signing the following afternoon in a suite at the Regency.
In another excerpt, O'Connor recounts Cashman's attempts at convincing Jeter to improve his fileding. The Yanks' GM assumed that Joe Torre had told Jeter to work on his range, but when Cashman confronted Jeter, the short stop said no conversation happened. Jeter, though, was more than willing to do as Cashman asked then, and in this excerpt, we see how Joe Torre seemingly protected his own guys, another theme that isn't exactly new but didn't garner much press at the time.
Ultimately, O'Connor's book is one more piece of the Jeter puzzle. As William at The Captain's Blog notes, no small amount of media-driven hypocrisy surrounds the book, and fans who do not want to hear about Jeter's blemishes will just ignore it. But in a way, Jeter becomes less of a lofty saint and more of a great baseball player, flaws and all. He'll join numerous Yankee greats — including Joe DiMaggio, Babe Ruth and Mickey Mantle — in that category. After all, who among us wouldn't be filled with hubris if we were in Derek Jeter's shoes?