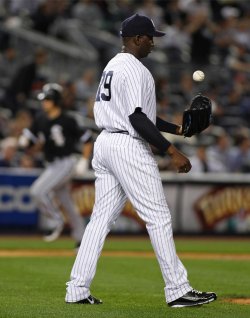 Rafael Soriano is not this bad. He has shown in his nearly 400 innings prior to signing with the Yankees that he is, indeed, an elite relief pitcher. At his best he can blow pitches by batters while avoiding dreaded walks and home runs. That's the guy the Yankees inked to a multi-year deal last winter. The guy who has showed up has been a cheap facsimile, a carbon copy that has cost the Yanks games and caused the fans much agita. But this isn't the real Rafael Soriano. Once the Yankees get him right, things will go much smoother.
Exactly what's wrong right now is anyone's guess. We know the symptoms: hanging sliders, fastballs that catch too much of the plate, a general inability to throw quality strikes — and sometimes the inability to throw strikes at all. He has faced 50 batters this season, but has retired just 31 of them, and of those only seven on the strikeout. The rest have reached base either via the hit, 12, or the walk, eight. That's all fine and good, but we all see that. If the symptoms aren't immediately apparent when watching him, they sure as hell are on the stat sheet. What we don't know is the cause.
Of course, searching for the cause can lead us down false paths. The easy path is the old narrative that closers struggle when they're not in save situations. With Soriano that's pretty ridiculous, since he wasn't a full-time closer until last season. In fact, in 2009 he split time between setting up and closing, and he produced a marvelous season. It was, in some ways, better than his year in the closer's role with the Rays. Before that he was purely a setup man, recording single digit saves in every season of his career prior to 2009. Unless he completely forgot how to pitch in non-save situations during the course of a single year, the idea that he's struggling because of his role is ridiculous.
It could be just a matter of time before Soriano comes around. After displaying some lower fastball speeds earlier in the year, he was dealing last night, averaging almost 95 mph with his four-seamer and 94 mph with his cutter. His slider speed also appears back up to par. It will only be a matter of time, then, before he returns to form and starts shutting down opponents. Unfortunately, that requires patience. At this point, patience is understandably thin among the fans. We'll just have to suck up it for a bit longer. But sooner, not later, we will see the Soriano that dominated in 2009 and 2010.
Really, though, it doesn't matter what we think. We're just the spectators. The guys involved know that patience is the only cure to whatever ails Soriano. "I still believe he's going to be very, very good for us and he's going to play a huge role for us," Joe Girardi said after the game. Translation: there are no plans to shy away from him in the eighth inning of close games. Maybe that's a mistake; maybe backing off a bit and using him in lower leverage situations would be for the best. But it's hard to right the ship if he's not pitching at all. At least in the eighth he starts with a clean slate. That is, when there are tough situations, Soriano is not the guy. That helps mitigate matters, if only a little bit.
Chances are we will not see Soriano tonight. He sat out the weekend with a bad back and then pitched on consecutive nights. In fact, we might not see him until Sunday, if his words carry any weight. "I'll come back next month and see what happens," he told reporters after the game.
Soriano has a long way to go in redeeming himself with the fan base. Normally great performances make people forget about the past, but Soriano's past now includes two squandered games. It's hard to forget those, since they're forever etched in the loss column. Have faith, though, that he'll return to form soon enough. He's just too good a pitcher when healthy to go through more than a short stretch in this manner.