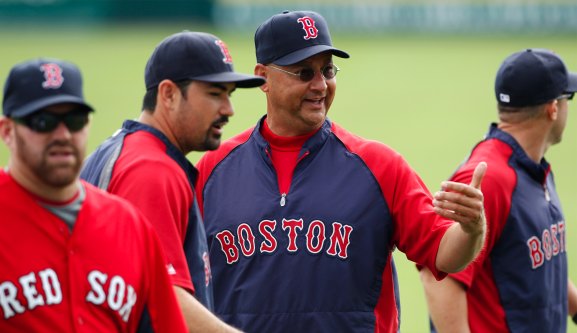 There's the story, and there's the reality. The story, of course, is the Red Sox 0-6 start. What's even more surprising is that they have scored only 16 runs in those six games. No, things haven't started clicking for the 2011 Boston Red Sox. But, as Dave Cameron wrote yesterday, that doesn't change their perceived talent level, nor does it change their projected performance going forward. It merely adjusts the season-long expectations. In other words, they're no worse than we thought before the season, but their perceived advantage may be gone at this point.
The Yanks head to Fenway for three games this weekend before heading back home. The law of averages suggests that the Sox pick up at least one. Of course, we've seen some crazier things happen. But hey, even the Astros have finally won a game. Boston's first victory can't be too far off.
What Have They Done Lately?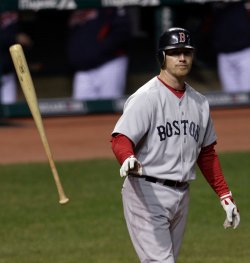 Well, I just spent most of the first two paragraphs talking about that, right? The Sox opened up with a tough series against the Texas Rangers, and while they didn't necessarily play their worst baseball, their pitching was probably as bad as could reasonably be imagined. That included Jon Lester getting lit up on Opening Day, following by a 3.2-inning, nine-run performance from John Lackey. The Sox scored five runs in each of those games, which is usually enough to win. Alas, not in this case.
Then on Sunday they got a quality showing from Clay Buchholz — that is, he limited the Rangers to four runs, albeit they were four solo homers. That's when the offense stopped showing up. Of those 16 runs they've scored, only six came in the last four games. That's not going to get it done, even against the Indians. They're going to score runs, and that might start this weekend. But to this point they've given little indications of a turnaround.
Red Sox On Offense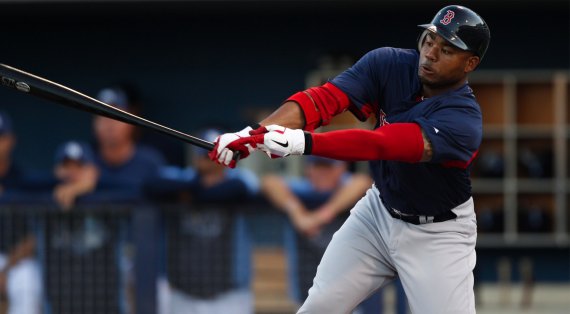 In theory, of course, the Red Sox have one of the best offenses in the league. Their best four hitters — Carl Crawford, Dustin Pedroia, Kevin Youkilis, and Adrian Gonzalez — stack up against anybody's, and they have a nice collection of quality players around them. No, they're not going to score 1,000 runs this season; really, they weren't even at the start of the season, before this slump. But they figure, or at least figured, to give the Yanks a run for their money as the top offense in the league.
One aspect of the lineup that could give the Yankees fits, at least in the first two games, is the Red Sox left-handedness. Five of their starting nine bats from the left side, and another switch hits. Things will change when CC Sabathia takes the mound Sunday evening, but for the first two games there will be plenty of righty vs. lefty plate appearances.
The Sox have also tweaked things heading into this series. Carl Crawford, who in the past has voiced his displeasure with hitting leadoff, will slide into that very spot this afternoon. That puts the team's best four hitters atop the lineup, which will give any team an advantage.
Red Sox On The Mound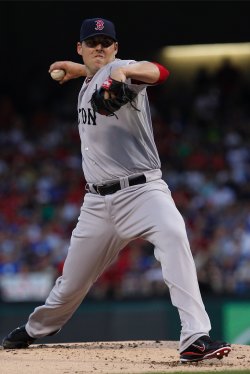 Game 1: John Lackey. After a disappointing first season in Boston, Lackey got off to a terrible start in his sophomore effort. As with the offense, he's really not this bad. Maybe he's not the guy who kept his ERAs in the mid 3s in Anaheim, but he's also not a guy who's going to get bombed for nine runs in 3.2 innings that often.
One of the biggest things for Lackey in his first game was his inability to induce a ground ball. He's always been a decent ground ball guy, sitting in the mid-40s for the past few years. But he got just one of the 23 batters he faced last Saturday to hit one on the ground.
Game 2: Clay Buchholz. The good news is that he pitched better than any of his fellow starters the first time through. The bad news is that he got taken deep four times. No men were on base for those incidents. One of his strengths last year was his ability to avoid the long ball altogether, so his first start isn't very encouraging in that regard. Still, it's one game and chances are he returns to his normal ground balling self before long.
One thing to watch from Buchholz is his strikeout rate. In the minors always had excellent strikeout numbers, but once he started spending significant time in the bigs that dipped to below average. We've seen this before, from one Jon Lester. In his breakout 2008 season his strikeout rate was below average, but for the past two seasons he's struck out more than a batter per inning. I suspect Buchholz will display a similar trend this year.
Game 3: Josh Beckett. The last time Beckett faced the Yankees he allowed five runs in 6.2 innings. The time before that he allowed seven in 4.2. The time before that he allowed 5, 3 earned, in 5.1 before leaving with a back injury that kept him out for two months. And the time before that they hit him for 5 in 4.2 on Opening Day 2010. No, it has not been a fun time lately for Josh Beckett against the Yankees.
His first game of 2011 looked somewhat like his starts against the Yankees last year. He lasted just five innings and allowed three runs, but 1) it took him 106 pitches to finish 5, and 2) he got lucky on a number of long fly balls that stayed in the park. I doubt the Yankees hitters will be as forgiving as the Indians. This is a pretty big season for Beckett, the first of his four-year extension and the follow-up to his ineffective and injury riddled 2010. A solid start against the Yankees would go a long way.
Bullpen. The Sox helped strengthen the back end of the pen by adding Bobby Jenks, but their other relievers are still questionable at best. They did get better today, though, as they replaced Matt Albers with Al Aceves and Dennys Reyes with Felix Doubront. If their starters look anything like they did the first time through, they might need those guys.