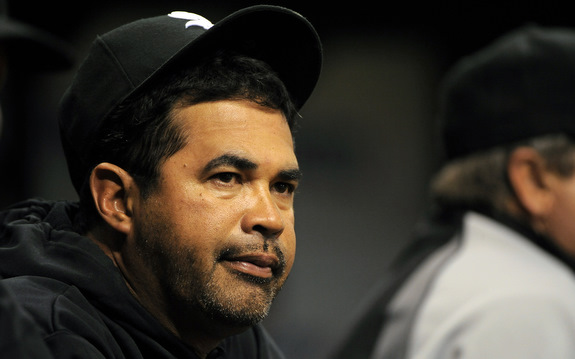 The White Sox are a team that's easy to hate. Their manager has gone from great quote to tiresome, their catcher is universally hated around the game, their play-by-play guy is insufferable, and for the next four days they are the enemy. The Yankees return home from a rocky but ultimately successful road trip through Toronto and Baltimore, kicking off the next leg of their 17 games in 17 days stretch* against a team mired in the slumpiest of slumps.
* Friday's rain out turned it into 16 games in 16 days.
What Have The White Sox Done Lately?
The Yankees seem to have run into a lot of slumping teams of late, and the ChiSox certainly fit the bill. Ozzie Guillen's club has lost three straight and ten of their last eleven, getting outscored 56-25 in the process. They haven't scored a run since the seventh inning of Friday's game, and haven't scored a non-solo homerun run since the eighth inning of Thursday's game. "Nothing works," said Guillen after yesterday's loss. "It seems like every day is a rewind movie. Seeing the same at-bats and seems like everybody we face is pretty nasty."
White Sox On Offense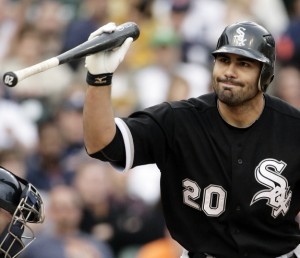 Like I said, Chicago's been struggling with the bats. They've scored just 21 runs in their last ten games, and nine of those runs came on Thursday. Their hottest hitter (by far) is Carlos Quentin, who has eleven hits (four doubles, four homers), two walks, and three hit-by-pitches in his last 45 plate appearances (.275/.356/.675). Paul Konerko seemed to break out of a prolonged slump by collecting five hits (including a double and homer) total on Thursday and Friday, but he took an 0-for-4 on Saturday (with three strikeouts) and had Sunday off. A.J. Pierzynski's seven game hitting streak consists of nine singles, so he's not exactly tearing the cover off the ball. Aside from those three, Guillen's offense has been a wreck.
Adam Dunn is buried in a nasty 2-for-30 (.067) slump with 15 strikeouts, and he's only drawn three walks during that time as well. Alex Rios hasn't gotten a hit since last Sunday (just two walks and a HBP in his last 23 PA), and Alexei Ramirez has two singles and two walks in his last 24 PA. Gordon Beckham has reached base once in his last 25 PA (a single) and four times in his last 39 PA (two singles, a double, and he reached on an error). Mark Teahen highlights the rest of the offense (we're talking Juan Pierre, Omar Vizquel, Brent Morel, etc.) with a .334 wOBA. As a team, the ChiSox own a .303 wOBA and a .308 OBP. Yeah, they've had trouble hitting.
White Sox On The Mound
Monday: Phil Humber: Claimed off waivers twice this offseason, you might remember Humber for being part of the Johan Santana trade. Safe to say that he never delivered on his promise as the third overall pick of the 2004 draft, but Chicago was encouraged by the cutter he learning from pitching coach and cutter guru Don Cooper in Spring Training. After two relief appearances, Humber has pitched to a 3.86 ERA in three starts that have gotten progressively worse: one earned run in his first start, two in his second, four in his fourth. He doesn't strike out many batters (just 11 K in 18.2 IP this year) but he won't walk many either (5 BB), and his ground ball rate is just okay in the low-40% range. Humber relies heavily on a low-90's fastball, a low-80's curve, and a mid-80's changeup, and for whatever reason, PitchFX says he hasn't thrown that cutter in the regular season. That's probably a classification issue though.
Tuesday: Gavin Floyd: Floyd's name popped up in a few trade rumors this past offseason, but he's still in a White Sox uniform. He's gone at least six inning in each of his four starts, and he's actually alternated poor outings with good ones: four runs in seven innings in his first start, one unearned run in eight innings in his second, six runs in six innings in his third, and two runs in seven innings in his fourth. He's due for a stinker. As always, Floyd misses bats (7.67 K/9, 8.5% swing-and-miss rate), limit walks (2.33 BB/9), and gets ground balls (48.7% ground ball rate) with a fastball (low-90's), cutter (mid-80's), curveball (upper 70's), and changeup (mid-80's). The curve has been his calling card since the day he was drafted, and if he gets ahead with two strikes, that pitch is coming more than 60% of the time.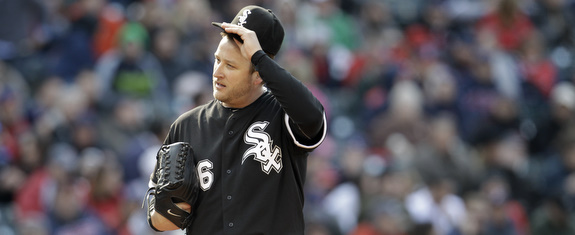 Wednesday: Mark Buehrle: Aside from a dominant showing against the Athletics in his third start (eight innings, two hits, no runs), it's been a brutal season for Buerhle. The usually reliable left-hander has allowed at least four runs in each of his other four starts, pitching into the seventh inning just once. He's also walked seven and allowed 34 hits in just 22.2 IP in those starts. The Yankees have traditionally had their way with the changeup artist, tagging him for 14 runs in three starts (15 IP) over the last three seasons. Buerhle will bore you to death with that changeup and three mid-80's fastballs (four-seam, two-seam, cutter). He'll also break out the occasional curveball, but there are no surprises here.
Thursday: Edwin Jackson: The former Dodger, Ray, Tiger, and Diamondback has enjoyed the best success of his career under Cooper's watch in Chicago. Four of his five highest single game strikeout totals have come in a White Sox uniform, including a 13 whiff game against the Rays earlier this season. He's missing more bats than ever (just about a strikeout per inning with the Sox) thanks to a new (wait for it) cutter and increased reliance on his slider. Jackson has allowed 12 runs in his last two starts though (12.2 IP, 23 H, 4 BB) and the Yankees have seen plenty of him in the past (11 career starts vs. New York, plus four relief appearances), so again, no surprises here.
Bullpen: Guillen's bullpen, at least his core relievers, come into the series well rested. Jesse Crain, Matt Thornton, Chris Sale, and Sergio Santos have thrown a combined 6.1 IP over the last seven days, though Thornton and Crain each pitched an inning yesterday. The mop-up crew – Jeff Gray, Will Ohman, and Tony Pena – have done much of the heavy lifting of late, throwing eight innings total over the last five days.
Thornton was supposed to be Guillen's rock at the end of the game, but he blew his first four save opportunities of the year and has been brought into mop-up spots his last two times out. Sale's been slightly better, and really the team's two most reliable relievers have been Crain (5 H, 11 K in 10.1 IP) and the former infielder Santos (13 K, 5 H in 9.2 IP, but 5 BB). That's not exactly how they drew it up in Spring Training. The White Sox probably won't be out of any game because their starting pitching is very good, but the Yankees have a way of waiting those guys out and going to town on the middle relief.
Recommended White Sox Reading: South Side Sox