For years, the Angels were the one team in baseball that gave the Yankees fits. For whatever reason, Mike Scioscia's team just had their number. Now that the Halos are getting older and are heading down baseball's power rankings, they've apparently handed the torch of "AL West team the Yankees can't beat" to the Rangers. After sweeping Texas in a three-game series at Yankee Stadium in April, Joe Girardi's team lost four of their five remaining regular season meetings, all of which took place in Arlington. The ALCS was a completely one-sided affair; that the Yanks forced six games is a minor miracle.
But this is a new season. There's no Cliff Lee looming nor is there an Andy Pettitte to fall back on. Vlad Guerrero has been replaced by Adrian Beltre, Lance Berkman has been replaced by Russell Martin, things have changed. The weather looks to be gorgeous but a little chilly this weekend, when the Yankees take on their toughest opponent to date in 2011.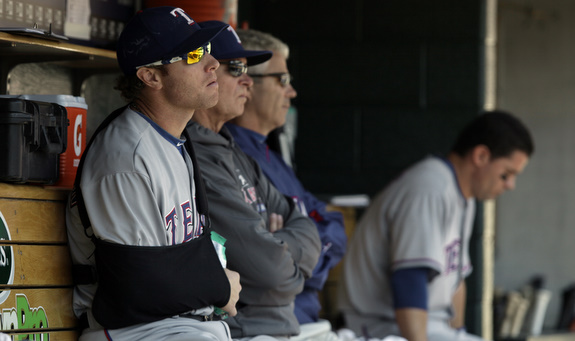 What Have They Done Lately?
The Rangers started the season looking like baseball's best team, and reality they probably are at the moment. They won their first six games and outscored their opponents 42-20 in the process, but they're just 3-3 since. Prior to Thursday's off-day, Texas dropped back-to-back games against the Tigers, losing the first on a Miguel Cabrera walk-off single and the second on a Brandon Inge walk-off homer. For whatever reason, Neftali Feliz was nowhere to be found in either game. Their +32 run differential is the best in baseball and nearly two times greater than the second best mark in the AL (Toronto's +17). If there's such a thing as momentum, the Yankees would appear to have it. They've won their last two while the Rangers lost their last two in demoralizing fashion.
Rangers On Offense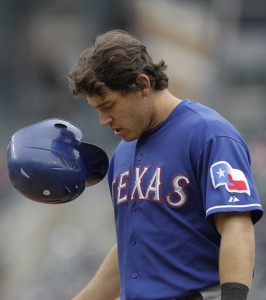 The Yankees caught a very big break this series, both literally and figuratively. By now you've heard that Josh Hamilton, last year's AL MVP, broke his arm sliding head first into home during Tuesday's game and is expected to miss six-to-eight weeks. It was a weird play, Hamilton was on third when a pop-fly went into foul territory, but no one covered the plate and he broke for home after the catch. After the game he threw third base coach Dave Anderson under the bus, though he later apologized. Bottom line: The Yankees won't have to face arguably the best player in the league this weekend.
Of course, Texas' offense is still extremely good. Designated Yankee killer David Murphy (.418 wOBA in limited action) steps in for Hamilton, and Nelson Cruz's boomstick is still fully operational (.451 wOBA). Ian Kinsler torched the Red Sox in the first series of the year, but he leadoff guy is hitting just .152/.243/.273 in the nine games since. Adrian Beltre has hit .350/.381/.750 with two doubles and two homers in his last five games after a very slow start to the season, while Michael Young owns a .474/.476/.579 line over the same time. Mitch Moreland is a perpetual pain in the ass near the bottom of the lineup (.389 wOBA), though Elvis Andrus (.291), Julio Borbon (.297) and Yorvit Torrealba (.275) haven't done much yet this season. I'm willing to bet Andrus gets his fair share if crap infield hits this weekend like he did in the ALCS. Mike Napoli looms on the bench as a lefty-masher, though that should only come into play when CC Sabathia starts on Sunday.
Rangers On The Mound
Game One: Matt Harrison, LHP: Part of the Mark Teixeira trade back in the day, Harrison has been in straight up Beast Mode in the early going this year. He held the Red Sox and Orioles to one run over seven innings in each of his first two starts, allowing just seven hits and three walks total with seven strikeouts and 50% ground balls. He's not some soft tossing lefty either. Harrison's four-seamer has averaged 93.7 mph this year and has topped out at 97 while the two-seamer sits about a mile-per-hour or two below that. He uses each about 30% of the time. A low-80's changeup is his next best offering and he doesn't have a real knockout breaking ball, but will throw both a slider and curveball and the occasional cutter. If Joe Girardi was ever going to employ Danks Theory, this would be a good game to do it, taking that changeup away. Harrison has gotten smacked around pretty good in five career appearances (two starts) against the Yankees (7.53 ERA, 4.40 FIP in just 14.1 IP), but that was before he showed up to camp this year bumping 97.

Game Two: Derek Holland, LHP: You probably remember Holland from his stellar relief work in the ALCS (5.2 scoreless innings), but now he's back where he belongs in the rotation. He allowed three runs in six innings to the Mariners in the first start before shutting the O's down for six frames last time out. He's very much like Harrison in that he's fastball-changeup heavy, sitting 93.2 with the former and the mid-80's with the latter. Holland's slider is a quality third offering though, a pitch he can use to get swings and misses. He's another guy the Yankees have crushed in the past (9.49 ERA, 8.07 FIP in 12.1 IP) but again, that's no guarantee of future success. Holland's a dynamite young pitcher.
Game Three: Alexi Ogando, RHP: In the rotation only because Tommy Hunter strained some fat at the end of Spring Training, Ogando was never a full-time starter until the Rangers stuck him in that role in Spring Training. Sure enough, he fired six shutout innings against the Mariners two weeks ago and followed that up with seven shutout innings against the Tigers earlier this week. Ogando has allowed just four hits and three walks in those 13 IP, striking out eight. It doesn't make sense, but for whatever reason it just worked. The right-hander sits 93-94 with the fastball and mixes in a few 95's and 96's, but he's a two-pitch pitcher. If you don't get the heat, your getting the slider, that's it. His changeup is an afterthought. Ogando made just six relief appearances against the Yankees last year (four regular season and two playoffs), throwing a total of 4.2 IP. For all intents and purposes, they've never really seen him before.
Bullpen: Well, at least Feliz is well rested. He hasn't pitched in four games, but at we also know that Washington won't use him in a tie game on the road. Score one for the good guys. Yankee favorite Arthur Rhodes joins Darren Oliver to give the Rangers not one, but two lefties that are a handful of outings away from a forced retirement. Darren O'Day is a sidearm/submarining righty specialist, and Mark Lowe (a throw-in in the Lee trade) throws hard and that's about it. Rule 5 guy Mason Tobin is unspectacular, and Pedro Strop is essentially another Lowe. It's not exactly a bullpen that strikes fear into opponents, but you've got to get to them before the ninth inning. Otherwise you're probably out of luck.