With a disappointing loss and a rain out in the rear view mirror, the Yankees needed something to make them feel better in the final game of their season opening homestand. Francisco Liriano is a tough assignment more often than not, and he lived up that reputation in the first few innings of this one. But the Yankees eventually got to him by doing something they haven't done a whole lot of so far in 2011: they scored runs without the help of a homerun.
Biggest Hit: Andruw Jones, True Yankee™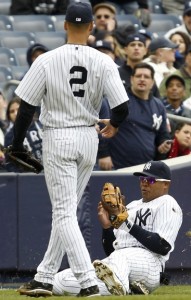 The Yankees imported Andruw Jones for one reason: to hit lefties. He marked his territory by homering off Brian Duensing in his first plate appearance on Tuesday night, but that was a measly tack-on run in a game his team eventually lost. On Thursday though, Jones' efforts were much more important.
The Twins jumped out to a 2-1 lead in the top of the fourth inning thanks to a trio of doubles, but Liriano started the bottom half by walking Alex Rodriguez with a series of breaking balls. A-Rod swung and missed at a 1-1 slider down-and-in, but he settled in and took the same pitch when Liriano threw it again on 1-2, 2-2, and 3-2. Robbie Cano jumped all over a first pitch fastball and grounded it through the right side to put men on first and second with none out. After Jorge Posada got caught looking at a backdoor slider for strike three, Andruw came to the dish after Joe predicted he'd go 0-for-4 in yesterday's podcast.
Liriano was offspeed heavy all game, and he certainly was in this particular at-bat against Jones. A first pitch slider was fouled off for strike one, then a changeup dropped in at the knees for a quick strike two. Jones fouled off another slider to stay alive then took the only fastball he'd see for a ball. The fifth pitch of the encounter was a total mistake pitch, a slider that hung up in the zone and about thigh high. Andruw yanked the pitched into the left field corner to score A-Rod and set the Yankees up with men at second and third with just one out. Although it only tied the game, the double improved the Yankees chances of winning by 16.9%, the biggest WPA swing of the game.
Honorable Mention: Gardner gets some BABIP luck
It's no secret that Brett Gardner is off to a slow start this year, as he came into this game hitting just .125/.176/.125 in 19 plate appearances. He's definitely hit a few balls hard that found gloves, namely the extra base hit Delmon Young robbed earlier in the series. Batting ninth against the lefty, Gardner finally had things break his way for once. Two batters after Jones' double tied the game, the Yankees' left fielder blooped a 2-1 fastball into shallow right field for a single, driving in the team's fourth run, the eventual game-winner. It was perfectly placed, a nice little correction for his .182 season BABIP.

A.J. grinds it out
We've written more words than we care to count about how important A.J. Burnett is to the success of the 2011 Yankees, and two starts into the season, things are going okay. A.J.'s biggest jam came of the game in the second inning, when he looked to be headed for one of his patented meltdowns. Justin Morneau led the inning off with a four-pitch walk, and before you knew it, Jim Thome was ahead in the count 2-0. Russell Martin came out to the mound for a quick talk, but Burnett eventually walked Thome to put men on first and second with no outs. This was it, here comes the A.J. meltdown.
Except it didn't come. Burnett fell behind Michael Cuddyer two balls to no strikes but retired him on a routine fly ball two pitches later. He then went after Jason Kubel with a variety of fastballs and offspeed pitches, striking him out with a curveball down in the zone. Sophomore third baseman Danny Valencia got no respect; he saw five straight fastballs clocked between 93 and 94 and eventually popped out on the infield. Credit A.J. for keeping it together and to Martin for helping him battled through it after the early inning struggles. The three outs recorded that inning were the three biggest of Burnett' day according to WPA.
Of the 99 pitches the Yankees' right-hander threw, 64 were fastballs, which isn't all that unusual for Burnett. What was unusual was the dozen changeups he threw, since he'll typically throw maybe three in a given start. Eight of the 12 were strikes, including two swings and misses, one of which was by Joe Mauer, arguably the best pure hitter on the planet. The Twins swung and missed just four times against Burnett, who struck out five, but it can only help if he starts incorporating that change more often. It's only been two starts, but Burnett's performance has been encouraging so far. That's better than the alternative.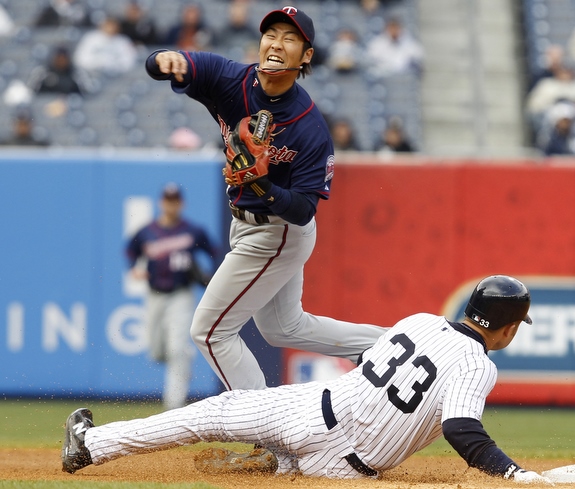 Leftovers
Unfortunate play in the seventh inning, when Nick Swisher took out second baseman Tsuyoshi Nishioka with a slide trying to break up the double play. It was a clean slide – you can see in the photo that Swish was close enough to touch the bag, less than an arm's length away – but hard, and Nishioka ended up on the ground in obvious pain. He had to be helped off the field, and after the game we learned that he suffered a fractured fibula. Swisher said afterwards that he was expected him to jump, and Nishioka told him it wasn't his fault. Ron Gardenhire declared it a clean play as well. Swisher was obviously concerned in the dugout and I'm sure he feels bad. It sucks, you don't want to see anyone get hurt, but it happens. It's part of the game. You have to figure Nick will get one in the ribs the next time these two teams meet. It's only fair.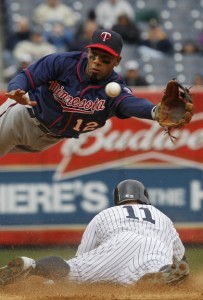 The Yankees scored their first run the old fashioned way, by manufacturing it. Gardner drew a walk  and stole second, then Jeter moved him over to third with a ground out. Swisher completed the rally with a sacrifice fly, the old school way. The offense didn't do much outside of this run and the fourth inning rally; Mark Teixeira and Alex Rodriguez combined to go 0-for-6 with a walk (A-Rod) and a hit-by-pitch (Tex on the right quad, he's fine). Posada's day was particularly awful, 0-for-4 with three strikeouts. He couldn't figure out Liriano if he knew what was coming. Jeter's new old swing resulted in a first inning double and an infield single.
Another day, another dry hump for David Robertson. It's an epidemic at this point (note the D-Rob Dry Hump Counter in the sidebar). Joba Chamberlain gave up an unearned run but ultimately he, Rafael Soriano, and Mariano Rivera shut things down over the last three frames. Soriano gave up a hit to Mauer (excusable) then got three fly balls to escape the inning, two of which were long. Those are going to be a problem when the weather warms up.
That was straight up bad defense on Thome's fourth inning double. Not by Gardner, who had the ball get by him on the carom off the wall in center, but where the hell were Jones and Swisher? They've got to back him up on that play, someone more mobile that Thome would have been on third and probably thinking about an inside-the-parker. Poor form, fellas.
And what the hell, why in the world are they bringing the infield in with Thome (!!!) at third base in the fourth (!!!) inning?! Good grief, sometimes you have to ignore the book and use your brain a little.
The Twins still don't have a first inning hit this season; they're now 0-for-18 with two walks in the first inning after Burnett sat them down in order yesterday. They still haven't won back-to-back games in the Bronx since 2000. Sucks for them.
The Yankees did not set a new record low attendance today since 41,512 people allegedly showed up. It didn't look like that many, so I assume they counted the season ticket holders regardless of whether or not they attended.
WPA Graph & Box Score
MLB.com has the box score and video highlights, FanGraphs some other stuff.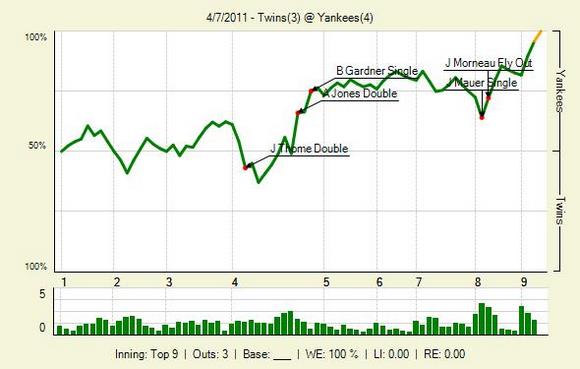 Up Next
Time to head up to Fenway Park for the first time in 2011. Phil Hughes will take on John Lackey in Boston's home opener tomorrow afternoon starting at 2pm ET. Can't imagine the natives will be happy with the 0-6 start.