It's only been three relief appearances and two starts, but Bartolo Colon has turned into must see television. The 38 going on 29-year-old hurler brought the pain again on Wednesday, giving the Yankees eight innings and a sorely needed win.


Bartolo Gets The Last Laugh
Before his year long hiatus in 2010, Colon last pitched for Ozzie Guillen and the White Sox in 2009, though not very well. Ozzie had some fun at the right-hander's expense during his pre-game press conference, poking fun at him for being back in the big leagues. A few hours later, Colon was the one laughing while Guillen sat helplessly in the clubhouse.
Simply put, Bartolo was brilliant. He dominated the ChiSox hitters with the hard stuff, throwing 88 fastballs out of 99 total pitches. He didn't just top out at 96 mph, he hit that with his 94th pitch of the game. The Spring Training concerns over his ability to hold velocity over multiple innings seems silly now. Of the 24 outs he recorded, six were strikeouts and 13 (!!!) others came on plays made on the infield (ground ball or pop-up). Bartolo threw nine or fewer pitches in four of his eight innings, so he was effective and efficient.
Colon's biggest jam came early, right in the second inning when the White Sox loaded the bases with no outs. He struck out Gordon Beckham looking for the first out, then sat down Omar Vizquel and Juan Pierre on routine fly balls to escape the inning. Granted it wasn't exactly the most formidable of batters, but it's tough to escape bases loaded and no outs in the big leagues regardless of who you face. That was it, Bartolo retired the next nine men he faced before allowing a run on dinky ground balls with eyes in sixth. There's no other way to put it, Colon was masterful. Regardless of what happens from here on out, he's been worth every penny of his contract.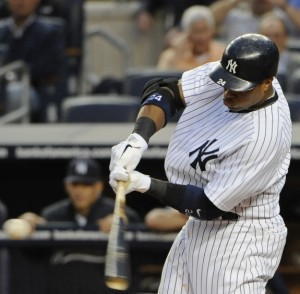 A Homer, Then A Dormant Offense
After the previous two games, the Yankees needed to do something early in this one to put everyone at ease. Robinson Cano did just that with a first inning three-run homer, giving Colon breathing room and fans a reason to unclench their fists. After that hit though, the bats went back to sleep. Mark Buehrle used his slow, slower, slowerer, slowest approach to retire 19 of the final 24 men he faced, allowing a mix of harmless singles and walks in the meantime.
Aside from Cano (1-for-4 with the homer), Andruw Jones (2-for-3), and Derek Jeter (1-for-3 with a walk), the rest of the team combined for just two hits (singles by Mark Teixeira and Alex Rodriguez) and a walk in 20 plate appearances. Buehrle completed seven innings on just 106 pitches, not nearly enough for a finesse pitcher against the Yankees. They'll bust out of it, but it's always frustrating to sit though.
Leftovers
I don't think I've ever seen a manager get kicked out of a game as early as Guillen did on Wednesday, getting run up for arguing balls and strikes between the top and bottom of the very first inning. He got angry, went to the clubhouse, and tweeted what you see above. Patetic indeed.
During the last turn through the rotation, the five Yankees starters combined for this line: 36.1 IP, 23 H, 6 R, 6 ER, 8 BB, 26 K, 50 GB, 33 FB. That's a 1.49 ERA and a 0.85 WHIP. Too bad they've only won two of those games because of the offense, but that will definitely do. Keep up the good work, fellas.
What's Wrong With Mo™ Week is over, and there was much rejoicing. One-two-three went the ChiSox in the ninth, and neither of the two balls in play were particularly threatening. That's how we like it.
At two-hours and 11 minutes, this was the shortest game in New Yankee Stadium history. Oh, and congrats to Joe Girardi on his 300th win as Yankees manager.
WPA Graph & Box Score
MLB.com has your box score and video highlights, FanGraphs everything else.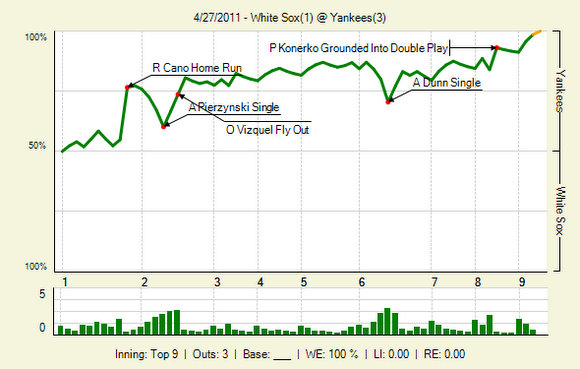 Up Next
The Yankees will attempt to salvage a split of this four-game series with CC Sabathia on the mound tomorrow. The new version of Edwin Jackson gets the call for Chicago, and if you're interested in going, check out all the still available and dirt cheap tickets on RAB Tickets.