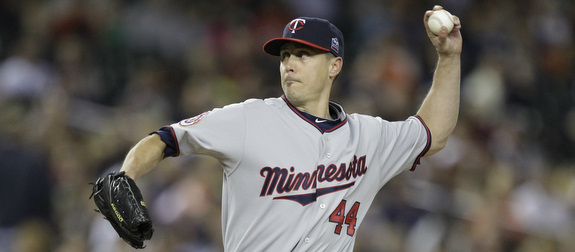 The Yankees have a trio of unusable lefty relievers (Pedro Feliciano, Damaso Marte, Kei Igawa, unusable for different reasons) on the payroll (each at $4M salaries too) and just one lefty reliever actually on the roster. Boone Logan did a fine job against southpaws late last season (.178/.268/.178 with 19 K in 45 at-bats from August 1st on) but has been spotty in 2011 (.360/.429/.560 with just two whiffs in 26 at-bats). Since none of the first three guys will be available anytime soon, let's talk about someone that is available, Randy Flores.
Flores, now 36, opted out of his minor league deal with the Padres yesterday, which was his contractual right. He has Yankees ties; they drafted him in the ninth round way back in 1997, but later traded him to the Rangers for Randy Velarde after the 2001 season. Yeah, he's been around a while. Flores is a generic upper-80's fastball, low-80's slider lefty specialist, and his career numbers against same-side batters aren't special: .275/.345/.435 with 103 strikeouts in 533 plate appearances. Over the last three seasons, those numbers are even worse: .295/.376/.514 with 31 strikeouts in 167 plate appearances.
The overall numbers aren't all that impressive over the course of his career, but Flores has certainly had some very effective years in the bigs. Of course they came a few years ago, mostly with the Cardinals from 2002 through 2007. But we know the deal with lefty relievers (and relievers in general), sometimes they just run off a strong stretch of pitching without any notice. The Yankees have Andy Sisco stashed away in Triple-A, but he's been just okay against lefties in a limited sample: four hits, six walks, and seven strikeouts in 29 batters faced. That's who we're looking for an upgrade over.
I'm all for adding relief depth, but Flores isn't the kind of guy the Yankees have to move mountains to go out and sign. They're already carrying 13 relievers, but one of them is very expendable (Amaury Sanit) and another could go if needed (Luis Ayala),  so a roster spot is hardly a problem. It's just a matter of whether or not Flores is willing to join the team that drafted him to be the temporary second lefty out of the bullpen. If he does, great, if not then no big deal. He probably won't pitch all that well anyway.