Aaaand exhale. Boy, as badly as the Yankees needed Tuesday night's win, I think we fans needed it more. We were all starting to get a loony over here. It sure was fun to finally get to back putting one … wait for it … on the left side*.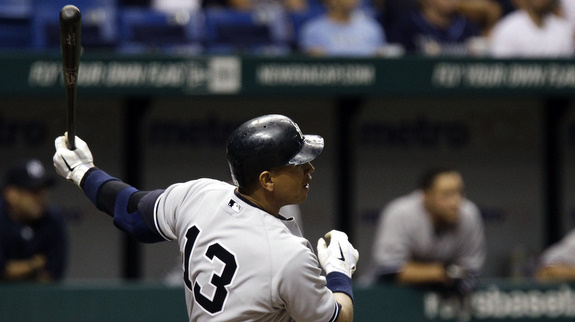 A-Bombs From A-Rod
I think I might have to start writing posts about how players need rest more often. Just a couple of hours after I said that Alex Rodriguez needed a day or three off, the Yankees' cleanup hitter went out and hit a game-tying homerun in the fourth and a go-ahead homer in the sixth against the Rays. The first came off one of Jamie Shields' patented two-strike changeups, a no-doubter deep into the left-center field seats. It was classic A-Rod, turning around the pitcher's best pitch for a shot that reminds you just how absurdly talented he really is. The second homer was a 1-0 fastball out over the plate, not quite a no-doubter but a well-hit ball to dead center.
Alex's slump has been the center attention during this rough stretch, but he now has three homers in his last six games and has actually hit safely in nine of his last dozen games. Two homers aren't enough for me to declare the slump over, not even close, but it's certainly an encouraging sign. The offense has such a different feel to it when he's hitting, it's not even funny.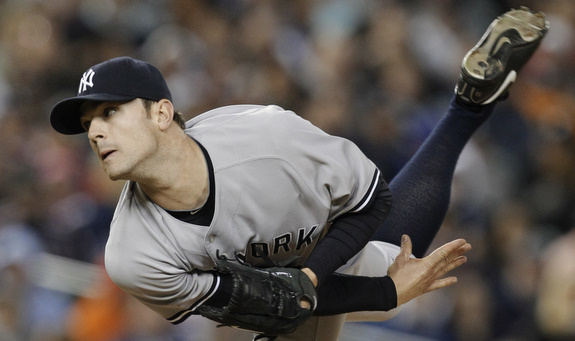 Fireman
Holy cow David Robertson. Ivan Nova predictably worked himself into a one out, bases loaded jam the half inning after A-Rod gave the Yankees a one run lead, but in fairness the third baserunner was put in intentionally. Joe Girardi stormed out of the dugout to lift his starter and give the ball to the only man qualified to escape the jam, Fireman David Robertson™.
The first batter was B.J. Upton, the same guy that hit the go-ahead homer the night before, but Robertson showed him no respect with six straight cutters that PitchFX clocked at 93, 94, 93, 94, 94, and 95. The first three were either fouled off or taken for strikes, the next two taken for balls, but Upton swung through the final one for a strikeout. That brought the certifiably terrible Casey Kotchman to the plate, a and he took a cutter (94) for strike one, fouled off a curve for strike two, then stared at a 96 mph cutter inside for the called strike three. Fireman David Robertson™ at his best.
I would have pulled Nova earlier in the inning, but I give Joe Girardi some props for not slaving to The Formula and saving Robertson for the seventh just because it's "his inning" with Rafael Soriano on the shelf. He was clearly the best option at that point, so good for him for being a little more relaxed with his innings assignments. In terms of WPA, the two strikeouts improved the Yankees changes of winning by 13.3% and 12.9%, respectively. The total WPA of the inning was +0.262, which would qualify as the second greatest escape job of Robertson's career. Bravo young man.
Not So Super Nova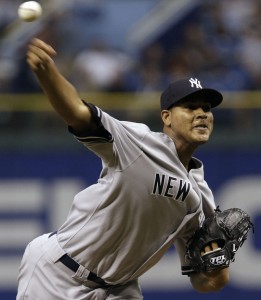 The final line says one run on four hits and two walks in 5.1 IP, but I thought Nova was extremely shaky in this one. He needed 20 pitches to get through the first (just one baserunner, a Johnny Damon single) and another 22 to get through a 1-2-3 second inning. The third inning required another 24 pitches, though it featured a homer and a single (thankfully in that order and not the other way around). Nova was seemingly behind in the count all night, and Rays fouled off one out of every five of his pitches en route to extending at-bats and making life miserable for the Yankees.
It was a classic bent but don't break performance, but those are pretty common with young pitchers. They make you sweat, but hey, Nova got the job done at the end of the day, and that's all that mattered on Tuesday night. But boy would I love him to find a strikeout pitch, that would make life so much easier.
Leftovers
Insurance runs! That Yankees haven't scored many of those lately, leading to a few blown leads and losses, but they took advantage of some Rays' errors and well-placed balls in play to score an extra two runs in both the seventh and ninth. Chris Dickerson blooped an RBI single into center for his first hit in pinstripes and Brett Gardner slapped a grounder just beyond a diving Elliot Johnson for another run in the final inning. Derek Jeter also drove in runs with a fielder's choice and an infield single. The Yankees had four hits in eight at-bats with runners in scoring position and are now 7-for-14 in those spots over the last two games. Hooray.

Just to quickly recap the rest of the offense: Curtis Granderson took an 0-for-5 (you are forgiven, Curtis), Mark Teixeira went 1-for-3 with a walk, Russell Martin 1-for-4, and Brett Gardner finished 3-for-4 (including a gorgeous bunt base hit). Jorge Posada went 2-for-3 with a double in his first start since Friday, and believe it or not he's not reached base in eight of his last 13 trips to the plate. I'll take it. Robinson Cano went 1-for-4 with a strikeout and saw a total of six pitches. Do the math. Hint: that's a three pitch strikeout and three first pitch balls in play. Jack Curry says hitting coach Kevin Long had a "heart-to-heart" talk with Robbie about being more selective at the plate since Monday, but since then he's seen a total of 15 pitches in eight plate appearances since. Cano can get the bat on almost any pitch, but my concern is that he's swinging at strikes just because they're in the zone. Pitches in the zone aren't always good to hit, he needs to learn (or be reminded) that taking a strike is okay every so often.
Joba Chamberlain, working for the third straight day, still ran his fastball up to 96, and although he didn't strike anyone out, he also didn't walk anyone and recorded all four outs on the ground. I'll take it. Amaury Sanit was shaky with a five-run lead in the bottom of the ninth, so Girardi turned to Mariano Rivera for the final out to make sure the losing streak came to an end.
I'm so happy about the win that I won't even make a big fuss over the latest stupid sacrifice bunt in an early inning, this time the third. Of course it didn't work and the runner was stranded at second. They'll learn one day, I hope.
WPA Graph & Box Score
MLB.com has the box score and video highlights, FanGraphs the nerd score and no highlights.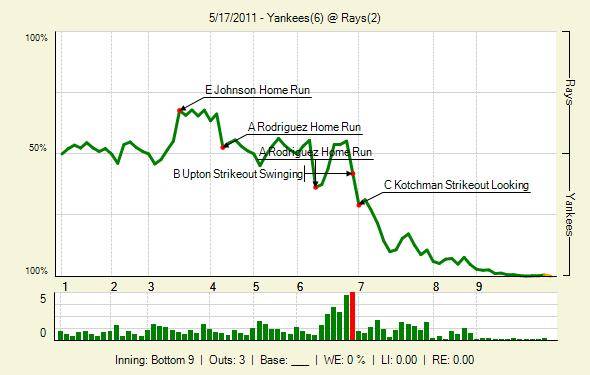 Up Next
The Yankees are heading to Baltimore for another quick two-game series starting Wednesday, when Bartolo Colon takes on Jeremy Guthrie.
* Michael Kay'd