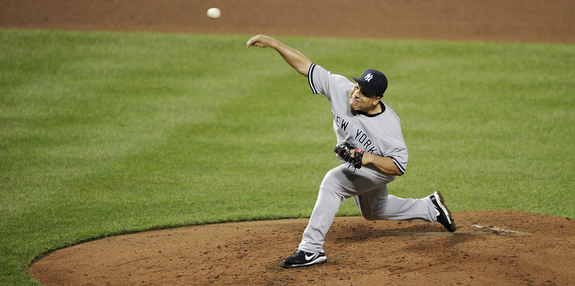 Through six starts and three long relief appearances, the Bartolo Colon experiment has been a rousing success for the Yankees. The big guy has a 3.16 ERA to go along with a 3.52 FIP, and a 2.88 xFIP suggests that he's been a little unlucky when it comes to the long ball. Of the six homers he's allowed, two qualify as "Just Enough" shots according to Hit Tracker, which means they cleared the fence by less than ten vertical feet. That's nothing. Colon has been throwing legit mid-90's heat and is striking out nearly one man per inning while walking fewer than two per nine (8.42 K/9, 1.93 BB/9). We really can't say enough about how good or surprising he's been.
Tonight's series opener against the Blue Jays is going to be perhaps the most telling start of Colon's brief Yankees' career, at least to date. Why? Because for the first time this year, a team will get a second look at him as a starter. Yes, Bartolo has already pitched twice against the Red Sox, but the first appearance was in relief while the second was a starter. That's not quite the same thing. The Jays will be the first team to get a second look at Colon the starter, so now adjustments come into the play.
In his first start against Toronto (April 20th), Colon powered through 6.2 innings by throwing fastball after fastball. Just 14 of his 85 pitches were offspeed while the other 75 pitches were broken into 39 four-seamers and 36 two-seamers (PitchFX data). He only left the game because he'd reached his pitch count in just his first start. That fastball-heavy approach is the norm for Bartolo as we now know, and the Jays are surely aware of it as well.  Toronto has been one of the league's better teams against the ol' number one, so do the Yankees and Colon change up the game plan and mix in more sliders and changeups?
I don't get a vote nor should I, but I'm in the "if it's not broke, don't fix it" camp. Let the Blue Jays first show that they've adjusted to the fastball-heavy plan before deviating from it. Why switch to Plan B when you aren't even sure that Plan A is outdated yet? I definitely wouldn't recommend going after Jose Bautista with the high heat again, but the other eight guys in the lineup? Go for it. Adam Lind is out with a back problem, so the only lefty power source they have is the recently called up Eric Thames (no relation to Marcus). Colon has shredded right-handed batters all year long, so stick with the heat and then adjust if necessary.
The Yankees have already gotten more out of Colon than I think they ever imagined, but in the back of our minds we all know that the next pitch could be the last. Yeah, that's true for everyone, but Bartolo's at greater risk given all his recent (and major) arm trouble. Tonight we'll get our first real look at how he handles a lineup after they've seen him and had some time to refine the game plan a little bit.