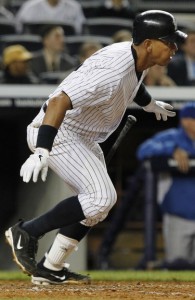 Obvious sarcasm is obvious. In all seriousness, it was good to see Melky Cabrera back in the Bronx, wasn't it? I know I (and many others) hated on him pretty hard during his tenure in pinstripes, but it was nothing personal. I've gotta admit, I smiled a bit when he hit the solo homer in this game, just for old time's sake. I'm just glad it came in a rather generic and utterly forgettable win by the Yankees.
A-Rod Gets Them In
By now you know that Alex Rodriguez has been stuck in a little bit of a slump since coming back from that stiff oblique, but if Derek Jeter can break out of his slump by beating out infield singles and grounding balls though the holes (before he started hitting them over the fence), then why can't A-Rod? The Yankees loaded the bases (on a walk, single, and a hit-by-pitch) with the score tied at one in the fifth inning, bringing Alex to the plate. Kyle Davies came after him with a steady diet of cutters and changeups before leaving a 2-2 curve just a little up, and A-Rod grounded the ball back up the middle and pastadiving Alcides Escobar for a two-run single. The rally and run-scoring hit wasn't all that spectacular, but at this point we'll take anything from Alex. Hopefully he's starting to wake up (five for his last 17 now, .294).

Big Out Number One: Swish Takes A Leap Of Faith
Freddy Garcia was pretty strong all game, though he did run into a bit of trouble in the top of the fifth. Mike Aviles and Matt Treanor strung together consecutive singles with one out, then Escobar got caught staring at a slider for strike three and out two. Chris Getz, who reached base twice in the game and stole his seventh base in the first inning, connected on a 1-1 changeup and lined it into right. Nick Swisher got on his horse and chased it down, making a diving catch to the end the inning. It was a poor man's version of Brett Lillibridge's game-ending catch a few weeks ago.
The risk here is obvious. If Swisher misses the ball, both Aviles and Treanor score with ease and Getz is at least standing on third. Given his speed, an inside-the-parker wouldn't have been out of the question. Swish missed a tough diving catch in the third, but the risk there was minimal since the bases were empty. He gambled and won in the fifth, resulting in a +0.058 WPA swing for New York. We'll have to disagree with the spreadsheeters here, because it's obvious the catch was much more important than that given the baserunner situation.
Big Out(s) Number Two (& Three): Robertson Escapes The Seventh
David Robertson seems to take his fireman thing very seriously. He entered the game with two on and none out in the seventh, coaxing a fly out from Aviles before walking Treanor to load the bases with the Yankees up a pair. He was merely getting Kansas City right where he wanted them. Escobar got two fastballs off the plate before fouling off four straight, then Robertson dropped the hammer and struck him out on a curveball in the dirt. Getz took three pitches for a 1-2 count then fouled off four straight of his own, but the third curveball of the encounter did the trick. Robertson whiffed the Royals' leadoff hitter when home plate ump Ed Hickox ruled that Getz broke the plane on his check swing. The replay showed that the call was … questionable. I'll leave it at that.
Robertson's two strikeouts were the biggest defensive plays of the game (by far) according to WPA, checking in at +0.115 and +0.120, respectively. He's faced just five batters with the bases loaded this season (doesn't it seem like 500?), and four of them have struck out. That's getting the job done, folks.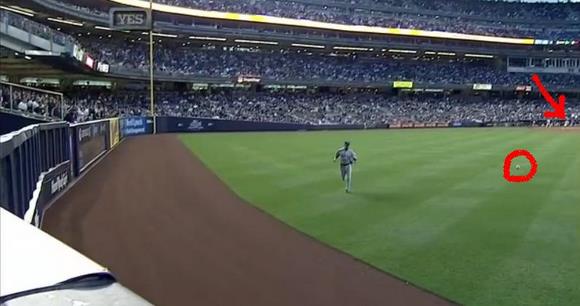 Leftovers
You see that little white glob on the right of the above screen cap (with the arrow)? That's Brett Gardner already around first and on his way to second during his third inning triple. The ball hasn't even landed yet, and he's already past first and going to towards second. Insane. Jeter's resurgence continued with a 2-for-4 night, including an RBI when he drove in Gardner after the triple. Both of those hits in the third came with two outs too, so that's cool. The Cap'n is up to .283/.336/.354 on the season. I remain cautiously optimistic.
Curtis Granderson took an 0-for-4 with three whiffs while Russell Martin and Jorge Posada each went 0-for-3 with a strikeout. Robinson Cano and Swisher both singled in four at-bats and saw exactly 19 pitches. I noticed that Robbie set himself up at the plate very slow and deliberately in his first at-bat, almost as if he was trying to slow himself down and intentional take the first pitch. We've seen him do similar stuff in the past, but this is the first time I remember seeing him do it in 2011. Mark Teixeira singled, walked, and got hit by a pitch. Tough day, but productive.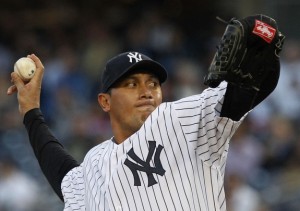 Freddy Garcia was pretty good, allowing the one run on Melky's solo shot in six innings of work. He struck out three and walked two, though ten of his 13 outs on balls in play came via the fly ball. That's a little risky, but hey, it worked. I though Joe Girardi pulled him at exactly right time, so no complaints about the bullpen usage here.
Speaking off bullpen usage, Rafael Soriano was unavailable in this game because of a tender elbow, so Joba Chamberlain handled eighth inning duties and was fantastic. He struck out former Yankees teammate Melky Cabrera on a 96 mph fastball down in the zone, struck out former Nebraska teammate Alex Gordon on a 98 mph fastball away, then got Billy Butler to ground out weakly. Nine pitches, three outs. That's how you do it.
Mariano Rivera gave up an opposite field single to Jeff Francoeur to lead off the ninth, but then he struck out uber-rookie Eric Hosmer after falling behind in the count three balls to no strikes. The final two outs came on an acrobatic 1-4-3 double play. Not textbook, but it works. Get the ball, throw the ball, and let's go home.
WPA Graph & Box Score
MLB.com has your box score and video, FanGraphs the other stuff.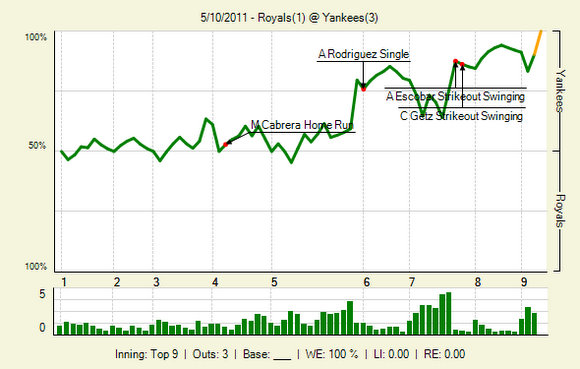 Up Next
Same two teams tomorrow night, when A.J. Burnett takes on Vin Mazzaro. Bruce Chen was supposed to go to the Royals, but he was placed on the disabled list with a lat strain. We get Vinny from Jersey instead.