Score some runs early, cough them up when the starting pitcher melts down in the middle innings. We might as well have watched a replay of Sunday night's game. The Rays scored more than five runs at home for the first time all season en route to handing the Yankees their sixth consecutive loss on Monday, the longest losing streak of the Joe Girardi era.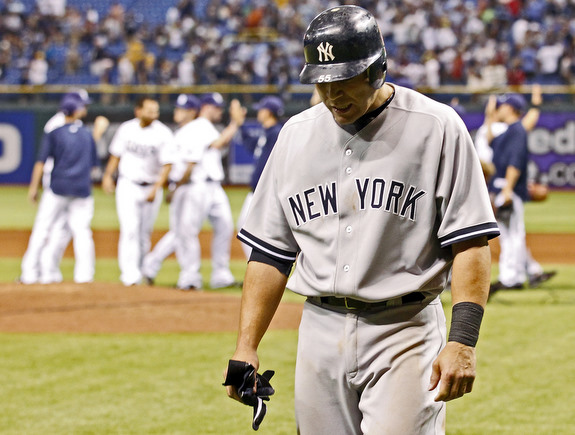 Burnett Coughs It Up
Good A.J. was around early on. Burnett stormed through the first five innings of the game on just 59 pitches, the only real blemish a solo homer by Johnny Damon. Meh, fourth inning solo shots happen, nothing to get to worked up over. Given his success at Tropicana Field (11 starts, 2.09 ERA, 3.24 FIP) and Tampa's early season struggles at home (.223/.287/.391 in 22 games), I started to feel a little good about this one. Oh how wrong I was.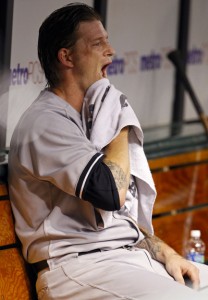 John Jaso (.290 wOBA) doubled into the right field corner to lead off the sixth. Sam Fuld (.291 wOBA) followed that up by looping his third career homer over the fence in right to cut the lead to 5-3. Alright fine, that sucks but the game is still very winnable. Ben Zobrist and Johnny Damon followed with a pair of outs, so the Yankees were still in fine shape. Then Evan Longoria reaches on an infield single. Then he moves to second on a wild pitch. Then Matt Joyce singles him in. Then Joyce goes to second on another wild pitch. Then B.J. Upton yanks one into the left field seats for a go-ahead two run homer. All with two outs. Bye lead, nice knowing you.
Part of me understands leaving Burnett in because hey, his pitch count was still low (just 88 even after Upton's homer) and the bullpen was short because of Rafael Soriano's barking elbow and David Robertson having thrown 30-something pitches the night before, but the other part of me says you have to cut A.J.'s meltdowns off before they have a chance to blossom. My perfect 20-20 hindsight says he should have been lifted after Longoria reached base, once the tying run was at the plate. As it usually is with Burnett, the early innings were too good to be true.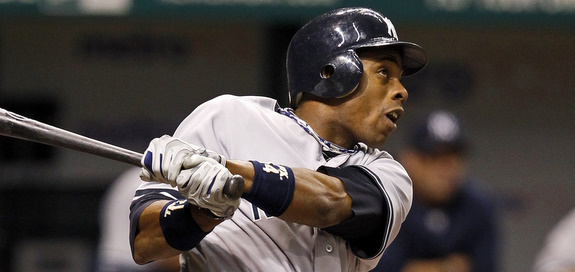 The Best Player In The American League*
We're running out of things to say about Curtis Granderson. His three-run homer off David Price in the the fifth inning was his 14th of the season, two more than any MLBer not named Jose Bautista, and already his seventh off a left-hander. Keep in mind that he'd never hit more than five homers off lefties in any season of his career until this one, and it's only May 17th. Grandy leads the team in almost every significant category, and it's not hyperbole to call him the best all-around player in the AL* right now.
Five & Fly
The Yankees pushed five runs across in the first five innings of this game, getting to Price for all of them. What happens next? Just one Yankee reached base the rest of the game, a span of 15 batters. Eduardo Nunez had the best at-bat of that stretch, a ten-pitch battle with Joel Peralta to lead off the seventh. He didn't reach base, but getting ten pitches out of Peralta when Joe Maddon was obviously ready to use him for two innings was pretty big. But, of course, the next two batters were retired on three total pitches and Peralta cruised through the heart of the order in the eighth on ten pitches.
For years, decades even, the Yankees' mantra has been wear down the opposing starter and go to town on the weak middle relief. For whatever reason, that just isn't happening this season. Coming into this game, the Bombers had a 135 OPS+ in the first three innings, a 114 OPS+ in the middle three, and just a 106 OPS+ in the final three. Yes, 106 is still better than average, but that's not what the Yankees do. They're supposed to come to life against the relievers, not tail off. Tonight was just a microcosm of the season; out came the starter and away went the bats.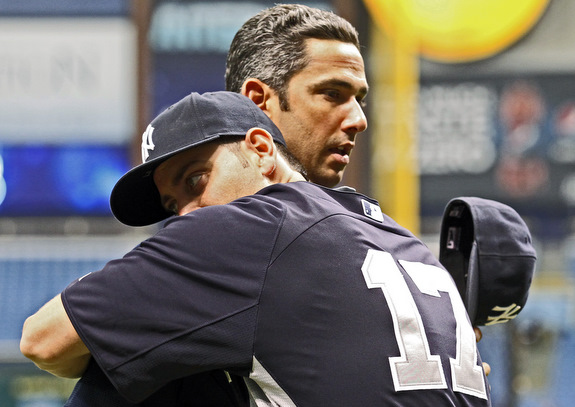 Leftovers
Shall we recap the non-Granderson offense? We shall. Derek Jeter went 0-for-3 with a walk and now has five singles, two walks, and a hit-by-pitch since his two homer game over a week ago. Mark Teixeira went hitless in four at-bats and has six singles in 32 plate appearances over the last week or so. Alex Rodriguez went 0-for-4 with three strikeouts and has seven hits in his last ten games. Robinson Cano singled twice, but saw a total of nine pitches in four at-bats. His 3.16 pitches seen per plate appearance ranks 188th out of 191 qualified batters. Nick Swisher singled and has actually hit in eight of his last nine games, but none of those games feature multiple hits. Russell Martin's two hits mean he's reached base eight times in the last five games, so that's cool. Eduardo Nunez's single drove in the first two runs of the games, so that was pretty cool too. He later committed a throwing error, which is to be expected.
I saw some questioning the decision to pinch-hit Brett Gardner for Andruw Jones in the ninth, citing Andruw's career numbers against Farnsworth (5-for-17 with two homers), but those numbers almost all come from their Braves-Cubs days. They've squared off a total of three times since 2004, and Jones hasn't reached base against him since 2003. Gardner's been the second best hitter on the team lately, so I say go with the hot hand.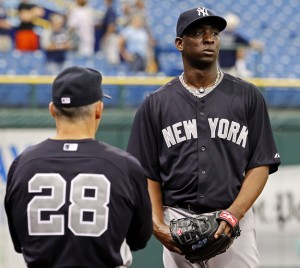 Boy, it sure was fun watching Tampa's $4.15M setup man/closer combo retire all nine men they faced in a one run game while the Yankees' $10M setup guy sat on the sidelines with a sore elbow, having not had a clean inning since Opening Day, wasn't it? The next multi-year deal given to a non-Mariano Rivera reliever that works out will be the first.
The six game losing streak is, like I said, the longest of the Girardi era, and the Yankees' longest streak since dropping seven in a row in April 2007. They've also lost ten of their last 13 games, and if you want to go back to last year, the Yanks are just 51-49 in their last hundred games (56-53 if you count the postseason). It's not all Cliff Lee's fault, folks.
As for the happy news, it was great to see Ken Singleton back in the booth, though of course we all pass along our condolences to his family again. Missed ya, Kenny.
WPA Graph & Box Score
Can you fall up a cliff? MLB.com has your box score and video highlights, FanGraphs the other stuff.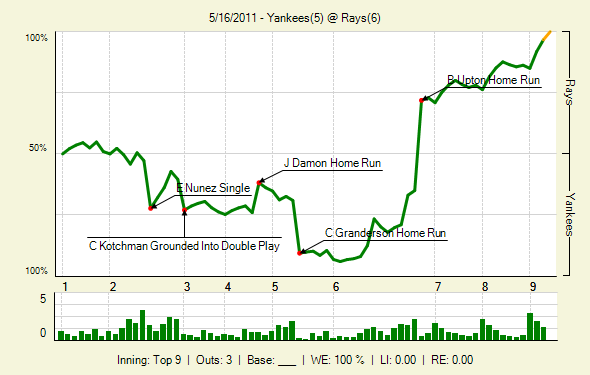 Up Next
It's just a two game series, so these two teams will wrap things upon Tuesday when Ivan Nova takes on Jamie Shields. If you decide to take a mental health day away from baseball, I wouldn't blame you.
* Non-Bautista Division. That guy is on another planet.