The first six innings of Sunday afternoon's game against the Mets was vintage 2011 Yankees. They scored a run early via the homerun but left a trillion runners on base while the pitching staff put forth a representative performance. We've seen this movie a few times this season, it usually has a sad ending. But not this time, the Yankees scored eight runs in the seventh inning, helping push them to a series win in the first leg of the Subway Series.

The Big Inning
Through the first six innings of the game, the Yankees went hitless in a dozen at-bats with men on base. Not necessarily scoring position, just men on base. They wasted a Jorge Posada leadoff walk in the second, a Derek Jeter leadoff single in the third, and a Chris Dickerson leadoff single in the fifth, so when Brett Gardner slapped a leadoff single through Mike Pelfrey's legs to start the seventh, we all figured it would be more of the same. Pelfrey was visibly annoyed at something after the hit, probably himself for not knocking down (though it wasn't an easy play by any means), and it all came apart after that.
Dickerson took three straight balls and eventually walked on five pitches to follow Gardner, and when Frankie Cervelli tried to give himself up on a sacrifice bunt, the Mets' starter instead hit him in the shoulder/chest with a pitch. Pelfrey's next and final pitch (number 101 on the day) was a sinker that didn't sink to Jeter, who found a hole with a four-hopper back up the middle. Both Gardner and Dickerson came around to score, tying the game at three, but the Yankees were just getting started.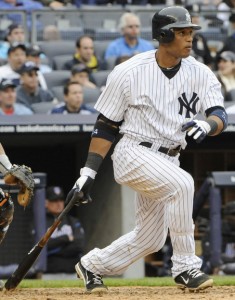 The next batter was Curtis Granderson, the man with the second most homeruns on the planet, but he was ordered to sacrifice bunt the two runners up. I still don't get it. Mark Teixeira was intentionally walked to load the bases and create the force at every base, and a giant hack from Alex Rodriguez resulted in a little dribbler down the third base line, perfectly placed to result in a go-ahead, run scoring infield single. Robinson Cano was next up and I thought his at-bat was pretty huge. Instead of hacking at the first pitch (like he's prone to do), he just stepped back and took the first offering from Pedro Beato, which just so happened to be a ball. The next pitch was off the plate for another ball, then Cano jumped all over the 2-0 fastball for a run scoring single to short right field. It's amazing what happens when you get a hitter's count, eh?
The Yankees went 4-for-7 with two walks, a hit-by-pitch, and a sacrifice bunt with men on base in the inning, including three straight hits at one point. Gardner and Dickerson each contributed a two-run bloop double a few batters after Cano did his thing, turning the game into a total laugher. The  team finished the day 5-for-10 with runners in scoring position, and all five hits came in that seventh inning. The eight runs was the Yankees' most in an inning this season, eclipsing the seven runs they hung on the Orioles late last month. Pretty much everything went their way for once; the bunt worked (in theory), the hits dropped in, they tacked on runs … it was glorious.

Mr. Nova Nova
Boy did Ivan Nova bend in this one. The Mets had him on the ropes seemingly all afternoon, but the young right-hander limited the damage to one inning even though he put a dozen men on base in six-and-two-thirds innings of work. The three-run second inning started with a weak ground ball single past the Jeter statue the Yankees have ever so kindly erected at shortstop, as well as a bobbled double play ball by Nova and an error on Jeter when he just flat out whiffed on a throw from Cervelli at second. The botched double play ball was the real killer, instead of a man on third with two outs, Nova was stuck with men on second and third with just one out.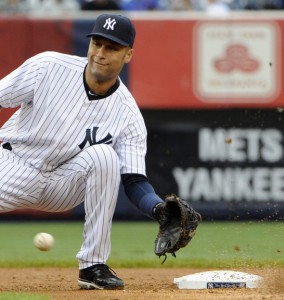 Nova's big weakness is his complete inability to miss bats, and it showed in that second inning. Fernando Martinez worked a seven pitch at-bat before singling with two strikes, and a few batters later Willie Harris singled in Bay on a 0-2 count for the Amazin's first run. Jason Pridie had another 0-2, run-scoring single two batters later. Nova came into this game having struck out just 4.95 men per nine innings and generating a swing-and-miss on just 4.2% of his pitches this year, well-below-average rates. One of his two strikeouts against the Mets was looking, and he got just five swing-throughs out of his 110 pitches.
It works for Nova because he gets a healthy amount of ground balls (50.7% this year, 14 out of 20 outs in this game), but when you're stuck with men in scoring position with less than two outs, a run is almost guaranteed score against these types of pitchers. We'll take three runs in 6.2 IP out of Nova all year long, but not every opposing team is going to go 2-for-10 with men in scoring position. Got a little lucky on Sunday.
Leftovers
You know who's been sneaky good this year? Luis Ayala. The three-week stint on the disabled list makes it a little less obvious, but he stranded Carlos Beltran on second after taking over for Nova in the seventh before firing a perfect eighth. He's struck out nine men in 12 innings this year, a 6.75 K/9 that's well-above his career rate (5.90). Add in just two unintentional walks and about 45% ground balls, and you've got yourself a servicable middle reliever. Who knows how long it'll last, but Ayala's definitely contributed more than I ever expected him too.
Granderson's first inning solo homer came on a sinker down and in, his 16th of the year. He didn't hit number 16 until September 2nd last year, and he's an equal opportunity long ball threat: eight have come off righties, eight have come off lefties, eight have come at home, and eight have come on the road. I wish Grandy could do better than a .328 OBP, but that's nitpicking when he's hitting the ball out of the park like this.
Jeter, Gardner, and Dickerson all had two hits, and Dickerson added the walk as well. He's reached base in six of his 11 plate appearances since coming up. A-Rod went 4-for-5 with a strikeout, and he now has 13 hits in his last 26 at-bats. As ugly as that slump was, Alex is now hitting .324/.370/.529 in his last 17 games. I guess it's all in the leg kick, eh? Jorge Posada, meanwhile, went 1-for-3 with a walk and a whiff and is now hitting .368/.538/.520 over the last nine games.
WPA Graph & Box Score
Heh, look at the flat part of the graph when Grandy bunted. Anyway, MLB.com has the box score and video highlights while FanGraphs has some other neat stuff.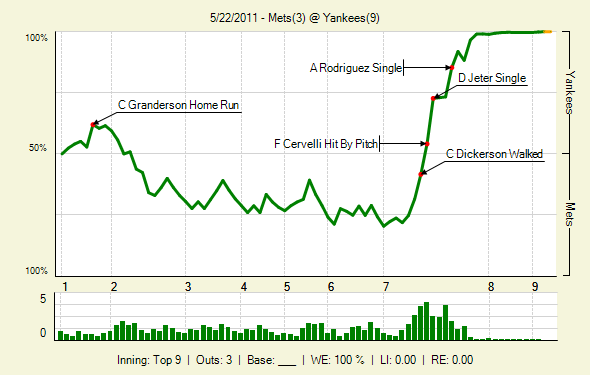 Up Next
Jose Bautista and the rest of the Blue Jays are coming to town for a three-game series starting Monday night. Bartolo Colon gets the ball against Carlos Villanueva, who is coming out of the bullpen to make the spot start.