Another day, another offensive struggle. On top of that, this game featured an injury to a semi-important player and two errors on plays a high school kid should make. The Yankees actually led Thursday's game for five-plus innings, but the end result was the same as the previous two games. The Tigers came into the four-game series on a six-game losing streak, but they leave it on a three-game winning streak.

Eduardo Knoblauch
Eduardo Nunez has always had a strong throwing arm, so strong that there were some rumblings of moving him to the mound as he stumbled through the 2006, 2007, and 2008 seasons. But a strong arm is only half the battle, maybe less. Nunez committed 167 errors in 636 minor league games (one every 3.8 games), and most of them were on throws because his arm is highly inaccurate. We saw that a little last year, and it was on full display this game.
The first error came in the bottom of the fourth inning, with the Yankees up by one. Brennan Boesch grounded to short, a completely routine and otherwise forgettable play, but Nunez threw the ball in the dirt and Mark Teixeira was unable to scoop it at first. Luckily that didn't lead to a run, but the second error did. That one came with the bases loaded and two outs in the seventh inning, with the Yankees down by one. Don Kelly slapped a ball to short, and although I wouldn't call it routine, it wasn't exactly the toughest play in the world. Nunez threw the ball high, over Tex's head at first, and two runs came around to score on what should have been the third out.
We're not asking for miracles here, those were two plays a Major League caliber shortstop needs to make. Nunez did go 2-for-4 and is now hitting .385/.429/.538 in limited playing time, but who cares? Those were his fourth and fifth errors in 22 defensive innings at shortstop. A backup infielder has to be able to catch and throw the ball without a problem, that's the first item on the job description. I don't break out the word "unacceptable" often, but I'm using it now: Nunez's defensive play has been unacceptable for a utility infielder.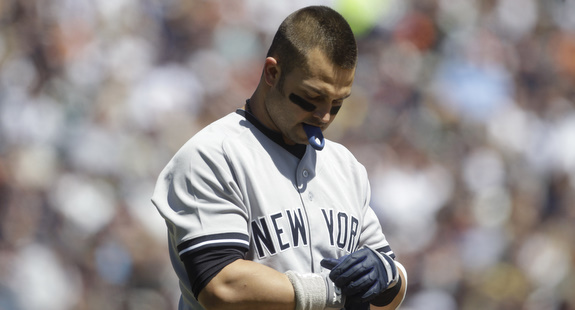 More Offensive Struggles
Ten hits, three walks, and heck, the Yankees even went 3-for-8 (.375) with runners in scoring position and plated all three runs with two outs, fun situational hitting type of stuff, but they still scored just three runs. It's the third straight game they've scored three or fewer runs, and the seventh time in their last eleven contests.
Know how many times they got the leadoff man on base in this game? Twice. Robinson Cano singled to open the fifth but was erased on a Tex double play ball three pitches later. Alex Rodriguez then opened the ninth with a single and eventually came around to score. But that's it, just two leadoff runners on. In fact, only thrice did the second runner of the inning reach base. Eight of their 13 baserunners came with two outs in the inning, when they're least likely to come around to score. The offense is straight up sucking right now, and boy is it frustrating.

A.J. Deserves Better
The first inning as a little rocky, but A.J. Burnett undoubtedly gave his team a chance to win on Thursday. He allowed just two earned runs (three unearned) on three hits and a walk in seven innings, hitting another batter with a pitch (when he was trying to bunt, grumble grumble) and striking out five. Two of the unearned runs scored on Nunez's second error, but the first came when Burnett threw the ball into foul territory on a pickoff play. The runner went from first to third and later scored on a sac fly. Such is life.
This is the second time in three starts that A.J. allowed three hits and two or fewer earned runs in seven or more innings of work, and yet he lost both games. Go figure. The Yankees' pitchers have really turned it around of late, with the last three guys each going seven innings with four earned runs or less. Those are winnable games given this team's bullpen and offense, but it's just not clicking right now. Earlier in the year the offense was carrying a suspect pitching staff, now the pitching is carrying the offense. Too bad they aren't winning games like they did last month.
Leftovers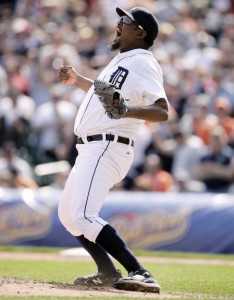 Eric Chavez tripled in the Yankees' first run of the day (a missed dive by Kelly helped), but he managed to break a bone in his foot between second and third. No timetable for his return has been announced, but it won't be anytime soon. Ramiro Pena is expected to take his spot on the roster tomorrow. It's been fun Chavy, but we all knew it wouldn't last.
Brett Gardner continued to do good things by picking up two hits in five trips to the plate, and Cano snapped an 0-for-9 skid with two hits. Curtis Granderson singled and walked, and A-Rod went 2-for-2 with two runs scored after replacing Chavez. Russell Martin and Nick Swisher went hitless but walked once each. Tex and Jorge Posada were the two most unproductive batters on the day, combining for nine outs in eight plate appearances. It'll click soon, right? Right?!
Lefty specialist Boone Logan's first three batters: homer by left Brennan Boesch, strikeout of righty (and the monster hitter) Miguel Cabrera, and a 3-0 count to lefty Alex Avila. He managed to allow just the one baserunner in his inning, but yeah, not how you draw it up. Boone's been good for a few weeks now, so he gets a pass.
WPA Graph & Box Score
Oh you teases. MLB.com has the box score and video highlights, FanGraphs the other stuff.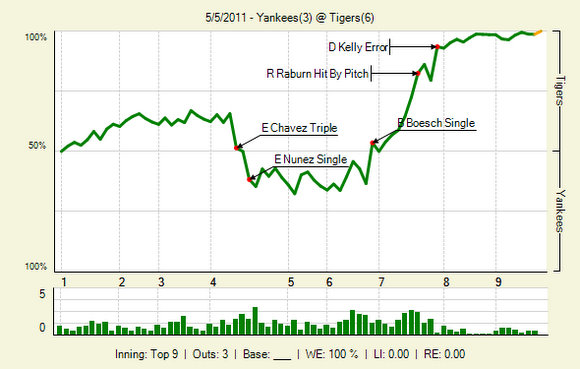 Up Next
Time to get the hell outta Detroit. Too bad Texas is next; the Yankees open a three game series with the Rangers on Friday night when Ivan Nova faces lefty Matt Harrison.