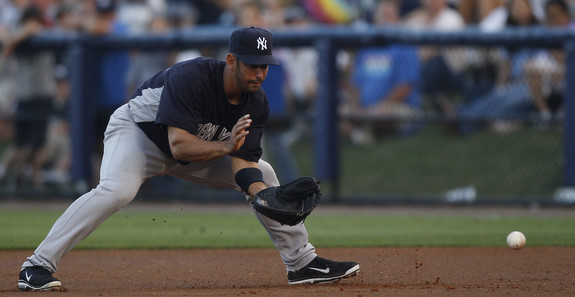 With Eric Chavez on the shelf and Mark Teixeira in need of some rest, Jorge Posada is starting at first base for the first time since 2008. He has 15 career starts at the position in his career, though eight of them came way back in 2000. Jorge worked out a bunch at first this spring, but it's still going to be a big defensive step down for the Yankees. Such is life. Here's the starting nine…
Derek Jeter, SS
Curtis Granderson, CF
Mark Teixeira, DH
Alex Rodriguez, 3B
Robinson Cano, 2B
Russell Martin, C – surprised he's back in there, he didn't really get yesterday off
Jorge Posada, 1B
Nick Swisher, RF
Brett Gardner, LF
CC Sabathia, SP – I sure hope he's ready to eat some serious innings
You can watch tonight's game on YES locally or MLB Network nationally when it begins shortly after 7pm ET. Enjoy.
Update: We are officially in a delay. No word on a start time yet, but use this as an open thread in the meantime.
Update Part Deux: The game is expected to begin at 7:50pm ET.