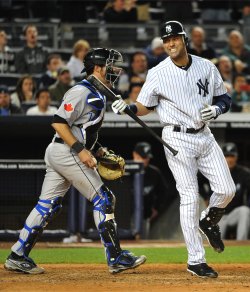 We were prepared for a slow start from Derek Jeter. Given the new swing mechanics he worked on this spring, it seemed like an inevitability. Through the season's first month we didn't make any mention of Jeter's performance outside of game recaps. In fact, the only post we've made all year that involved Jeter's performance is this whimsical one by Mike. Unfortunately, this is the first of them.
Joe Girardi has said that they have to wait a while, specifically until 150 PA, until they start making judgments. Jeter is now at 175, and his numbers don't look anything like a leadoff man's should. Forget the batting average and slugging percentage. The most important number for a leadoff man is his OBP, and Jeter's downright stinks. At .309 it ranks 133rd out of 192 qualified players. It also ranks eighth out of the nine Yankees who have 100 or more PA. That Jeter has more PA than anyone on the team further compounds the issue.
While the guy getting the most appearances making the most outs is a problem itself, it also causes problems for the rest of the lineup. Mark Teixeira is the biggest loser in all of this. He's tied for fourth on the team with 22 RBI despite having the second most extra base hits. That's because he's not coming to bat with men on base. In 61.63 percent of his plate appearances he has seen a bases empty situation. That ranks 37th out of the 225 players who have 100 or more PA. The only Yankee who has seen more bases empty situations is the leadoff hitter himself.
(To be clear, he has seen the 37th fewest PA with runners on base.)
Part of that, of course, is that Curtis Granderson has done a good job of clearing the bases. But he's hit only 10 homers in the two hole. Let's be generous and turn all 10 of those homers into doubles. That would still put him at 109th in the league at 55.81 percent of his PA with the bases empty. This is not something you want to see for your No. 3 hitter. Even Alex Rodriguez at No. 4 hasn't seen a ton of bases on PA. He has had the bases empty in 52.29 percent of his PA — and that's with the benefit of Teixeira's .378 OBP.
While the main issue here is of how ineffective Jeter has been atop the lineup, the secondary issue is of how highly this speaks of the Yankees offense. Despite the recent slump they're still second in the AL in runs per game at 5.03. That they can do that while their leadoff man OBPs around .300, and while their second best hitter (performance-wise this season) has seen a great majority of his plate appearances with the bases empty, is a testament to the lineup's depth. The Yankees can afford to continue the Jeter experiment, because they've scored runs. But as they showed during the winless skid, during which Jeter got on base in just five of 30 PA (.200 OBP), his presence at the top can hurt at times.
While Jeter can turn things around, even if it seems unlikely, he should have to do it from a lower spot in the order. If the Yankees want the most effective offense possible they need to have men on base when Teixeira and A-Rod come to the plate. To date they have not seen that. In fact, Nick Swisher has seen the most opportunities with men on base. (Which only makes matters worse, as things stand.) The No. 6 guys should see those opportunities, but not more than the Nos. 3 and 4 guys. That's the inefficiency in the Yankees' lineup. Make a change, and they could be even better. Unfortunately, I don't get the sense that one is coming.