Hooray for mailbag day. Four questions, four topics, including one about contract extensions and two about the futures of two up-the-middle positions. Remember to use the Submit A Tip box in the sidebar to send your questions in.
Daniel asks: So I've heard on the RAB Radio Show that you guys aren't huge fans of Jair Jurrjens, personally I have been. He has shown some serious signs of life … what would it take to acquire him, and would it be worth it?
I always try to find comparable pitchers when dealing with questions like this. We've got a 25-year-old right-hander with a career 3.41 ERA, 3.79 FIP, 6.3 K/9, 3.2 BB/9, 45.5% ground ball rate, and two-and-a-half years of team control left (assuming a midseason trade). Jurrjens also has an injury history (including offseason knee surgery and shoulder tightness three years ago), so we can't forget that. So who's the comparable?
Matt Garza doesn't fit, he had better numbers and a better track record of health, so go adjust down from there. Brandon Morrow isn't a great match, neither is Scott Kazmir or Dan Haren. Edwin Jackson? That might work, when he went to the Tigers for Matt Joyce. Joe Blanton to the Phillies also works well, and he cost them one really good prospect (Adrian Cardenas), a decent big league ready pitching prospect (Josh Outman), and another throw-in prospect (Matt Spencer). Bronson Arroyo for Wily Mo Pena happened so long ago, but it's still along the lines of Jackson-for-Joyce. You know what might work best? Tom Gorzelanny to the Nationals for three good prospects (A.J. Morris, Michael Burgess, and Graham Hicks).
The Blanton and Gorzelanny blueprints say three good (but not any of them great) prospects is enough, though one above-average, young big leaguer could get it done. Atlanta reportedly had interest in Eduardo Nunez, so maybe you built a package around him and one of the Triple-A arms (preferably D.J. Mitchell) is a good starting point. Fill in from there. I'm not a Jurrjens fan, but I'd almost certainly pull the trigger if that's the cost.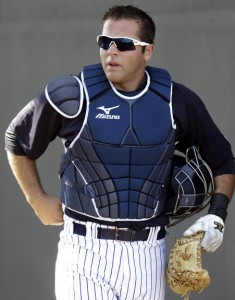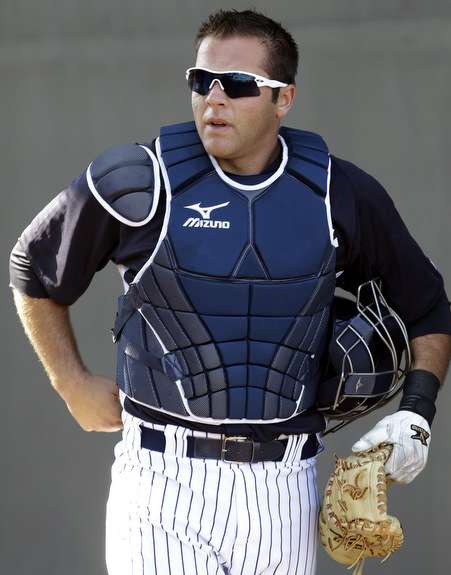 Anonymous asks: People often mention Yankees as a team with great depth at catching prospects but do you think any of them can actually stick at catcher? Montero's struggles at C has been chronicled extensively but KLaw reiterated in his chat last week that he doesn't think Romine can stay at catcher. Sanchez supposedly has the tools to catch but is obviously struggling to field right now. J.R. Murphy's ability to handle catching is also doubtful from various scouting reports. So do you guys think any of them will catch in the big leagues? How would you rate each of their chances?
I don't think Jesus Montero can catch long-term in the majors, but I think he could fake it for two or three years before he really fills out in his mid-20's. Austin Romine is better, and Keith Law has always been the low man on his defense. Most other publications see him as average behind the dish, which is good enough. Gary Sanchez has been a defensive disaster early in his career (25 passed balls and 11 errors in 42 games behind the plate), and Murphy is spending more time in the outfield and at DH than at catcher. Those two have a long time to improve, but the early returns are not good.
Montero's bat is so special that I'd make it work behind the plate for as long as possible, then figure things out once he's completely unplayable. Romine almost certainly has the best chance to catch in the show when it comes to long-term staying power, though Kyle Higashioka is the best defender out of all of 'em. Too bad the kid can't hit.
Paul asks: With the shift across the league towards locking up young players for the majority of their productive years, do you see the Yankees rethinking their strategy of not handing out extensions to their own guys? It seems with less premium players hitting free agency, this may be something to look at in the near future for the Yanks.
Yes and no. I don't see any reason for the Yankees to take on that risk with pitchers since all we have to do is look at Chien-Ming Wang and Phil Hughes to see the potential downside. Position players are a different story since they're generally safer bets to remain productive. They locked up Robinson Cano just as he entered his arbitration years and that contract (four years, $30M guaranteed) turned out to be a steal regardless of what happens from here on out. I don't who would be a candidate for such a contract now, certainly not Brett Gardner or Frankie Cervelli. Maybe Montero if he comes up and kills it for two years or so. So yeah, they should at least consider such deals, but I don't really blame them for not wanting to assume the risk when they can afford big arbitration raises.
Bill asks: What is the FA situation next year and the year after at SS? Jeter cannot be a realistic option for the next two years (hopefully) and after watch Nunez sail throw after throw against Detroit it's safe to say he is out too.
After this season you have Jose Reyes, Yuniesky Betancourt (nope), Ronny Cedeno (also nope), and aging Jimmy Rollins (no way), and personal fave J.J. Hardy on the free agent market. The post-2012 class offers Erick Aybar and Stephen Drew, who are both legit options based on what we know right now. Jason Bartlett would be an okay stopgap at best. For better or worse, the Yankees are stuck with Jeter (or Eduardo Nunez) at short for the foreseeable future. Troy Tulowitzki or Hanley Ramirez ain't walking the door, sorry folks.