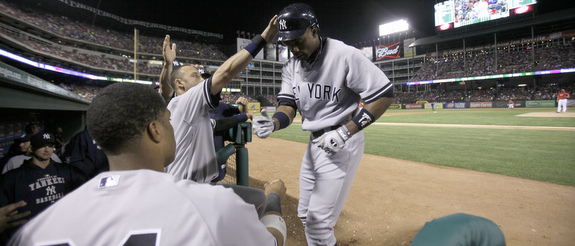 Three straight losses qualifies as a crisis around these parts, but the Yankees righted the ship tonight thanks to their fourth starter and the guy that was supposed to hit ninth before a head cold befell Nick Swisher. Let's quickly recap…
Give it up to Ivan Nova, the kid just had the best start of his big league career against the defending American League champs. He allowed just one (unearned) run in 7.2 innings, giving up just two singles and a walk. Of his 21 non-strikeout outs, 16 were on the ground. Nova was simply awesome Friday night, you couldn't have asked for more. He's now allowed just four runs in 22 innings over his last three starts, when he was probably pitching for his job.
How about that Curtis Granderson fella? A two-run homer into the upper deck in the first inning, then an insurance run on a solo homer in the seventh. That's how it's done. Grandy's ten homers lead the AL, and his 24 long balls since last August 14th are the most in baseball by someone not named Jose Bautista (he has 27). He didn't hit his tenth homer until July 26th last season, so yeah, he's ahead of that pace.
Another inning's worth of outs just given away in this game. Two stupid sacrifice bunts (neither worked) and Russell Martin got picked off third when he wandered a little too far from the bag. What kills me most about the bunts is that the guy on the mound had walked the previous batter each time (in Matt Harrison's case, the previous two hitters), and they just gave a wild pitcher a free out. I've written more words about dumb bunt attempts this year than I ever thought I would have needed to this season, and it's only been thirty games. Sigh.
Turning Alex Rodriguez loose in a 3-0 count with two outs and the bases loaded in the second? Dumb. Harrison walked three batters in the inning and was clearly laboring, I highly doubt that he could have thrown three strikes before one ball in that spot. I don't care if 2001 Barry Bonds was at the plate, take the run they're trying to give you.
Rafael Soriano allowed an inherited runner to score on his contractually mandated baserunner, so Nova wasn't even on the mound when the run came across. Mariano Rivera was flawless in the ninth, just the way we like it.
Derek Jeter had a hit and a walk and Martin drew a trio of free passes. The six through nine hitters went hitless in 11 at-bats, but they reached base five times total. The Yankees went 0-for-4 with men in scoring position and did leave seven runners on base, but homers cure all ills.
Here's the box score and video, here's the WPA Graph.
Same two teams tomorrow night, when Bartolo Colon takes on lefty Derek Holland. Another 8pm ET start, which sucks on a Saturday.