Meh. Coming off two straight wins over the Mets (the last of which included that great comeback and eight-run inning) and five wins in six games, I have a hard time getting worked up over a loss like this. The Yankees didn't hit well and they didn't pitch well, a combination that will often lead to bad things.

Meltdown
Bartolo Colon has pitched so well this year that he gets a pass for having a meltdown inning like he did in this game. It all started with a Corey Patterson leadoff double in the sixth, which was predictably followed by a intentional walk to Jose Bautista. What followed was a little … odd. Yunel Escobar bunted the two runners into scoring position, and for whatever reason Juan Rivera was deemed too dangerous to pitch to, so he was put on intentionally as well. This is the same Juan Rivera that came into the game with a .225/.315/.331 batting line. Furthermore, it set up the bases loaded situation for Aaron Hill, who is one of the most extreme fly ball hitters in the game. He's not exactly a double play candidate.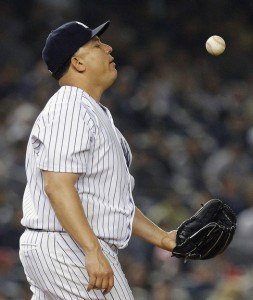 Ironically enough, Hill did hit a ground ball, but it scooted through the 5.5 hole for a run. Okay fine, it happens, but four-pitch walks with the bases loaded to Eric Thames (the next batter) should not. The game was essentially over when J.P. Arencibia jumped all over a first pitch fastball for a bases clearing double.
I mean, when there's men on second and third with one out, you're going to give up a run. It's basically inevitable. But why would you walk one of the worst hitters in baseball to give the other team a free baserunner? That just doesn't add up. Bottom line though, Colon can not be walking some kid with the bases loaded on four pitches in his sixth big league game. The double was just salt on the wound.
Even More RISPFAIL
Two hits in 15 at-bats with runners in scoring position this time around, and those hits came back-to-back in the eighth. Alex Rodriguez's infield single didn't even score a run. The offense was basically Curtis Granderson (who drew three walks) and Robinson Cano (who drove Grandy in each time), who teamed up for all three Yankees' run. Blah blah blah, can't manufacture runs, whatever. At least they didn't waste a strong starting pitching performance this time.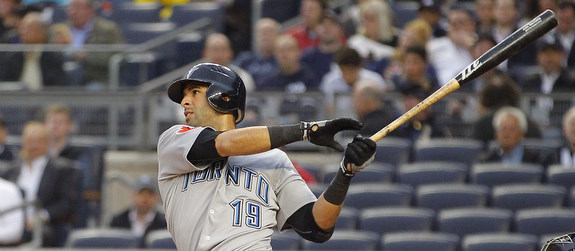 Leftovers
Heh, you think Michael Kay needed a new pair of pants after Jeter's long fly ball to end the fifth? Yeah, I thought it was gone too, but at least I can blame the YES camera work. They made it look like it was going to land 14 rows deep.
Remember when I wrote about Colon and whether or not he'd stick to the fastball-heavy plan of attack against the Jays? Well PitchFX was not working early in the game for whatever reason, but it had Colon throwing 20 sliders and one changeup out of the 79 pitches it did record. He threw nine sliders and five changeups in his first start against the Jays, so yeah, they definitely incorporated a few more offspeed pitches this time around.
Bautista's first inning homer sucked was sheesh, it was a first inning solo homer. Who cares? I saw people saying that they should have intentionally walked him in that spot, and I'm sure a few of them were serious. Even the Walk Bonds Chart says to pitch to him there. One run in the first, what's the big deal? Just complaining for the sake of complaining.
Brett Gardner had two hits and two stolen bases, but the second steal was a joke. It was basically a defensive indifference in the ninth inning. Total gift from the official scorer. He's up to .274/.344/.422 on the year, and it's about time they move him back up to the leadoff spot. You know, 1. Gardner, 2. Granderson … etc.
Hector Noesi tossed three garbage time innings and gave up his first big league run. For shame, I thought that 0.00 ERA was sustainable. Oh well, for some reason this loss doesn't bother me that much. I guess it's easier to take when the Red Sox and Rays lose as well. Colon's allowed a stinker every now and then, it happens. Just forget about it and go get 'em tomorrow.
WPA Graph & Box Score
MLB.com has the box score and video highlights, FanGraphs has everything else.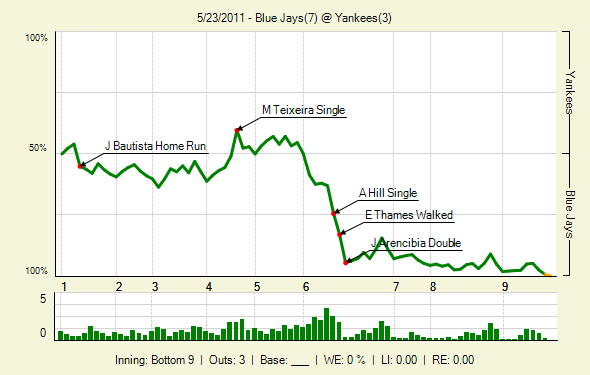 Up Next
Same two teams in a battle of ace left-handers tomorrow. CC Sabathia gets the ball against Ricky Romero, so that should be fun.