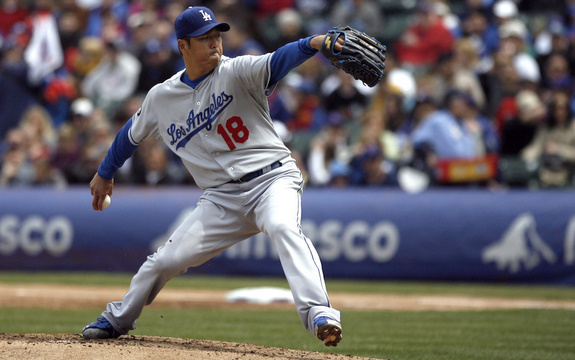 There were not many viable free agent alternatives to Cliff Lee this past offseason, so when Hiroki Kuroda took himself off the market in November, arguably the second best free agent pitcher was no longer an option for the Yankees. The Dodgers currently sport the third worst record in the National League, and their -43 run differential says they've been the third worst team in baseball overall. Owner Frank McCourt is in the process of being phased out by MLB whether he likes it or not, and there are legitimate concerns about his ability to make payroll within the next week or two.
Just because McCourt might not make payroll doesn't mean Dodgers' players will be up for grabs. MLB will foot the bill and further push McCourt out, but they showed last year with the Rangers that they're willing to be flexible with payroll in situations like this. That's not to say they'll be buyers at the deadline, but they won't necessarily have to sell off everything not nailed to the stadium concrete. The Dodgers have some strong starting pitchers they could shop, but Clayton Kershaw is as untouchable is gets and I doubt they're looking to move Chad Billingsley just weeks after signing him to an extension.
The trade deadline is just over two months away, so let's get a jump on things by looking at Hiroki Kuroda, one of those pitchers that might actually be up for grabs…
The Pros
Kuroda has been consistently excellent since coming over from Japan. His 3.94 FIP this year is the worst of his career, but that's still a fine mark. His unintentional walk rate has hovered right around two men per nine over the last few years while batters have swung and missed at his offerings at least nine percent of the time in all four seasons of his MLB career.
He also generates a healthy amount of ground balls, 50.4% for his career and 47.3% in 2011. Unsurprisingly, that's helped keep his homerun rate to a manageable 0.78 per nine.
Kuroda throws pretty hard, with both his four-seamer and two-seamer sitting sitting comfortably in the low-90's. The former tends to creep up into the mid-90's as the season goes along. A mid-80's slider is his primary secondary offering, and he'll use a mid-to-high 80's splitter as a changeup. He also started mixing in some upper-70's curveballs this year after learning a grip from YouTube.
It's a short commitment at a reasonable salary, the definition of a rental. Kuroda signed a one-year deal worth $12M this past winter, but his salary is only $8M. The other $4M is a signing bonus that will be paid out from 2012-2013. He can earn another $500,000 in incentives, but that's no big deal.
The Cons
Kuroda is not young; he turned 36 in February and he does have a bit of injury history. He spent two weeks on the DL with shoulder tendinitis in June 2008 and then missed ~100 total days of the 2009 season with an oblique strain (two weeks), a concussion (two months), and a neck sprain (two weeks). The concussion was the result a line drive to the head, so that's a fluke thing we shouldn't count against him. An ugly start over the weekend (5.2 IP, 6 R) apparently had to do with a cut on his finger.
Despite some gaudy swing-and-miss rates (10.0% career), Kuroda has only struck out 6.59 men per nine innings in his career (6.89 K/9 this year). Left-handed batters have also been a little tough on him, though it's not a crazy split.
Kuroda has a full no-trade clause, and the fact that he agreed to re-sign with the Dodgers during the exclusive negotiating period this past offseason suggests that he's not in a rush to leave town.
There's no indication that the (soon to be) MLB-operated Dodgers are looking to sell of any players right now, but Kuroda is probably their only big money piece with trade value. He's pitched just as well on the road as he has at pitcher-friendly Dodger Stadium, and for what it's worth his peripherals stats in eight interleague starts have been strong. Kuroda's a power pitcher with playoff experience, and he's been amazingly consistent in his three-plus years in the States. The Yankees haven't had the best luck when it comes to Japanese starting pitchers, but Kuroda doesn't carry the same risk as Hideki Irabu or Kei Igawa because he's already made the transition to MLB and has proven himself to be an above-average starter. Now it's just up to the Dodgers to put him on the market.