After a recovery for the offense in Texas — Rangers Ballpark cures what ails your hitters — the Yankees will spend some time at home this week. The Kansas City Royals come into town, but don't let them fool you. This isn't the team that finished 67-95, last in the AL Central last year. They're currently 18-16, second in the Central, and while that might not represent their actual talent level, it does indicate that they're a tick better than before. At least they're playing that way, which is all that matters as the two teams match up this week.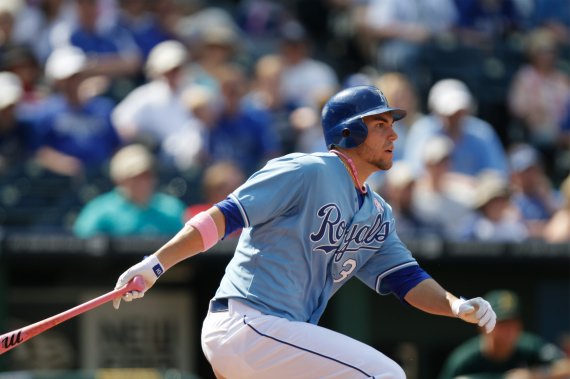 What Have the Royals Done Lately?
In late April it appeared as though they were quickly reverting to the same old Royals, as they lost six straight to Texas and Cleveland. But sometimes facing the worst team in the league can pick you back up. That's what happened when the Royals faced Minnesota last week. They swept through that series and then took two of three from Baltimore. Dropping two of three to the A's has left them 6-3 in their last nine, though the competition, at least on the offensive side of the ball, wasn't best-in-league.
Royals on Offense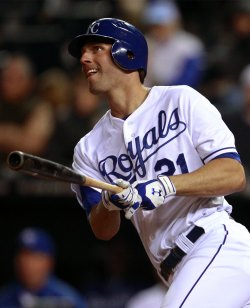 One of the reasons the Royals have played so well this season is by hitting the ball well. Their .338 wOBA ranks fourth in the majors, just a single point behind Texas. Last year they were known as a team that could string together some singles and make some runs, but this year they're actually hitting with some power, ranking fourth in the league with a .155 ISO. Unlike last year, they post a threat to put up a crooked number this year.
The leader of the offense is, to everyone's surprise, Jeff Francoeur. Through his first 142 PA he is hitting .302/.345/.581, including a team-leading eight home runs. We've seen Francoeur get off to hot starts before — last year he started off with a .378 wOBA in April before slipping later in the year — but something seems different about this year. It always does, until things come crashing down. You'll pardon me for not buying into the Francoeur hype. The only thing that has changed for him is his swinging strike rate, and I don't think cutting that down is enough to turn an undisciplined hitter, who still doesn't draw walks, into a powerhouse. Better, maybe, but not bum-to-superstar.
Complementing Francoeur in the middle of the order is Alex Gordon, who, after wearing the bust label, has resurged in the early portion of this season. It's easier to buy Gordon's turnaround than Francoeur's, because there didn't seem to be any reason why he couldn't succeed previously. Injuries derailed him to a degree, and he never really got into a groove. This year he's hitting .309/.367/.500 while playing, statistically at least, a solid left field. He could cause some issues at Yankee Stadium.
There's always Billy Butler, too, who has again established himself as a solid hitter with gap power. The full home run package will probably never come, but he can still draw a walk and make solid contact. Maybe those skills will go for waste in the cavern that is left-center at Yankee Stadium, but it's not as though he's a straight pull hitter. With Butler, Francoeur, and Gordon in the middle of the lineup the Royals certainly pose a threat.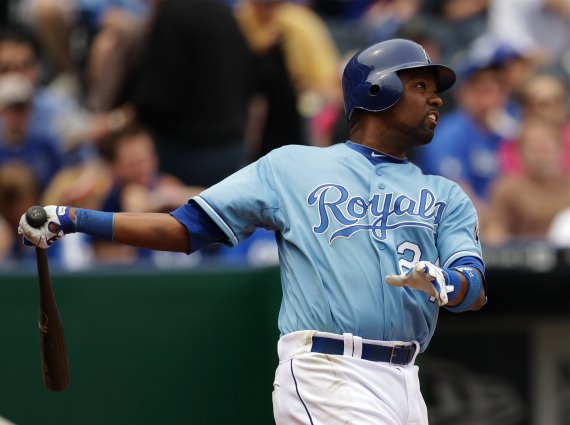 Of the eight Royals with 100 or more PA, six of them have a wRC+ above 100, and five of them are above 125. The latter group includes former Yankee Wilson Betemit, who has done nothing but hit since he signed on with Kansas City. In the last two seasons he has hit .300/.374/.497 in 422 PA, which is almost certainly the best 400-PA stretch of his career. It's doubtful that he continues doing this for the next few years, but he certainly has become a threat at the moment. In the former group, but not the latter, is Melky Cabrera, who has shown great improvement since his disappointing 2010.
And I'll close by mentioning Eric Hosmer, rookie and Baseball America's No. 8 overall prospect. He'll be taking the reps at first base.
Royals on the Mound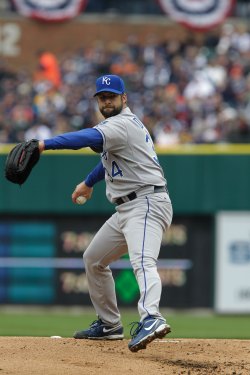 Tuesday, RHP Kyle Davies. By this point Davies is pretty well known as one of the worst regular starters in the majors. Last year he made 32 starts and allowed a 5.34 ERA against a 4.46 FIP. This year he has been especially prone to the longball, which plays right into the Yankees' hands. Then again, we've seen matchups previously where the opponent plays to the team's strengths, only to see them flail and falter. Still, it's easy to conjure memories of the Yankees lighting up Davies in the past — A-Rod's 500th homer stands out most prominently. But whatever the case, he's simply not a good pitcher, and probably shouldn't have his job much longer. The Yanks should get their licks in while he's still employed.
Wednesday, LHP Bruce Chen. He is, to quote an under-used meme, the premier leftballer of our time. Of course, in reality Chen isn't the premier anything. He has, however, pitched very well this season, a 3.59 ERA in seven starts. They have been of the hit or mss variety, though, with the determining factor being home runs. In four of his starts he has allowed no longballs and has combined to allow four runs, three earned, during them. But he has allowed three homers in a game twice, and allowed one homer in a game once. The Yankees, it appears, should jump all over him. The only caveat is that all seven of his homers this year have come off righties. I think that is going to change on Wednesday evening.
Thursday, RHP Sean O'Sullivan. Last year O'Sullivan went from frustration to laughingstock in no time flat. The first time he pitched against the Yanks last year was the first of his career, and we all know how that story goes. The Yankees flailed and faltered, getting just two runs in six innings. Less than a month later the two met again, this time when O'Sullivan was on the Royals. They blasted him for four runs in 5.1 innings, including a pair of homers by Alex Rodriguez. So far this season he has done a good job keeping the ball in the park — his only homer came in his first start — but he has had some rough times otherwise. Even in his last start, when he allowed three runs in eight innings, he didn't strike out anyone. His season K/BB sits at 14:14, and while he makes up for some of that with ground balls, it's not enough to overcome the lack of swings and misses — and control.
Bullpen. We all know about Joakim Soria, who is one of the league's premier closers. He has had a rough start to 2011, but there's no reason to think he's on the decline or anything like that. He is joined by a new cast of relievers who throw hard and, for the most part, throw strikes. Aaron Crow has been absolutely lights out, while Blake Wood hasn't been too shabby himself. Lefty Tim Collins will generate plenty of comments for his shortness and his odd motion, though his results haven't been all there. Nathan Adcock will get flak for his name, but the dude can pitch. The Yankees had better get in their shots against the starters, because this is no pushover bullpen.
Recommended Royals Reading: Royals Review and Royals Authority.