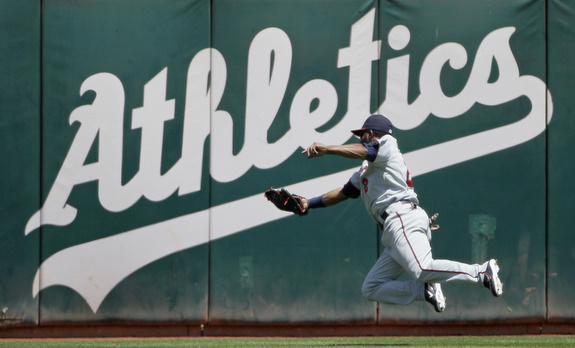 After having multiple run leads in all three games against the Mariners and losing two of them, the Yankees are heading down to the Bay Area for a three game set against the Oakland Athletics. These two teams have quite a bit of recent-ish history, like Jason Giambi, Scott Brosius, and the 2000 and 2001 ALDSes. The Yankees won nine of the ten games against the Athletics last year, including five of six in Oakland.
What Have The Athletics Done Lately?
The A's are coming off a three game sweep of the Orioles, outscoring the orange birds 16-8 over the weekend. They had lost seven of nine before that, including six straight at one point. Overall, the Athletics are right at .500 with a 27-27 record, dead last in the division even though their +12 run differential is second best.
Athletics On Offense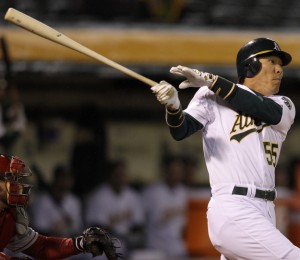 Eh, they don't really have much of an one. Despite several notable offseason additions, the A's have the third worst team OBP (.307) in the AL and they average just 3.65 runs per game. The problems start right at the top, where leadoff man Coco Crisp gets on base just 30.7% of the time and number two hitter Daric Barton gets on base just 32.6% of the time (.393 OBP for Barton last year).
The remade middle of the order features David DeJesus (.247/.323/.385), Josh Willingham (.244/.328/.446), and True Yankee™ Hideki Matsui (.266/.282/.346), and those three aren't exactly Gonzalez-Youkilis-Ortiz. Kurt Suzuki (.250/.314/.372), Mark Ellis (.213/.249/.295), Cliff Pennington (.259/.312/.341) and Kevin Kouzmanoff (.220/.262/.347) round out the rest of the lineup, though we might see lefty Ryan Sweeney (.320/.414/.413) and righty Conor Jackson (.264/.349/.345) is various matchup situations. With a team batting line of .241/.307/.351 on the season, facing the A's is almost like facing a lineup of nine Derek Jeters. Think about that.
Athletics On The Mound
Monday, RHP Trevor Cahill: Last year looked like a fluke, given a .236 BABIP and a 56% ground ball rate. The extremes of those two stats usually don't go together. The 23-year-old righty has shown that he's legit by repeating his dominance this year, using a 7.07 K/9 and 57.2% ground balls to carve through lineups. Cahill's approach is pretty simple; he pounds the zone with low-90's sinkers pretty much all day long, though he'll occasionally bust out a low-80's changeup and an upper-70's curveball to get swings and misses. The Yankees have roughly him up in the past, but that was before Cahill took a step forward and turned into one of the best pitchers in the AL. He's everything we wish Ivan Nova could be.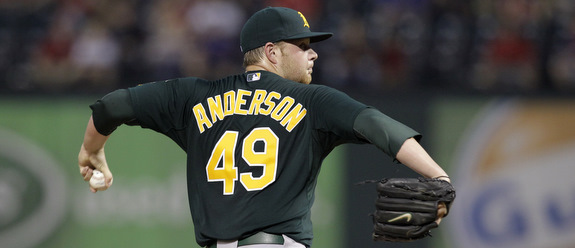 Tuesday, LHP Brett Anderson: A personal fave, Anderson employs the same strikeout (6.90 K/9) and ground ball (62.3%) heavy approach as Cahill, just with his other arm. He throws two fastballs in the low-90's, using his sinking two-seamer a little more often than his four-seamer, but his money pitch is the slider. It's absolute death on lefties and Anderson will throw the low-80's offering more than 46% of the time, so he'll go to it in any count. A curveball and changeup fill in the gaps, but he just uses them as show-me pitches more than anything. When healthy, which wasn't often last year, Anderson's the best pitcher on this staff, even better than Cahill.
Wednesday, LHP Gio Gonzalez: The Athletics have a pair of guys named Josh Outman and Guillermo Moscoso in their rotation, yet somehow the Yankees will run into their top three arms this series. Go figure. Gio's the strikeout guy on the staff (9.10 K/9), though he also gets a decent amount of grounders as well (50.6%). The problem is that he's shown a tendency to walk quite a few (4.04 BB/9), and we've seen the Yankees take advantage of that a few times over the last two seasons. Gonzalez goes to the mound with three true pitches that he uses almost equally: a low-to-mid 90's four-seamer (30.0%), a low-90's two-seamer (32.4%), and a big breaking curveball right around 80 mph (32.5%). About one in every 20 pitches will be a fosh changeup. Gio's a bit of a wildcard, he's the kind of guy that could walk six in five innings or whiff a dozen in nine. But again, the Yankees have had some success against him the last few times they've seen him.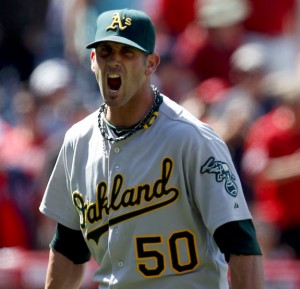 Bullpen: The A's are a model pitching and defense team, so they unsurprisingly have a strong bullpen that got even stronger yesterday when they welcomed All-Star closer Andrew Bailey back from the disabled list. We're all familiar with the hard throwing setup man Grant Balfour (10.22 K/9), who joins the slider happy Michael Wuertz (9.88 K/9) to give manager Bob Geren a pair of high strikeout options in the late innings. Craig Breslow has been even more anti-LOOGY than Boone Logan (LHB are hitting .400/.424/.533 off him), though Geren could always turn to fill-in closer Brian Fuentes (.250/.308/.333) in those spots. The rest of Oakland's pen is occupied by Joey Devine and Brad Ziegler, a pair of low arm slot (in Ziegler's case, submarine) righties that do their best work against batters of the same hand. It's the kind of relief crew that can create matchup nightmares in the late innings, and just about all of them miss bats.
Recommended Athletics Reading: Athletics Nation and Beaneball