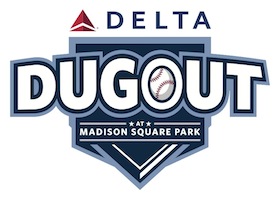 As the Yankees and Mets gear up for yet another installment of the Subway Series, River Ave. Blues is pleased to announce that we will be hosting a Fan Flair challenge and New York baseball trivia contest at the Delta Dugout in Madison Square Park this Sunday afternoon.
The Delta Dugout, sponsored as you might have guessed by Delta Airlines, is becoming an annual happening around the time of the Subway Series. Open from 11 a.m. on Friday through the end of Sunday afternoon's game, events include a Saturday night pre-game concert by Bernie Williams, an appearance by Joba Chamberlain on Saturday at noon, and an auction to benefit Harlem RBI that will begin with a Mark Teixeira appearance. (In fact, he spilled the beans via Twitter earlier this week.)
Our role in the event comes on Sunday for the Fan Flair Challenge and a subsequent pre-game trivia contest. At 11 a.m., Chris Carlin from SNY and I will be judging fans' outfits. The Mets fan and Yankee fan with the most team-spirited based outfit will win a giveaway package to one of their favorite's teams upcoming games. At noon, I'll then be hosting a special edition of dugout trivia for the Fan Flair runners up with a chance to win tickets to Yankees and Mets games.
The rest of the weekend should be pretty fun too. The games will be shown on a big screen in the park with numerous food vendors. Some other famous New York baseball folk will be making some guest appearances, and batting cages and the like will be set up in the park. Stop by if you're jonesing for some baseball before the games this weekend. For a full schedule, check out the event's Facebook page or find out more on Delta's website.