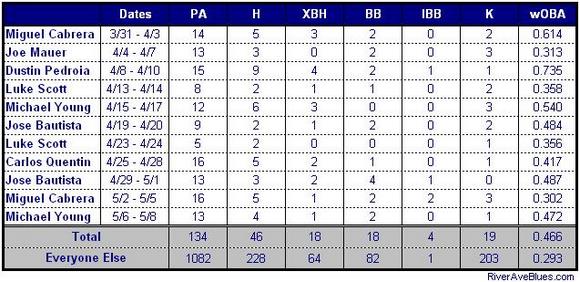 Great players are great for a reason, and there's only so much you can do to contain them. We just watched Miguel Cabrera thoroughly manhandle Yankees' pitching for four games last week, unsurprising since he's a phenomenal player on a career path that usually points to Cooperstown. So, naturally, I bitched and moaned every time the Yankees didn't pitch around him with runners on base, just like I have all season whenever they've opted to pitch to the other team's best player with ducks on the pond.
The above table recaps how the opponent's top hitter performed against the Yankees in each series they've played this year. Cherry picking? Of course, I don't think any of us really thinks that Dustin Pedroia is the best hitter on the Red Sox, but he sure looked like it during that series in Boston a few weeks ago. The point is that there always seems to be that one guy on the other team that just destroys the Yankees in any given series. Overall, the other clubs' best players have combined for a .466 wOBA (six homers) against New York in 134 plate appearances this year. Alex Rodriguez had a .446 wOBA in 2007, for reference. All other hitters have combined for a measly .293 wOBA during that time, which is 2007 Miguel Cairo. Yeah, it's a big difference.
Where am I going with this? I have no idea, just thought it was an interesting nugget to share. I didn't think the gap would be that big, frankly. It's easy to say the Yankees need to do a better job of pitching to the other team's best players, but sheesh, we all know it's not that simple. Should they maybe be a little more liberal with intentional walks, especially when you have Ryan Raburn protecting Miggy or the hacktastic Adam Jones behind Luke Scott? Yeah, probably. I'm not a fan of giving out free baserunners, but I'm even less of a fan of letting the opponent's one huge bat beat you.