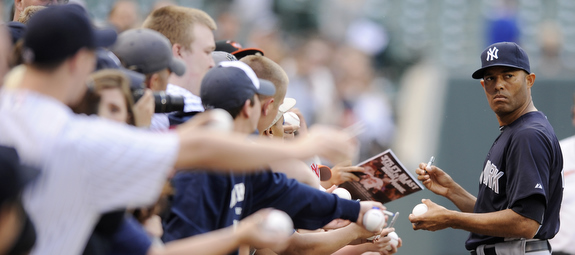 If there's anything good to come out of last night's loss, it's that the Yankees were able to sit and rest their core relievers for a day. I mean completely rest them, they didn't even have to get up and walk to the bullpen mound thinking about the possibility of warming up. Joe Girardi said before the game that Joba Chamberlain was not going to pitch given his recent workload, which included six appearances in the last eleven games. David Robertson has also worked quite a bit lately (five appearances in the last ten games), and even Mariano Rivera has been used heavily at times this year.
Rafael Soriano's injury has made those three, especially Joba and Robertson, that much more important this month. The problem is that these guys can't go on like this forever, they'll be burnt out by season's end. Mike Jaggers-Radolf at The Yankee Analysts looked at these three yesterday and showed that they were on target for some serious innings totals, but I want to dig a little deeper. Innings are nice and convenient, but they are most certainly not all created equal. What's really important is the number of pitches thrown by each, because as the old saying goes, there's only so many bullets in those arms.
Let's look at each pitcher individually, and compare their cumulative pitch totals this season to last season. Might as well follow The Formula™, so first up is the seventh inning…
Robertson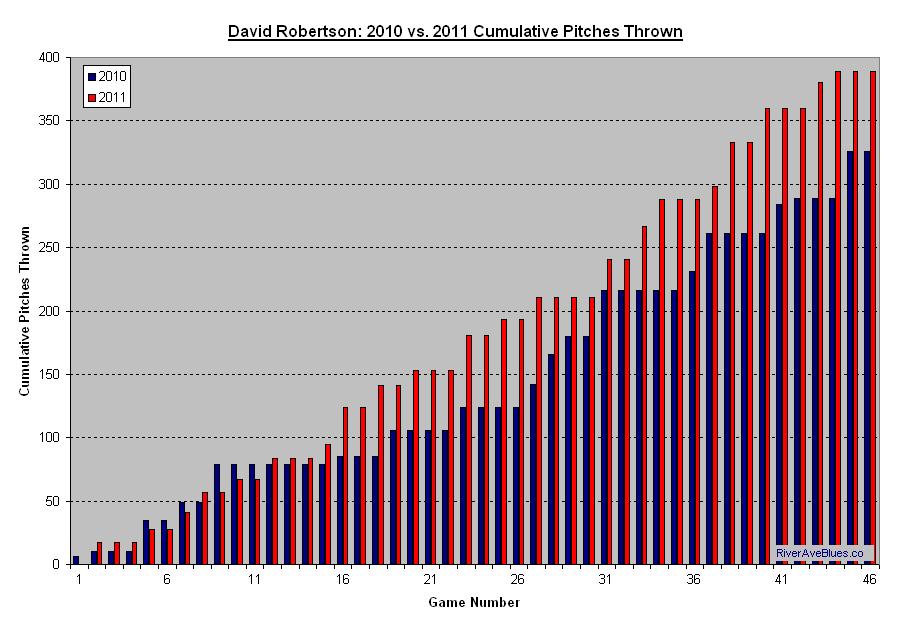 First of all, remember to click each graph for a larger and more legible view. Secondly, wow is that scary. Robertson has thrown considerably more pitches this season than he did through 46 games last year, 19.3% more in fact (389 to 326). He's also faced nine more batters, and is averaging 4.53 pitchers per batter in 2011 compared to 4.23 last year. That has a lot to do with big time increases in his strikeout and walks rates, but David's on pace to throw 1,370 pitches this season, which would be nearly 200 more than he threw last season. Assuming an average of 18 pitches per inning, that's like tacking an extra 11 innings onto his workload from last year.
Chamberlain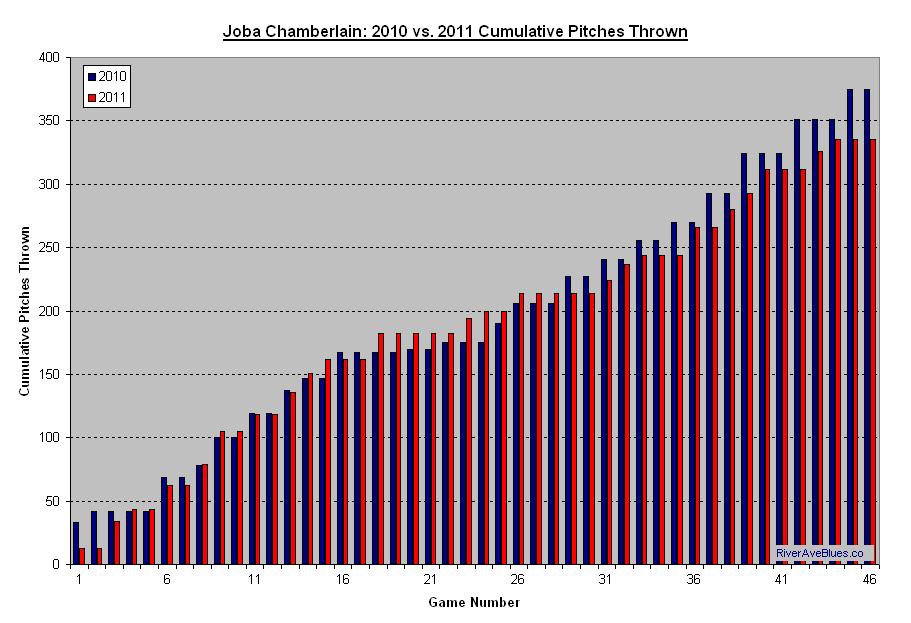 Alright, this is much better. Joba has actually been much more efficient with his pitches this year, throwing 40 fewer pitches through 46 games this year (335) than he did last year (375) despite facing the exact same number of batters (89). Part of that has to do with Joba's newfound affinity for the ground ball, something he's gotten 63.5% of the time this year compared to 46.6% time for his career. Quicker at-bats lead to lower pitch counts and less wear and tear on the arm. Joba's in good shape in terms of pitches thrown this year, at least when compared to 2010.
Mariano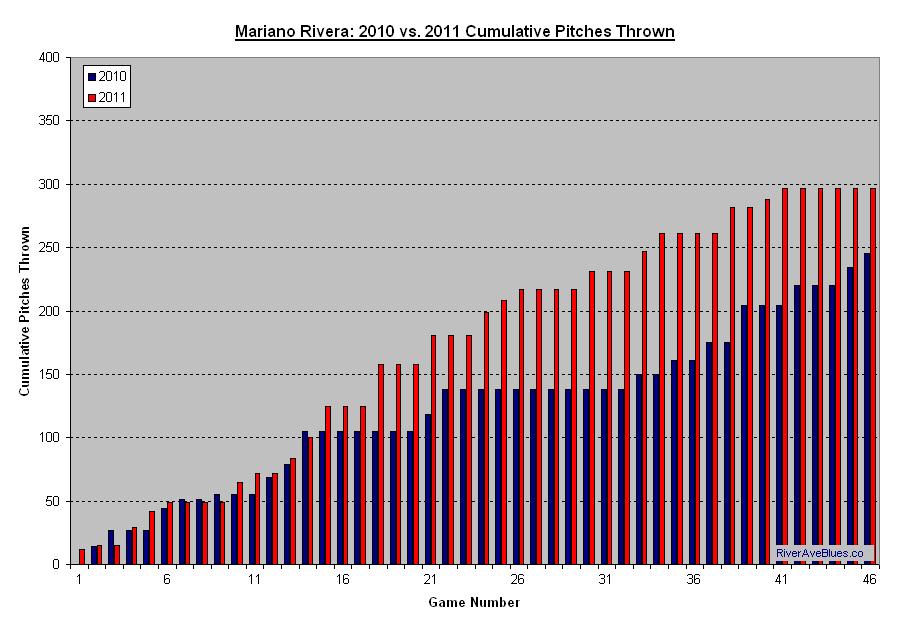 This is where it gets really scary. Mo has 52 more pitches through 46 games this year (297) than he did last year (245), though the silver lining is that he's faced 17 more batters (74 to 57). That means he's gone from 4.30 pitches per batter in 2010 to 4.01 in 2011. But we're talking about 41-year-old guy on the cusp of 1,000 big league appearances (he's at 999) that had shoulder surgery a few offseasons ago. Out of the three guys in this post, Rivera's the one they really have to watch just because of where he is in his career and what not.
* * *
Remember, these are just pitches thrown in games. It doesn't count warm-up pitches in the bullpen, and if you watched the Yankees regularly in April, then you're fully aware that Robertson was up and throwing pretty much every damn day even if he didn't always get into the game.
Soriano is expected to throw a bullpen session at some point before the homestand ends (tomorrow), but you have to figure he's at least two weeks away at this point. He'll lighten the load on all three guys somewhat, and Luis Ayala has been good enough (in his limited sample of work) to maybe warrant some more responsibility, like the seventh inning with a three run lead or something. Just to make life easier for everyone else, you know? If Soriano's elbow continues to be a lingering issue throughout the summer (which is entirely possible given his injury history) and Ayala turns back into a pumpkin, the Yankees are going to have to seriously consider acquiring a late-inning reliever at some point just for depth. Robertson, Joba, and Mo have handled the workload well so far, but no one wants to see these guys be pushed hard all season long.