Remember the days when the Yankees would hit multiple homers every game, rack up a ton of runs, and end up winners? Yeah, me too. Those days seem so far away, even though the season isn't yet 40 games old. In an attempt to soothe my soul from the beating it has taken in the past few days, I went back and looked at the game logs from this season. It does appear that the Yankees season has been divided into three unequal parts. They vary in not just results, but also emotions. It has made me realize that they were kind of building for something like what we're currently experiencing.
Act 1: 12-6, .262/.342/.503 in 694 PA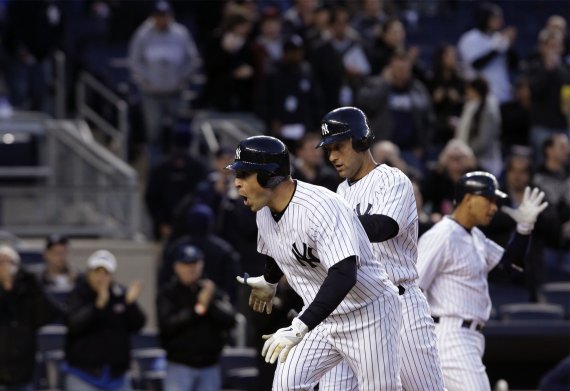 The early season went so well for the Yankees. They lost only one of their first seven series, but made up for that with two short sweeps of Baltimore. They scored 109 runs in these 18 games, or 6.05 per, for those of you without a calculator handy. Most remarkably, they slugged 36 homers, or one every 16.8 at-bats. Some said that was too many, that the offense wouldn't succeed long-term if it continued relying on the home run. Other said that as the home run rate dropped off, other aspects of the team would pick up — more doubles, more singles, etc. — and that would keep things moving. Little did we know what was in store.
Act 2: 7-7, .238/.333/.404 in 516 PA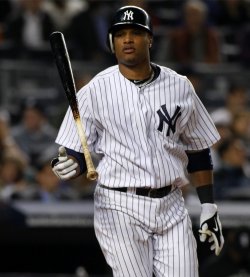 Every offense, even the league's best, slumps. The Yankees hit their first slump of the season when the White Sox came to town. It seemed so easy at the time. They were scoring no runs, and the Yanks were scoring more than any other team in the league. But instead of pummeling the Sox, they ended up scoring two runs while allowing five in the first two games of the series. Even in the third game they got a first-inning three-run shot and nothing more. It wasn't a complete loss, since they did score 4.36 runs per game, which is good for a slumping team.
Of course, that meant the homers weren't dropping. They hit just 18 in those 14 games, or one every 24.7 at-bats. The problem was that none of the other hits were falling, either. The team batting average and doubles rate fell, too, and so the Yankees were stuck with a sometimes lifeless offense. It was a heavily skewed one, too, as they scored two dozen of those 61 runs in just two games. If not for a successful trip to Texas this could have been a lot worse.
Act 3: 1-6, .228/.310/.353 in 272 PA
After a good team slumps it usually returns to form. The Yankees, however, managed to slump worse. Even in their sole win during this stretch, the first game of the Kansas City series, they managed just three runs. The team that played from March 31 through April 24 would have put up quite the crooked number. The Yankees managed only three, which worked on that night. But they wouldn't be so lucky in the next few games.
Run scoring is down to 3.57 runs per game. Home runs are down to one every 34.4 at-bats, and doubles are even more scarce. Not that many hits fell in, in general. There's really no need to rehash this any further, since we're still living through it. Things have seemed better in the past couple of days, as they've scored 10 runs against two high-quality pitchers. But they're still hitting under .200 with a SLG under .350. As Mike mentioned on the podcast, they seem to fall asleep after Curtis Granderson hits his nightly homer (he's responsible for three of the seven homers in this span).
The ebbs and flows of a baseball season bring a range of emotions. With the Yankees it started with elation and then slowly descended into frustration, anger, and finally sorrow. There hasn't even been time for complacency, since the team seems to change identities every other week. I know they have games to play every day, but for once can't they think of the fans?
The only remaining question is of the team's long-term identity. We've seen tumultuous starts before, only to then see the team stabilize as the summer rolls along. In some years, such as 2007 and 2009, they end up being the best offense in baseball. In others, such as 2008, they're something less than that. While the Yankees certainly aren't the team they've been for the past week, they might be that middling, frustrating team we saw before that. That's probably the most frightening thing I've learned during the current skid.