The Yankees have pounded Brad Penny time after time, including once already this year. Since he was on the mound for the Tigers and CC Sabathia was starting for New York, we all felt pretty good about this one on Tuesday afternoon. I guess it's not easy to foresee the reverse jinx when your team is involved. The Yankees' bats were silent for much of the night, and Detroit ended its seven game losing streak.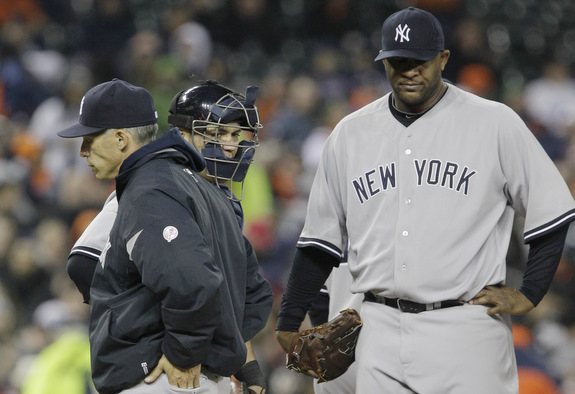 No Good CC
It was bad from the start. Austin Jackson doubled on the first pitch Sabathia threw, then Scott Sizemore did the same two pitches later. The first run came around to score on a Magglio Ordonez ground out, the second on a Miguel Cabrera sac fly. The Yankees finally wised up later in the game and intentionally walked Miggy with a base open, and sure enough they escaped that jam unscathed. The whole "don't pitch to one of the best hitters in the world if you don't have to" thing took a game-and-a-half to sink in I guess. But I digress.
Tells you what kind of pitcher Sabathia is when seven innings and four runs is a bad start, but the Yankees probably win that game six or seven times out of ten. He threw a season high 119 pitches (76 strikes, 63.9%) and really just got burned by the top of the order. Jackson and Sizemore combined to go 5-for-6 with two doubles and a triple before Sabathia struck each out the last time he faced them. The rest of Detroit's lineup went 5-for-21 (.238) off the Yankees' ace. Oh well, CC's allowed a stinker every once in a while, and this wasn't even that bad.
Too Much RISPFAIL
Although the box score says they only had five at-bats with men in scoring position (Russell Martin had the only hit, a double), the Yankees left two men on base in the first, two in the second, and one in the fourth. They had chances (plural) to get to Penny early but just couldn't capitalize. The right-hander allowed six hits and walked two in six innings, striking out just one with an unspectacular 8-6 GB/FB ratio. I mean come on, he should have been begging for mercy after three.
Three, Three Outs On The Bases
There's nothing quite like giving away a full inning's worth of outs on stupid baserunning plays. Andruw Jones, representing the tying run, got thrown out at the plate on a would-be sac fly to end the fourth inning, not even making it to the plate. If the bases were 75-feet apart, he would have juuust made it in under the tag. Then in the sixth inning you had not one, but two runners get caught in rundowns between first and second. Three Yankees reached base in the inning, but they somehow managed to not score a run and leave the bases empty. I don't know what Robinson Cano and Jorge Posada were thinking there, but yeah, stupid. Lesson for the kids out there: if you ever get caught in a spot like that, just keep running to second. Don't stop. At least you have a chance that way.
Leftovers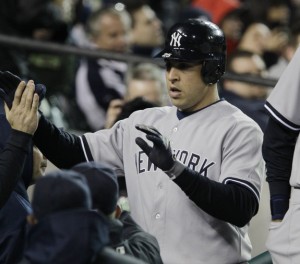 Brett Gardner is the hottest hitter on the team right now, and it's not all that close. He went 1-for-2 with a walk in this game, and has now reached base safely in eight of his last ten and in 16 of his last 19 plate appearances. He went from .145/.197/.306 to .219/.337/.411 in six games. Is it time to give him another shot leading off? I say no, not yet, but it's good news that we're even discussing the possibility. Right behind Gardner is Posada, who went 2-for-4 on Tuesday and now has five hits in his last 11 trips to the plate (plus another taken away on a great defensive play). Good stuff from those two.
The four-five hitters combined for one hit (a ten-hopper through the left side) in eight at-bats, which isn't exactly middle of the order production. Despite that single, Alex Rodriguez is in a definite slump, has been since he left that game with a stiff back/oblique. Is he playing hurt maybe?
I'm not sure that David Robertson is comfortable pitching without a runner in scoring position. He gave up a double on the first pitch he threw, then escaped the inning like he always days. I guess D-Rob is just a fireman at heart, it's what he does.
WPA Graph & Box Score
MLB.com has the box score and video highlights, FanGraphs the nerd score and no highlights for you!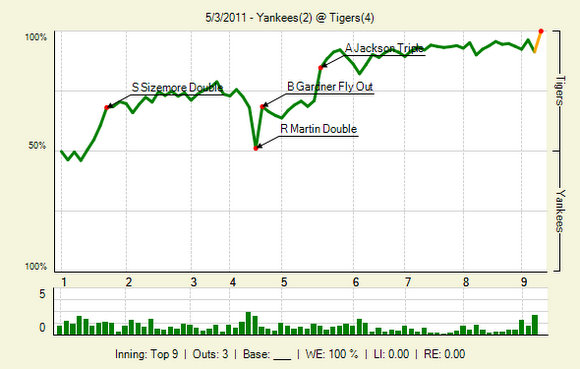 Up Next
Alright, that's it. Frustrating loss, but that's baseball. Move on and focus on Wednesday night's game, which will feature Freddy Garcia and Max Scherzer. 'Til then…