Remember back about three weeks ago, when the Yankees were winning games and A.J. Burnett was throwing his changeup rather frequently? It was glorious, wins rained down from the heavens like champagne and the changeups flocked to the plate like the salmon of Capistrano. Well, the Yankees have lost three games in a row coming into today and guess what? Burnett hasn't been throwing his change as much since then.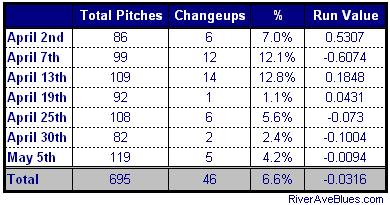 The table to the right shows a few things, but most importantly the number (and percentage) of changeups that A.J. has thrown in each of his seven starts. After throwing 32 in his first three starts, he's thrown a total of 14 changeups in four starts since. For all intents and purposes, he went back to using the pitch as little as he did last year (about 2.4%) after throwing it more than ten percent of the time early on. The effectiveness of the pitch has dropped; it's had a negative run value in each of his last three times out, so maybe it's just not working and a) the catcher isn't calling it as much, b) Burnett isn't comfortable throwing it at the moment, or c) a combination of a and b.
I looked at the number of left-handed batters in the other team's starting lineup of each game just to see if that had something to do with it since the changeup is a pitch used to neutralize batters of the opposite hand. That didn't bring any potential answers; aside from that April 7th game against the Twins, when they loaded the lineup with seven lefties/switch-hitters, Burnett has faced either three or four guys swinging from the other side of the plate in his other six starts. I don't have an answer, I have no idea why the changeup has suddenly been put back on the shelf.
This isn't necessarily a bad thing though. A.J. had a 4.67 ERA and a 4.47 FIP in his first three starts but a 3.08 ERA with a 4.03 FIP in the four starts since. Super small sample size caveats apply, that goes without saying. We hear stories about guys trying to add a pitch all the time in March and April, and for a while it looked like Burnett was making a concerted effort to incorporate the changeup in his repertoire. Maybe he said the hell with it and went back to 98% fastballs and curveballs, maybe he's just struggling with the pitch at the moment and isn't comfortable using it in games, maybe it's just a PitchFX classification problem. Whatever it is, it's worth paying attention to as the season goes on.