There's just not much to be happy about in Yankeeland right now. They lost yet another frustrating game full of sloppy play and a limp offensive attack that started rallies but just didn't finish them. There's really not much more to say than that, that's been the script for close to two weeks now.

Off The Hook
Nine. Nine of the Yankees' 39 batters had a three ball count tonight. Do you know how many reached base? Three. Nick Swisher and Alex Rodriguez drew walks, and Derek Jeter reached when Kevin Youkilis booted a rather routine ground ball. So really it should have been just the two walks and seven outs. Coming into today, American League batters have reached base in 56.2% of the plate appearances in which they had a three ball count. Furthermore, the Yankees had four 3-0 counts and got on base exactly zero times. AL batters have a .956 .737 OBP (!!!) in 3-0 counts this year. Clay Buchholz threw a first pitch strike to three (!!!) of the first dozen men he faced, and just two reached base (including Jeter on the error).
Seriously, no one can say the Yankees didn't have their chances on Friday. They had another crappy game with men in scoring position (1-for-7), and they left the tying run on base in each of the last two innings. They also stranded the go-ahead run in scoring position in the fifth, but that was still kinda early. The offense has been in a funk for what, two full weeks now? It's frustrating beyond belief, especially when it comes to all those runners left on base. I mean, Buchholz got 17 swings-and-misses out of 110 pitches, which is ridiculous, but he keep falling behind in the count and the Yankees just didn't make him pay.
Big Bad Bartolo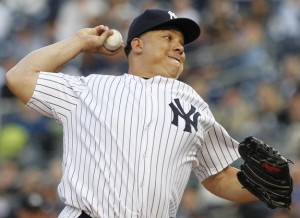 Bartolo Colon made one terrible pitch tonight, that's really it. A fastball that was supposed to be down-and-in to Adrian Gonzalez sailed over the plate belt high before sailing deep into the second deck in right field. That happens, I'm not going to lose any sleep over a solo homer in the fourth inning. The next batter, Kevin Youkilis, reached base on a wild pitch after striking out, then David Ortiz drew a walk. J.D. Drew reached on a fielder's choice after the out was made at second on an infield grounder. Another walk and an RBI ground out later, and bam, Boston was up two-zip.
Two runs in six innings is what you'd take out of Colon every day of the week, but why he was sent back out to start the seventh is beyond me. He was already at 100 pitches on a nose, the most pitches he's thrown in a game in almost exactly three years (June 1st, 2008 was the last time he eclipsed the century mark), and then a single scooted beyond Robinson Cano to leadoff the inning. It wasn't exactly a banner night for Cano with the glove either, there were a few of those singles just beyond his reach that looked like outs off the bat. But anyway, in comes Joba Chamberlain, a double play is muffed (by Cano, who botched the transfer), then a sac fly and homer lead to a three-run deficit.
Pure garbage. If you're willing to bring Joba into the game that inning, bring him in with a clean slate to start the frame. The Yankees aren't getting brownie points by squeezing another out or two our of Colon. The defense was pretty awful yet again, though give Bartolo credit for six good innings. That's a performance that usually leads to a win.

Leftovers
Russell Martin hit a homer, so hooray for that. Curtis Granderson tripled to dead center, Swisher doubled to the opposite field, and A-Rod and Cano pulled off a gorgeous (and huge given the situation) double steal in the eight. That's pretty much it for the good news, so let's just leave it at that.
Bah, the Yankees suck right now. They've lost three in row, four of the last six, and seven of the last time. Since April 25th (an admittedly arbitrary endpoint), they're just 8-10. Every team goes through slumps and what not, but that doesn't mean we can't be angry about it. If they're running into bad luck and stuff, then fine. But fundamental mistakes and poor hitting when ahead in the count, I'm sorry, that's on them. They need to play better.
WPA Graph & Box Score
MLB.com has the box score and the video highlights, FanGraphs the nerdy score.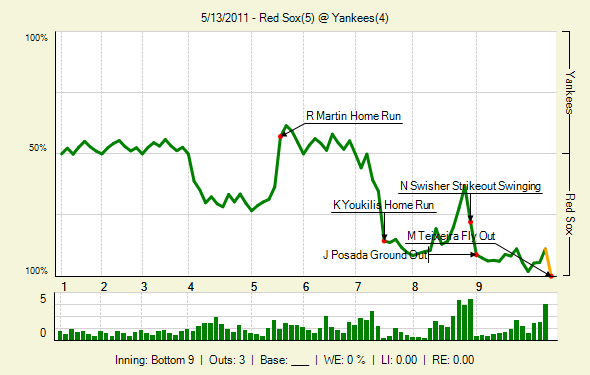 Up Next
Same two teams tomorrow night in the rare Saturday night game at home. Blame FOX, who will broadcast the game. CC Sabathia toes the rubber against Josh Beckett.