The Yankees were 3-3 on the homestand and 1-1 in the weekend series against the Blue Jays, so everyone wanted a win on Sunday to end the week on a high note. Ivan Nova was a little shaky early on, but the Yankees' bats came alive and they rode their bullpen to their AL East leading 16th win.

Not quite a Granderslam, but close enough
Although Mark Teixeira put the Yankees on the board with a first inning solo homer, the team basically spun its wheels offensively until the fifth inning and the third time through the order. Toronto starter Jesse Litsch had kept them off balance with a mix of cutters and sliders and curveballs and changeups and sinkers, but his lack of a true put away pitch came back to bite him.
Jorge Posada led off the fifth inning with his first non-homerun extra base hit of the season, a double into the right field corner that I'm sure took a ton of weight off his shoulders given his slump. The molten hot Brett Gardner (more on that later) singled him over the third, and Frankie Cervelli drovehim in with an RBI ground out in his first game of the season. The Yankees caught a break when Yunel Escobar made a boneheaded decision and tried to cut Gardner down at third on a (surprise surprise) ground ball by Derek Jeter. Brett slid in safe and the Yankees had men on the corners with one out instead of a man on third with two outs. Yunel should know better, just take the out. That brought brought Curtis Granderson, who already had a single to his credit on the afternoon, to the plate.
One thing that caught me off guard when the Yankees acquired Granderson last year is his ability to work the count. I stupidly assumed that he was a hacker given his strikeout totals, but he's never seen fewer than 3.96 pitches per plate appearance in a single season, and his career mark is a gaudy 4.09 P/PA. This year it's 4.36 P/PA, the fifth best total in baseball. Litsch started Grandy off with three straight balls before the center fielder swung and misses when he turned it loose on 3-0. A few pickoff throws and a foul ball followed for a full count, then Granderson teed off on a 88 mph fastball over the plate for a three-run homer. It was quite a grand slam, but it gave the Yankees a 5-3 lead they would never give up. At +.208 WPA, it was easily the biggest play of the game.

Nova settles down, literally
In the first two innings, it looked like it was going to be a long day for starter Ivan Nova. The noted ground baller faced ten batters through the first two frames, walking one, whiffing one, and allowing the other eight to hit the ball in the air. Adam Lind hit an excuse me homerun off the screen on the right field foul pole and another single blooped in, then a second run scored thanks to a pair of singles and some steals in the third.
Nova settled down after that, allowing just five of the final 18 batters he faced to hit the ball in the air, and one of those air balls didn't even make it out of the infield. Fourteen of his 19 outs came either on the ground or on strike three (one came on a caught stealing), and that's what Ivan has to do to be successful. His pitches were certainly up in (and often out of) the zone early on, but the right hander settled in and started pounded the bottom of the zone. He brought everything down.
The key for him was again his curveball, which he threw 28 times (18 strikes, two swings-and-misses). Nova threw just one changeup in the game, so he was primarily a two pitch guy all afternoon, throwing a career high 100 pitches. The Yankees don't need Ivan to be a star, they'll take starts like this 30 times a year, and it was great to see him make that adjustment and start getting the ball down as the game progressed.
Leftovers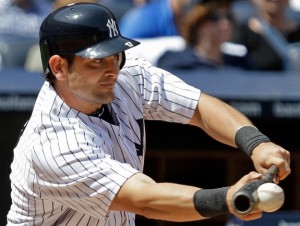 The sacrifice bunt from hell struck again. The Yankees were down 2-1 early on, in just the third inning, and Gardner worked a leadoff walk of four pitches. Cervelli bunted him to second either on orders from the dugout or on his own accord, but either way it was dumb. Jeter then got hit by a pitch and Granderson singled, loading the bases with one out before Tex bounced into an inning ending double play. Why was the bunt dumb? Well, first of all Gardner walked on four pitches well out of the zone and Cervelli didn't bother to take a pitch (Jeter getting hit is further evidence that Litsch was wild at that moment in time). Secondly, the team's fastest runner was on first, so wouldn't you rather have him to try to steal (in fairness, Gardner got caught stealing later in the game, his fourth in his last five steal attempts, a terrible ratio)? Third, it's the third inning! They played for one run and got zero, which is usually how the story goes. The Yankees don't have to fight and claw for every run, so just stop it, a bunt made zero sense for this team at that time of the game.
Gardner reached base three times in his three plate appearances (two walks and a single), and is now 6-for-11 (.545) with six walks in his last six games (five starts). He's upped his triple-slash line from .136/.190/.254 to a cool .200/.300/.400 in the last seven days. That's a 22 OPS+ to a 93 OPS+. Not a bad week for the G-man. He also made two very nice running catches in this game, one in the first inning and one in the eighth.
Jeter took yet another 0-fer, putting him at .242/.308/.263 for the season. This is the guy getting more plate appearances than anyone else on the team. Alex Rodriguez went 0-for-4 with two strikeouts and is just 5-for-34 (.147) with five walks and ten strikeouts since coming back from that stiff oblique, but I suppose the good news is that three of those five hits are for extra bases.
David Robertson walked Jose Bautista in the seventh to bring the tying run to the plate, but Boone Logan did a nice job bailing him out with a behind the back grab of an Adam Lind comebacker. Rafael Soriano allowed his contractually mandated baserunner in a scoreless eighth, and Mariano Rivera was flawless in the ninth. Aside from Soriano's struggles, the Yankees' bullpen has really come together over the last week.
WPA Graph & Box Score
I don't want to toot my own horn, but I totally called the Yankees losing the first game of the series to Ricky Romero before winning the next two in last week's chat. Anyway, MLB.com has your box score and video highlights while FanGraphs has everything else.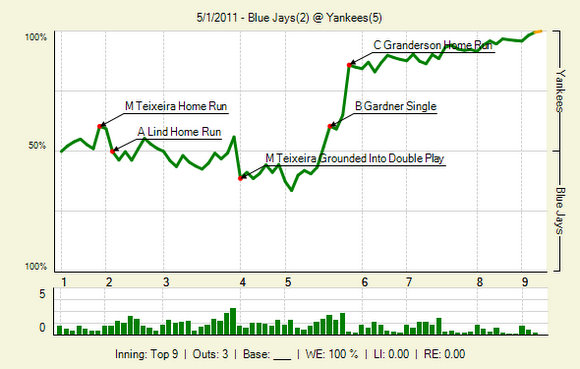 Up Next
The homestand is over and the Yankees are heading to Detroit to face the Tigers four times starting on Monday. Bartolo Colon takes on Justin Verlander in the opener.