It was a tale of two drafts for the Yankees. They started it off with a curious pick, taking Dante Bichette Jr. with the 51st overall selection after rumors swirled about their interest in several high-priced players that were still on the board at the time. What happened after that was a bit out of the norm. Day Two (rounds 2-30) and Day Three (31-50) had entirely different feels and apparent philosophies, so it doesn't make sense to lump them into one recap. This is the first of two parts, the second will be along a little later.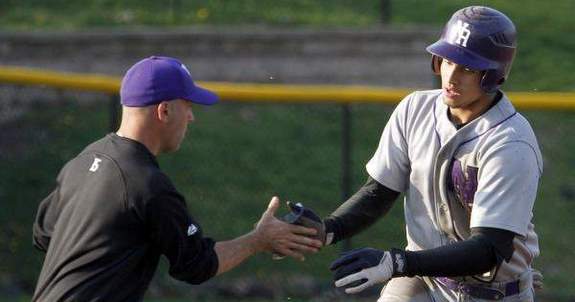 Day Two: Power & Size
Let's rewind to early-March, when John Sickels of Minor League Ball interviewed Yankees' VP of baseball ops Mark Newman…
SICKELS: What about your weaknesses?

NEWMAN: Corner players with power. We have (Brandon) Laird who is a solid prospect, but we are thin for corner bats otherwise in the system. We always try to take the best players available in the draft and on the international market, and doing that can result in positional imbalance. We're aware of it, but we would rather get as many high-end athletes as we can and worry about the rest of it later. In a perfect world you get both, of course, high-end guys who fill up the slots you need to fill.
It was pretty obvious during the first 30 rounds of the draft that the Yankees were trying to address that lack of corner power bats, just like they tried to address the lack of up-the-middle athletes in 2010. In addition to Bichette, the Yankees also took high school power hitters in first/third baseman (and local kid!) Matt Duran (4th round) and catcher/first baseman Greg Bird (5). Both are bat first players that can hit and hit with authority, but they aren't expected to provide much value elsewhere. Prep first baseman Austin Jones (7) and Arizona State first baseman Zach Wilson (21) also fit that mold. JuCo outfielder Tyler Molinaro (15) offers pop from the left side, but he also has some athleticism and can contribute with the glove.
The two big position player prizes from Day Two are high school outfielder Jake Cave (6) and JuCo outfielder Justin James (13), son of Dion. The Yankees were connected to Cave pretty much all spring, opting to take him as a hitter rather than as a left-handed pitcher, where he's also a quality prospect. He has some bat speed but also some swing question marks, projecting as more of a doubles guy. James shows huge power in batting practice and high-end foot speed, but he's raw because he quit baseball to focus on basketball late in his high school career. Cave has to be bought away from LSU and James is just risky, but both offer upside and the ability to provide value on both sides of the ball.
When they weren't taking power hitting players at corner positions, the Yankees were selecting pitchers, and big ones. Lefty Sam Stafford (2) joins righties Jordan Cote (3), Phil Wetherell (8), Jonathan Gray (10), Hayden Sharp (18), Jordan Foley (26), and Scott Hoffman (29) as hurlers that stand 6-foot-4 or taller, with Sharp topping the group at 6-foot-6. Four others check in at 6-foot-3. In addition to size they all share velocity, all capable of throwing in the low-90's. Sharp again tops the group in this category; he's run it up as high as 98 this spring.
However, despite all of these big pitching prospects, many of them are just relievers. Zach Arneson (9), Ben Paullus (19), Nik Goody (22), Brooks Belter (25), John Brebbia (30), and Wetherell were all relievers in college while Gray and Brandon Pinder (16) project to be the same in pro ball. That's eight of the 21 pitchers they selected on Day Two. The best of the bunch is Wetherell, who sits 92-95 with a legitimate swing-and-miss splitter. Arneson sports a big time fastball (up to 96) but little in the way of secondary pitches, while the others are generic high-80's/low-90's guys trying to figure out a second pitch.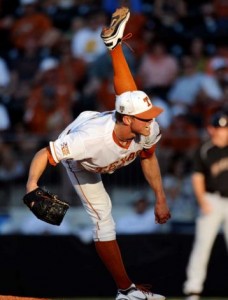 Now that I've had some time to look things over, I consider Stafford the best pitching prospect the Yankees selected in the entire draft. Southpaws that have shown 95-96 mph velocity with a curveball that can be unhittable at times are a rare breed, he just has to figure out a way to have both at the same time and work on his overall consistency. Starter Corey Maines (23) is a garden variety sinker-slider guy and Matt Tracy (24) was a two-way player at Mississippi, so his mound experience is limited.
The starting pitchers are going to have to come from the high schoolers, a group led by Cote, Sharp, Mark Montgomery (11), Rookie Davis (14), Matt Troupe (17), Dan Camarena (20), and Chaz Hebert (27). Cote is the best prospect of the group in terms of projection and upside, but it'll take an above-slot bonus to pry him away from Coastal Carolina. He'll sit in the low-90's and show two distinct breaking balls, though finding consistent mechanics and turning some raw tools into baseball skills is the challenge that lies ahead. Camarena is the best prospect of the bunch in terms of present day ability; he's a legitimate three pitch left-hander with command of a low-90's fastball and an advanced changeup. A San Diego commitment must be bought out to get him to turn pro. Davis has garnered some attention as a low-90's fastball/developing slider righty, but there's some Melky Cabrera Syndrome going on here. He's getting hyped up because he has a cool name.
From here, it appears that the Yankees went into Day Two with an agenda to find power hitters and power relievers, and that's exactly what they did. Most of the big bat guys figure to wind up at first base though, which could lead to a logjam, but we're a long way from worrying about that. Cote, Sharp, and Camarena are three very interesting arms that may or may not sign (I'm guessing they get Cote and at least one of the other two), but they're all several years off. The college relief crop is deep enough that one or two of those guys will end up viable big league options down the road. The glaring weakness here is the overall lack of significant upside outside of James, Stafford, Cote, and Sharp.
Day Two of the draft wasn't great for New York but by no means was it a total loss or anything like that. I don't necessarily agree with hoarding useful pieces that appear to fit an organizational need more than anything else instead of gunning for players with star potential, but that's what they did. As always, we can begin to really evaluate the talent influx once we see who actually signs, but the early returns from Day Two are somewhere between "okay" and "decent."