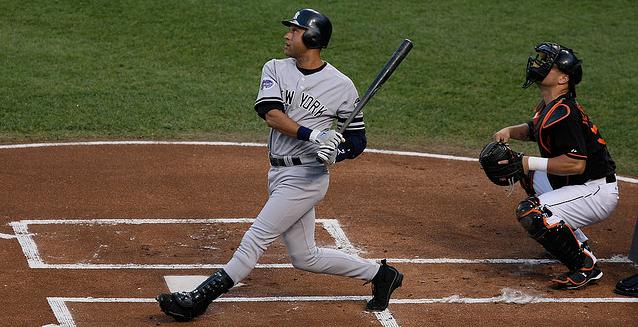 With Derek Jeter on the shelf for the last week, Joe Girardi has employed a Brett Gardner-Nick Swisher leadoff hitter platoon with great (small sample size) results. Yankees leadoff hitters have put together a .423/.559/.654 batting line since Jeter got hurt, which is both awesome and unsustainable. After Tuesday's game against the Reds was called due to rain, Joe Girardi told reporters that Jeter will return to the leadoff spot once he's healthy. As far as I know, he didn't give a reason or explain his thinking, though if he did I imagine it went something like this…
Jete is our shortstop and our leadoff hitter, that's why he's here. Gardy and Swish have done a great job, but it's still Derek's job and he'll get it back. We feel our best lineup has Derek leading off. We trust all of our guys.
I think that about covers it. Of course you know that Jeter shouldn't be leading off if you've watched the Yankees with any regularity this season. He's hitting just .260/.324/.324 overall and a slightly better.270/.336/.345 from the top spot in the order. The average leadoff hitter is batting .264/.328/.387 this season, so the Cap'n isn't even meeting that modest standard. There's no logical reason why someone performing like that should get more plate appearances than anyone else in the lineup. None.
Obviously Jeter's legacy is coming into play here, and that's a dumb reason to make a decision. But it is what it is, and we're stuck dealing with it. Perhaps there's a compromise though, one that maximizes the team's chances of scoring (and by extension, winning) without bruising Derek's ego, since that is what this is essentially all about. The solution: platoon him with Gardner. A straight platoon, Gardner leads off against righties while Jeter leads off against lefties. That's it.
As unimpressive as his overall stat line is, Jeter is still hitting a stout .299/.405/.403 against left-handed hitters, continuing last year's trend (.321/.391/.481 vs. LHP in 2010). He's unusable against right-handers though (.246/.294/.297 this year, .246/.316/.317 last year), and that's where he's really killing the team. Gardner does his best work against righties (.294/.366/.465 this year, .279/.362/.396 career), which is why he should leadoff against them. Jeter will be on the short of the platoon since he's the righty, but you know what? That's life. At some point he has to step up and face the reality of the situation. He hasn't hit righties for 15 months now, it's not just a slump anymore.
Not that I would know anything about it, but the old saying is that the toughest thing for a world class athlete to do is accept when they can no longer do thing they used too. That's what Jeter is going through now, whether he realizes it or not. If they want to bat him leadoff until he gets his 3,000th hit, fine. Hopefully he does it sooner rather than later. After that though, the Yankees have to put their foot down and start doing what's best for the team. Platooning Jeter and Gardner atop the lineup is step one of that process.