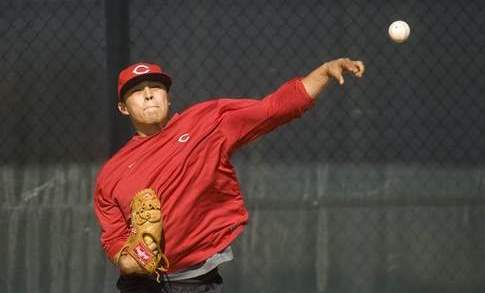 We've been looking at available left-handed relievers pretty much all season and have already covered guys like David Purcey, Randy Flores, Jerry Blevins, and J.C. Romero, so let's look at another that hit the market this weekend: Danny Ray Herrera. The former 45th round pick of the Rangers (2006) is the forgotten piece of the Josh Hamilton-Edinson Volquez trade (he went to Cincy as well), and he made his debut later that season. He's ridden the bus between the bigs and Triple-A ever since. The Brewers claimed him off waivers last month, then designated him for assignment over the weekend because they needed a fresh arm after their pitching took a beating on Friday night. Pros and cons, here we come….
The Pros
It's a relatively small sample (183 plate appearances), but Herrera has held left-handed batters to a .213/.278/.306 batting line with a 6.95 K/9 and 50.8% ground ball rate in his big league career. His minor league numbers against same side batters (in a larger sample) are similar as well.
Herrera has done most of his pitching in big time hitter friendly environments, so at least he's been through that before. The vast majority of his big league career with spent with the Reds and Great American Ballpark, and he spent his college career pitching at altitude for New Mexico. It's like Coors Field without the humidor.
Herrera is in his last option year, so he can be stashed in the minors and/or called up and down as much as needed the rest of the season. He's also under team control for the next four years, if it comes to that.
The Cons
Herrera's stuff is as unspectacular as his 5-foot-6, 165 lb. frame. His out pitch is a Bugs Bunny changeup (he calls it a screwball) that sits in the high-60's and has gotten a swing and miss 15.4% of the time in his big league career. You can see two of them at the 0:25 mark of this video. The changeup/screwball makes his low-80's fastball look fastball than it really is, and he also throws a low-70's slider. That won't get the job done on paper.
As LOOGY's tend to be, Herrera is unusable against righties. They've tagged him for a .373/.428/.549 batting line in 231 plate appearances
I'm an unabashed Herrera fan, so I would love to see the Yankees grab him. In reality, he's very flawed and certainly not the kind of guy they need to rush out and acquire. If he slips to them on waivers, then sure, place a claim and stick him in the Triple-A bullpen for depth purposes. If not, well no big deal. Herrera has not been used optimally so far in his big league career (almost 60% of all the batters he's faced have been righties), which is part of the reason why his overall numbers have been so ugly. Perhaps it's my bias, but I think Herrera's a better use of a 40-man roster spot than the Jeff Marquezes and Buddy Carlyles of the world.