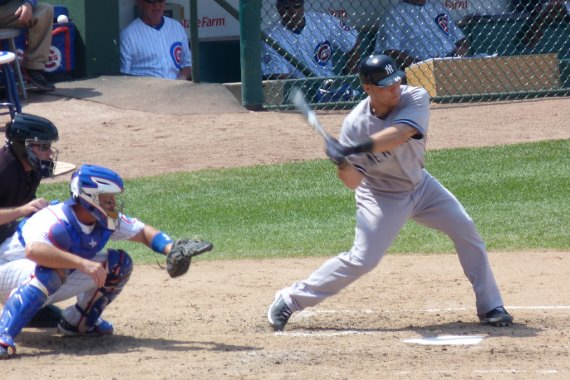 It's been a while since we said, "Thanks Ned!" with any real enthusiasm. We, at least most of us, still appreciate Russell Martin's contributions t the team, but once he tapered off after a hot start we slowed our thanks to the GM who let Martin walk. Even with his performance for the past five or six weeks he ranks sixth among catchers with a .344 wOBA, and fifth with 1.8 WAR. But some of that luster has worn off, and it's easy to see why when we look at how his numbers have trended.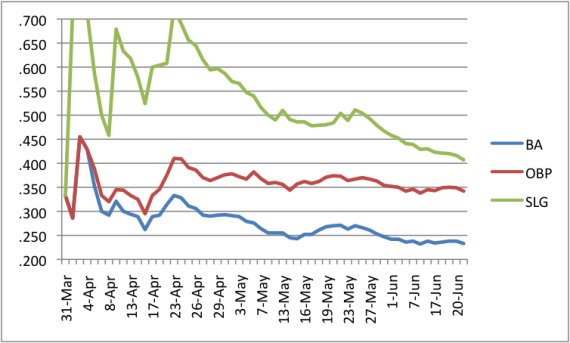 There's a noticeable drop-off in the past month, thanks to Martin going 9 for 60 with just one extra base hit, a homer (.150/.278/.200). This is also right around the time that Martin started getting a bit banged up. Since then — June 8th was the first day he sat out with the back injury — he's gone 5 for 25 with no extra base hits and five walks. While can't necessarily connect the injury and the performance, it does seem to have affected his numbers. This is both good and bad. Good, in that if he recovers physically so should his numbers. Bad, because back injuries are no joke and we're not sure if he will make a full recovery this season.
Really, this post should have come first, followed by Mike's Jesus Montero post. Montero can benefit the Yankees in a number of ways right this moment. He can take on the right-side DH duties (when Girardi doesn't feel that A-Rod needs a half day) and he can take over Cervelli's spot as the backup catcher. More importantly, he can play more often than Cervelli, both to the effect of getting his bat in the lineup and spelling Martin a bit more frequently. He might not get the at-bats of a full-time player, but it will be somewhere close. And those at-bats at the majors could aid his development more than continuing to spin his wheels in AAA.
Even with his recent slump, Martin has been an excellent addition to the Yankees. He produced early in the season with some unexpected power, and even after that dropped off he's helped at the plate by taking tons of pitches and drawing more than his share of walks (14.9 percent walk rate since his two-homer game in Baltimore). He figures to help the Yankees the rest of the way, and perhaps into next season. If he's hurt then Montero can come up and help keep him rested, and if he's just regressed then Montero can help increase production from the catcher spot. Either way, we can still appreciate Martin while appreciating the team's top prospect at the same time.