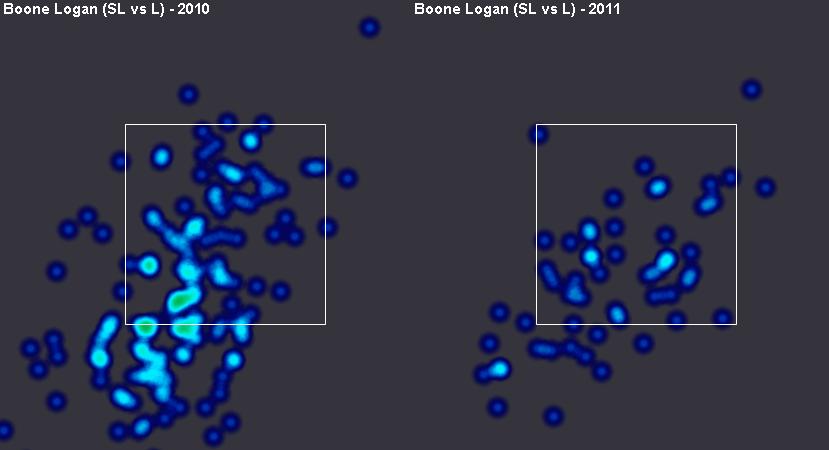 It has not been a good year for Boone Logan, who has "held" the 46 left-handed batters he's faced to a .350 wOBA this year. He's only struck out seven of those guys as well, which is an an unfathomably bad rate (15.2%). The Yankees were apparently concerned enough about Logan's ability to repeat his success from the second half of last year that they signed Pedro Feliciano to a (not cheap) free agent deal. Feliciano's injury has again thrust Boone into top LOOGY status, a job he really doesn't deserve at the moment.
The root cause of Logan's struggles appears to be his slider, a pitch that went from being 2.50 runs above average (per 100 thrown) in 2010 to 1.71 runs below average this year, a swing of more than four runs. He's throwing the pitch almost exactly as often this year as last, but batters have gone from swinging and missing at it 25.6% of the time to 12.7% of the time, so the slider's whiff rate has been cut in half. Part of the problem is just location, which you can see from the heat maps above (what's a heat map?). Logan did a good job of burying the pitch down and away to lefties last year, but this season it's ending up in the middle of the plate entirely too often.
The characteristics of the pitch are different that last year as well. Boone has actually picked up about an inch and a half of horizontal movement while losing a mile an hour of velocity. A slower pitch with more break is loopier; the 2010 version of the pitch came in harder and had shorter, sharper break. Leave a loopy slider out over the plate … well that's just a meatball, even to a same-side batter. Logan's release point is no different (here's a gif comparing 2010 to 2011), at least not different enough to worry about (could just be a PitchFX issue). Since his fastball velocity is also down noticeably, it could just be a mechanical issue. Or maybe he's hiding an injury (or doesn't even know about it) Both theories make sense, as do countless others.
Given the injuries to the rest of the bullpen, the Yankees need Logan to pitch better than he has just to provide depth. He has to improve against lefties at the absolute minimum, since the only reason he's on the team in the first place is to neutralize the Adrian Gonzalezes and Adam Linds and Matt Joyces and Nick Markaki of the league. Getting back to burying that slider down and away, preferably just out of the strike zone, is step one of that process.