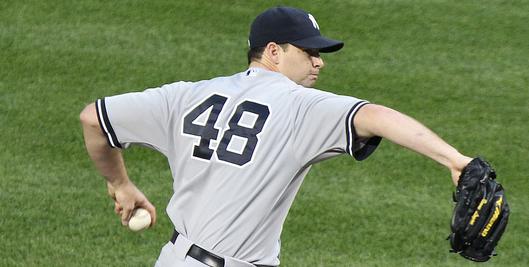 If you've been following the Yankees all season, then this should come as no surprise: Boone Logan has been awful. Last night's appearance was pretty much a microcosm of his year; he faced one batter, threw one pitch, and hit the guy with it. Brutally ineffective, I'm talking unusably bad, so bad that I'm going to bullet point the badness…
Left-handed batters are hitting .300/.383/.425 off him in 47 plate appearances. His one job on this team is get lefties out, but he's essentially turned them into something just short of Andre Ethier.
Logan has failed to retired a batter (one! singular!) in four of his last eight appearances, including last night.
He has five meltdowns and just four shutdowns. A meltdown is an appearance with -0.06 WPA or worse, a shutdown with +0.06 WPA or better. A 1.50 SD/MD ratio is like, the bare minimum for a medium leverage reliever. Sub-1.00 is horrific.
His fastball velocity is down noticeably and his slider has flattened out.
It's pretty obvious at this point that the only things keeping Logan on the roster are his left-handedness and those 20 great innings down the stretch last season. Keep in mind that those 20 innings are basically his entire track record of success as a Major Leaguer, the other 163.2 IP have been pretty terrible. Because he's out of options, the Yankees can't simply send him to the minors to work things out. He'll first have to clear waivers, and for a while we've all assumed that he wouldn't just because he's a lefty and throws hard. Is that really the case though?
Just looking around the league this year, a number of left-handed relievers have already been designated for assignment and most of them have cleared waivers. Jerry Blevins stands out for me. The Athletics designated him for assignment last month and then a few days later he was with their Triple-A affiliate because no one touched him on waivers. Blevins' track record of success is a whole lot longer the Logan's (he held lefties to a .227/.270/.292 batting line from 2007-2010, though he did a lot of up-and-down to Triple-A during that time), and here's the real kicker: he's making what amounts to the league minimum (just $420,000). Logan is making about three times that this year as an arbitration-eligible player, $1.2M to be exact. If Blevins cleared waivers with his track record and salary, wouldn't it make sense that Logan would clear given his track record and salary? Sure, on paper it does.
The real question is this: should the Yankees be willing to risk it? Is Logan that irreplaceable? No, of course not. The other question is do they have someone better to replace him with? The obvious candidate is fellow lefty Randy Flores, who is doing an okay job against lefties in Triple-A (seven strikeouts, one walk in seven innings against them). If nothing else, he's unlikely to be as bad as Logan has been so far. His opt-out clause is looming (though I don't know the exact date) as well, so they can't wait around forever. Another option is Kevin Whelan, though he's a righty. I'm of the belief that a team should take its seven best arms regardless of pitching hand, so not having a lefty wouldn't bother me one bit.
So I guess the moral of the story is that we're starting to reach the breaking point with Logan. He hasn't been effective at all and (even worse) there have been little to no signs of improvement thus far. Yes, he didn't hit his stride until late last year, but last year he had the benefit of going to the minors to work on things, away from games that count. Left-handers that throw hard (and are reasonably young) are in demand, but I'm not 100% certain that someone will gamble on Logan given his salary. Remember, if he gets claimed off waivers, his entire salary and contract goes with him. The Yankees could designate him for assignment and hope he clears waivers and goes to Triple-A, or they could lose the bet and watch him go to another team. It's risky, but you know what? Losing him really wouldn't be a huge loss.